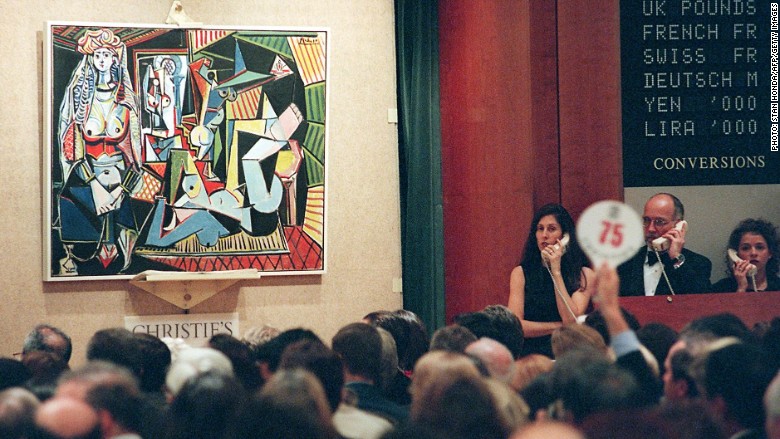 A painting by Pablo Picasso could set a new record for the most expensive art work ever sold at auction.
The masterwork, entitled "Les femmes d'Alger (Version "O")" goes under the hammer in May, according to auction house Christie's.
Christie's estimates it will sell for $140 million. However, Picasso's most famous paintings are in high demand and such auctions usually sell for a much higher price than the estimate.
Currently, the most expensive art work ever sold at auction is Francis Bacon's "Three Studies of Lucian Freud," which went for $142 million in 2013. That series of three portraits was expected to get just $85 million before it sold.
Picasso's "Les femmes d'Alger," ("The women of Algiers") was last sold at auction for $31.9 million in 1997.
Related: SAC chief's $155M Picasso purchase
The painting has been sold privately since then, but Christie's said the current owner remains anonymous.
"One can arguably say that this is the single most important painting by Picasso to remain in private hands," said Olivier Camu, Christie's deputy chairman of impressionist and modern art.
Picasso painted it in 1955 as an homage to his friend and rival, Henri Matisse, the French impressionist who died in 1954.
Related: Wealthy investors flock to art market funds
Christe's says Picasso spent two months working on the project, which involved 100 studies on paper and 14 other paintings.
The portrait of nude courtesans, a common theme for Picasso, is painted in bright colors and abstract shapes. It echos a famous painting with the same name by the classical artist Eugène Delacroix.
Picasso is considered by many to be the greatest and most influential artists of the 21st Century. He was born in Spain but spent most of his life in France.
Related: Investors spend millions at London art fair
Given his importance in the art world, Picasso's paintings routinely sell for millions of dollars.
In 2010, Christie's sold Picasso's "Nude, Green Leaves and Bust" for $ 106.5 million, the highest price ever for a Picasso.
"It has become clear that the many new global collectors chasing masterpieces have been waiting for an iconic Picasso to appear on the market," said Christie's global president Jussi Pylkkanen.
Wealthy investors from around the world have been flocking to the art market in search of valuable works to diversify their investments.
Related: Is there a bubble in the art market?
In 2013, Christie's brought in a record $691 million at an auction of Post-War art, which included the record-setting sale of Bacon's "Three Studies of Lucian Freud."
The auction house said it's sales for Impressionist and Modern Art in 2014 totaled $1.2 billion, up 19% over the previous year.