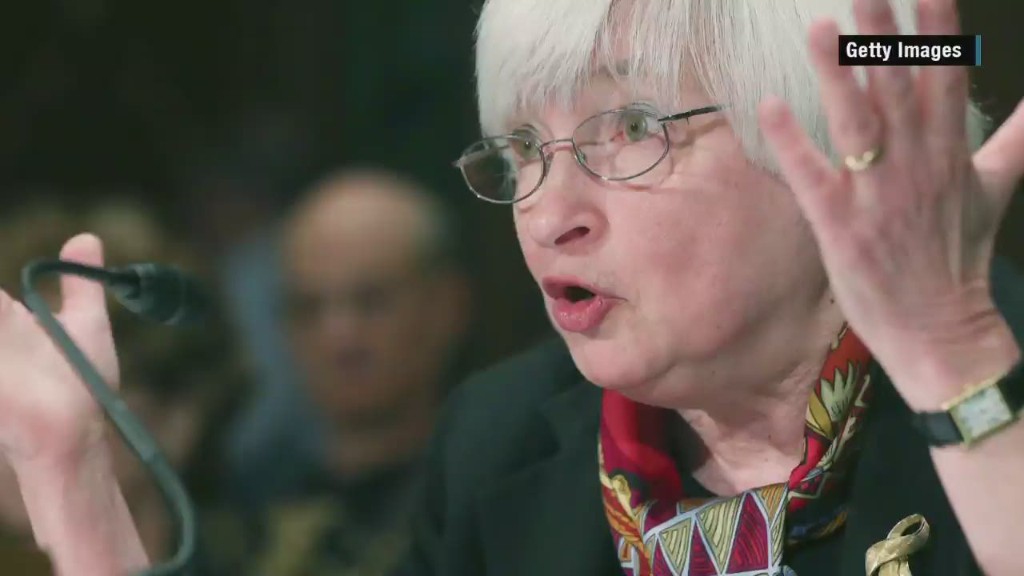 Federal Reserve Chair Janet Yellen thinks the economy is improving ... but that it should be doing much better.
In a speech Friday afternoon in San Francisco, Yellen was more blunt than usual in her assessment of the economy.
"If underlying conditions had truly returned to normal, the economy should be booming," she said.
Her more sobering tone will likely please Wall Street. Investors are anxious about the Fed raising interest rates later this year for the first time in about a decade.
But Yellen continues to strongly hint that the Fed won't push interest rates significantly higher anytime soon.
Related: Fed is preparing to raise rates later this year
Here are some of her most telling comments Friday:
1. The job market needs improvement: Although Yellen said the job market recovery "has been substantial," she added that there is "some way to go" before the economy reached maximum employment.
The unemployment rate is now 5.5%. Yellen said that the Fed wants to see it fall to about 5%. She also noted that there are still too many people working part-time jobs and that " wage growth continues to be quite subdued."
2. "Not all sectors of the economy are doing well." Yellen mentioned three specific concerns:
The strong dollar is hurting exports.
Lower oil prices have led to a pullback in drilling.
The recovery in housing construction, like wage growth, is "subdued."
3. Can the economy thrive without low interest rates? She said the economy is still "quite weak by historical standards" and that the increases in hiring have been achieved mainly due to the Fed's easy money, or accommodative, monetary policies since the Great Recession ended.
The Fed cut interest rates to near zero after the financial crisis to try to jump start a recovery.
This might be the most interesting observation ... and some may interpret it as a sign that Yellen realizes the Fed has to keep interest rates pretty low for a long time. Last week, the Fed opened the door to raising rates as early as June, but some now question if that's too soon.
Related: Thank you, Janet Yellen! Stocks surge
Yellen gets that this recovery is an odd one. It's been strong for investors, but not for average middle-class Americans struggling to keep up.
The economy is a heck of a lot better now than it was six years ago. But it is definitely not booming.