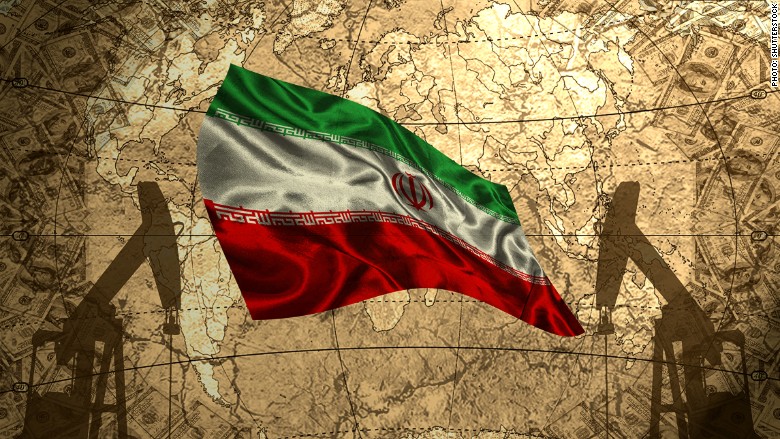 The fate of global oil prices will be determined in Lausanne, Switzerland this week.
An unlikely location for oil markets, to be sure, but that is where U.S. Secretary of State John Kerry is meeting with Iran's Mohammad Javad Zarif for intense negotiations over Iran's nuclear program. The so-called P5+1 countries and Iran hope to come to an 11th hour agreement that could pave the way for a historic thaw in relations. The deadline for a deal is the end of the month, or Tuesday night.
Although nuclear weapons proliferation is the headline item, one of the most significant side effects of the negotiations will be their effect on the price of oil. Iran, as a member of OPEC and a major oil producer on the world stage, still has substantial influence on oil markets.
Oil producers are still producing more oil than the world can handle, with around 1.5 million barrels per day in excess capacity. That glut could grow much bigger if the U.S. and Iran resolve their differences.
Related: Tesla: Are Investors Losing Faith?
The Iran factor: Iran hopes to bring an additional 1 million barrels per day back online in the coming months if a deal can be signed, a volume that would crush oil prices. The prospect of permanently lowering tensions with Iran -- especially in light of the Saudi attack on rebels in Yemen -- would also push down prices substantially. If the West and Iran can reach a deal on Tuesday night, oil prices could lose an immediate $5 per barrel, according to analysts at Societe General.
It is unclear how quickly Iran could resuscitate its decrepit oil industry even if sanctions are removed. Iran has large oil reserves, but the severing of its relationship with international financial markets has scared away investment, and its major oil fields are in need of maintenance and rehabilitation. But it appears that the need to remove sanctions and boost oil output has contributed to Iran's willingness to consider a deal. Iranian President Hassan Rouhani has sought to woo international oil companies to move back into Iran as they may be the key to increasing oil production.
Still, that is all a matter for another day. The immediate effect of a deal, regardless of Iran's long-term ability to boost output, is hard to overstate. The mere act of coming together to sign a deal would be an enormous blow to U.S. shale companies. A $5 drop in oil prices and the expectation of forthcoming Iranian crude would keep oil prices depressed much longer than analysts had predicted. Speculators would rush out of oil and the bear market would continue throughout the rest of this year, putting more financial pressure on weak U.S. drillers. More write-downs and bankruptcies could be expected.
Related: U.S. Oil Glut Story Grossly Exaggerated
What happens if no deal is reached? In contrast, the failure to reach a deal could have the opposite effect. Without an agreement, there is not a clear path forward for a peaceful resolution to the standoff between Iran and the West. While Secretary Kerry and Foreign Minister Zarif sit in Switzerland, tensions are rising between the U.S. and Iran on the Arabian Peninsula.
The Saudi attack on Yemen alone should not have much of an effect on oil markets (Yemen is only a marginal producer of oil), but the collapse of negotiations coupled with rising conflict between the U.S. and Iran in Yemen would stoke the possibility of a future war. In unfortunate timing, Iran claimed that the U.S. killed two Iranian advisors in Iraq in a March 23 drone strike. The U.S. denies having launched any strikes near the alleged site on that date.
The oil markets could greet the impasse with a geopolitical "premium," potentially adding a few dollars to the price of a barrel of oil this week should the talks falter and relations deteriorate.
Related: Impending Iran Deal Could Crush Current Rally
There are still significant differences outstanding, including the timeline for the removal of sanctions. Iran wants them removed much quicker than the U.S. can stomach. Also, Iran wants fewer and shorter restrictions on the use of advanced centrifuges.
There are some signs that a deal may be moving out of reach. On March 29, Iran's Deputy Foreign Minister poured cold water on a key provision that would see uranium shipped out of Iran. American officials played down Iran's apparent backtracking on Monday, arguing the final details have yet to be hammered out. But Russian Foreign Minister Sergey Lavrov left Switzerland for Russia, with a spokesperson saying that he will only return if a deal moves closer to final agreement. That doesn't suggest that things are going well in Switzerland.
A nuclear deal would be great for international peace so many hope both sides can overcome their differences as well as hardliners in their respective countries. Whatever the outcome is, it will determine the direction of oil prices over the coming months.
A deal raises the prospect of a flood of oil rushing onto an over-supplied market, which will send oil prices into a tailspin. Failure to find common ground could raise tensions between Iran and the West -- and also raise the price of oil.
Nick Cunningham is a Washington DC-based writer on energy and environmental issues for Oilprice.com. You can follow him on twitter at @nickcunningham1.