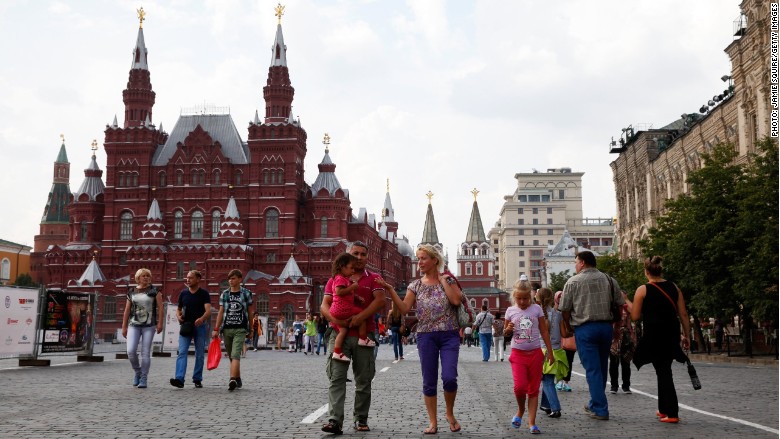 Cash-strapped Russians are ditching their foreign travel plans, spending their vacation in Russia instead.
Now international airlines are finding it hard to fill planes to and from Russia and many are slashing their flights.
EasyJet said Tuesday it will cut the number of flights to Russia by half this summer, after it had already reduced its service from London to Moscow in January.
The British budget airline said the move was a "response to the reduction in demand to and from Russia in recent months."
Russian tourists have been hit by the collapse of the ruble. The currency lost over 40% against the dollar in the last six months, pushing the cost of international holiday up for Russians.
Russia's relationship with the West has suffered a huge blow over Moscow's involvement in the crisis in Ukraine.
Russia's Federal Air Transport Agency said international traffic was down 14.5% in January and February.
Related: Now might be the time to buy Russia. Yes, really.
EasyJet (ESYJY) is the latest airline to cut down on its Russia services. Cathay Pacific (CATY), a Hong Kong based airline, canceled its flights to Moscow last week, the Moscow Times reported. And Qatar Airways also cut down on capacity on its flights to Russia.
Etihad Airways, another Gulf carrier, scrapped its plans for a Boeing (BA) Dreamliner service between Abu Dhabi and Moscow, and slashed the number of its flights to Russia by a third.
Smaller European airlines such as German Berlin Air and Finnish Finnair (FNNNF) also canceled flights to various Russian cities.
Russian airlines are also rethinking their strategy. The air transport agency said Russian airlines withdrew 72 destinations from their schedules due to the declining number of passengers.
The Russian government introduced a number of measures aimed at boosting domestic tourism. It has cut tax from 18% to 10% for airlines operating domestic flights and encouraged state-owned corporations to subsidize domestic vacations for their employees.
The strategy seemed to work -- Russian airlines reported 12.4% growth in domestic passengers in the first two months of the year.