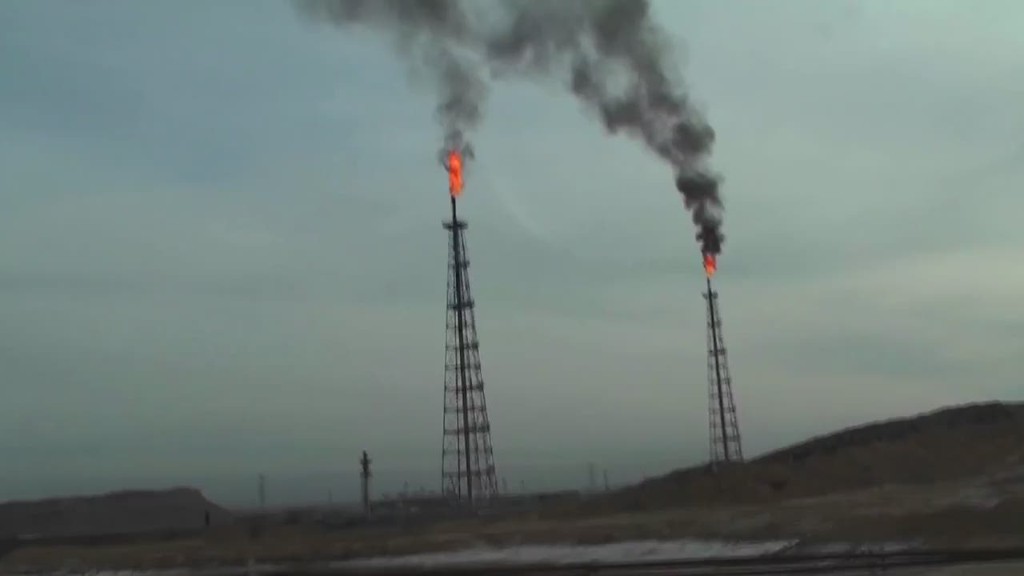 The tentative Iranian nuclear deal is here, and the price of oil didn't crash.
Crude oil has been trading in the $48 to $50 a barrel range all day Thursday. That's a lot higher than the low point of about $42 oil fell to a few weeks ago.
While there was mention Thursday of "sanctions relief" once Iran complies with the terms of a deal, much more must still be worked out between Iran, the U.S. and the other "P5 +1" partners.
That may explain why the oil price did not react much. For weeks, experts predicted oil would likely slide as much as $5 after the announcement of a deal. Instead, oil is down less than a dollar, and the U.S. stock market showed little reaction.
"Our work is not done. The deal is not yet signed," President Obama said Thursday. "Many key details will be finalized in the next three months."
Energy traders are now in wait-and-see mode.
"We don't really have an agreement...It sounds like I have an agreement to maybe get engaged one day," said Phil Flynn, a senior energy analyst at Price Futures Group.
Even if a deal is reached by June 30, "it will take months after that until weapons inspectors get in there. You might not see that [Iranian] oil hit the market for over a year," he noted.
But make no mistake: While the negotiations are mostly focused on Iran's nuclear capabilities, they are also about oil.
Iran's economy is heavily reliant on oil exports, yet sanctions have crippled the nation's ability to sell its oil on world markets. The country exports just 1.3 million barrels a day now, compared with 2.5 million barrels as recently as mid-2012 when the sanctions were imposed.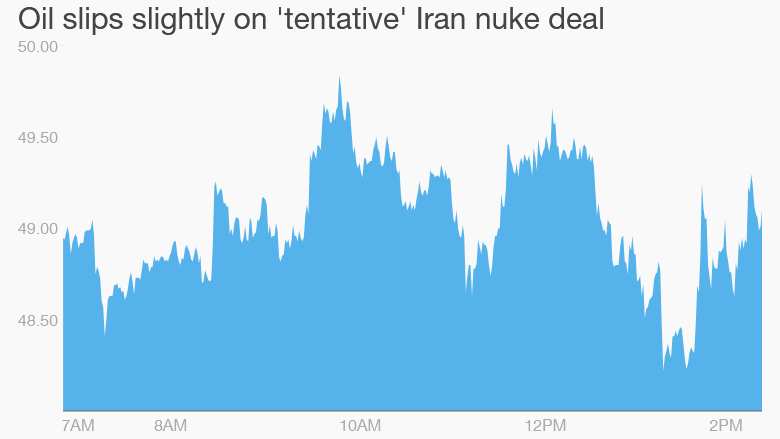 The effects have devastated Iran's economy. Youth unemployment has spiked above 20%, and inflation has soared.
The issue: The problem with Iran exporting more oil is that the world already has too much of it. Prices have crashed from over $100 a barrel last summer to below $50, hit the lowest level in six years . Adding Iran into the mix is expected to send prices lower. That's bad news for Iran, which requires oil prices above $130 a barrel to balance its budget, according to Deutsche Bank.
"They are in a Catch-22. The more they start exporting, the more the price of oil is going to go down," said Brenda Shaffer, a visiting researcher at Georgetown University.
Related: Is $30 a barrel next for oil?
Lots of Iranian 'cheating': There are currently 12 sanctions in place that target Iran's energy sector, including on the purchase of Iranian crude oil, Barclays said. That is supposed to prevent oil exports from Iran.
On top of that, there are 20 sanctions that target Iran's financial sector, making it extremely difficult to conduct transactions of any sort with Iran.
According to the U.S. Energy Information Administration, Iran has the world's fourth-largest proven crude oil reserves. Oil is key for Iran, and it has gotten around the sanctions by using the black market.
"There's been a lot of Iranian cheating," said Shaffer. Some Iranian oil is even hitting the open market because it's being marketed as coming from other countries, she said.
Related: End of OPEC is closer to reality
How fast can Iran get back in the game? Iranian oil minister Bijan Zanganeh has previously said if sanctions were to end, Iran would double its exports within two months.
"[Traders] have been anticipating that this deal was going to be done overnight and that if they got a deal, we'd see 500,000 or a million barrels of oil come onto the market immediately," energy analyst Flynn noted.
But other experts question the forecasts. It could take at least six months and may even require foreign expertise, Barclays believes.
"You can't just turn it on and turn it off. It's not like a light switch," said Shaffer.