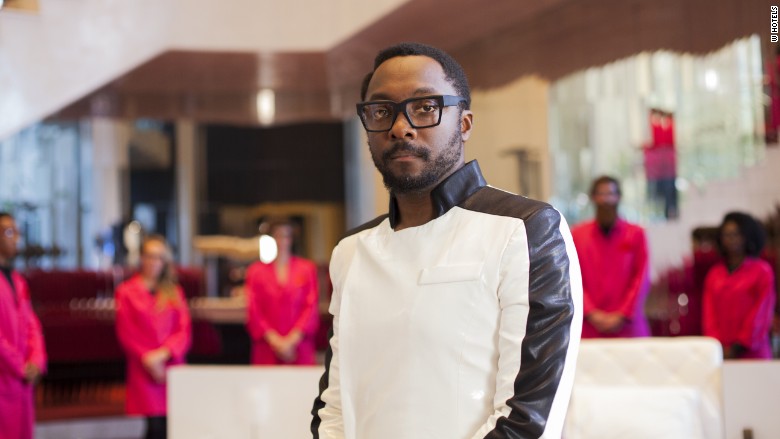 Will.i.am has a new side job: selling bedsheets made from old Coca-Cola bottles.
It's not that he's fallen on hard times in the music biz, it's more that he's into recycling. So the Black Eyed Peas frontman has partnered with Coke (KO) and W Hotels on a line of bedding made with at least 30% recycled plastic.
The sheets will soon be on all W hotel beds worldwide. They don't look or feel any different than the hotel's current sheets -- the plastic is used to make polyester and simply replaces the virgin polyester currently used in the blended fabric. Each king-sized sheet will contain about 31 plastic bottles.
For W, the move was about being more eco-friendly as well as saving money. The new sheets are more durable and can be washed up to 200 times before wearing out (compared to about 100 washes now).
Related: L.A. to control its street lights with a single laptop
The sheets will also be available for purchase at the W's store, though they aren't cheap -- a set starts at $207.
They'll carry both the W and Ekocycle brand. Ekocycle is a broader partnership between Will.i.am and Coke to use recycled content in more products.
Will.i.am said he got the idea for Ekocycle back in 2008 after attending conferences on corporate social responsibility and hearing about how firms want to cut waste.
"A lot of times the companies say what they want to do, but not how they're going to do it," he said. "Or they do it, but they don't tell anyone."
Related: The activist nun reforming for-profit prisons
So he pitched Coke with an idea to market recycled plastic to other firms that wanted to green their products. Coke bit, and Ekocycle launched in 2012. It now has its name on over 150 products including shoes, luggage, bicycles and chairs. Companies that want to use the Ekocycle brand pay a royalty, which is shared between Coke and Will.i.am.
"Our resources are not forever," Will.i.am said. "Sustainability is going to be something we're all talking about."
If all this sounds like a bunch of people making money while burnishing their green credentials, it is. But it's also important for those with branding experience to create a market for recycled material. This is especially true now that the cost of oil -- which is virgin plastic's main ingredient -- is so low. Cheap virgin plastic puts recycled plastic at a disadvantage.
"Recycling is more than just putting stuff in the right bin," said Darby Hoover, a resource specialist at the Natural Resources Defense Council. "And it's good that Coke is taking responsibility for its bottles."