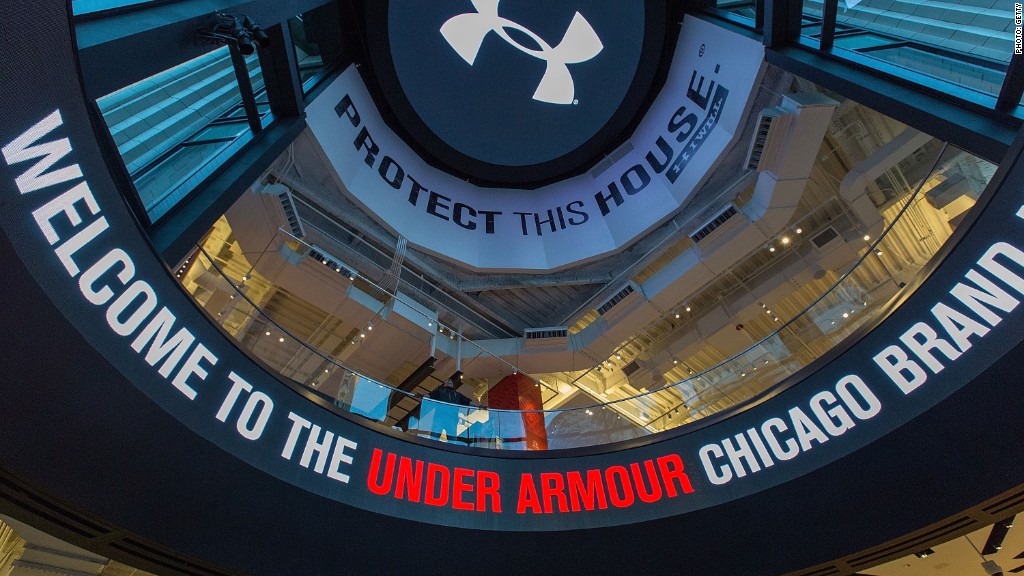 Remember last week when 21-year-old golfer Jordan Spieth won the Masters Tournament in Under Armour attire?
Under Armour execs are still talking about it. Spieth's victory was the equivalent of a corporate dunk on rival Nike (NKE). There's just one problem for Under Armour: investors have come to expect Masters-winning moments all the time from the company.
On Tuesday, Under Armour (UA) reported its 20th straight quarter with revenue growth above 20%, but it wasn't enough to please shareholders. The stock slipped over 4%. Investors weren't pleased that income dipped and earnings per share missed expectations.
But there's a reason: income declined in recent months because Under Armour bought two fitness-tech companies, Endomondo and MyFitnessPal. The plan is to become to go to place for sports tech alongside clothing and gear.
Related: Jordan Spieth is just what golf needs
Strong stock: Otherwise, Under Armour had a rosy start to the year. Sales surged 25% in the quarter compared to the same time a year ago. Despite Tuesday's tepid share performance, Under Armour is still among the top 10 best performing stocks in the S&P 500 this year -- far outpacing Nike.
"We are even more excited with the foundation we are establishing for future growth," Under Armour CEO Kevin Plank said in a statement, noting the revenue growth.
The stock's drop Tuesday probably isn't a warning sign: it's an opportunity to buy, says Sam Poser, senior analyst at research firm Sterne Agee.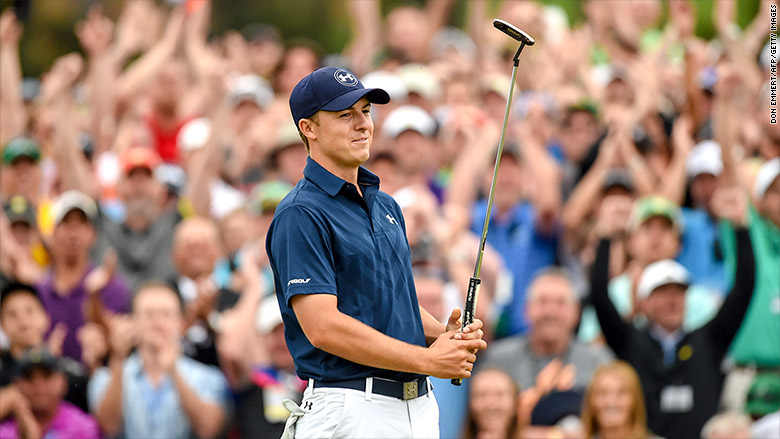 Under Armour opened stores in the Middle East and Brazil as its international sales soared 74%. Add on an improved sales outlook for the year and the success of its athletes, and Under Armour has plenty to smile about.
Related: Jordan Spieth wins Masters, ties record low score
Game changers: Under Armour athletes keep putting the brand in the spotlight. NBA superstar Stephen Curry introduced his first shoe with Under Armour earlier this year. His team, the Golden State Warriors, is cruising so far in the NBA playoffs. Curry, 27, is a lead candidate for the league's Most Valuable Player award too.
Now there's Spieth. He became the second-youngest golfer behind Tiger Woods to win the green jacket and become a household name overnight.
While its athletes are a piece to the puzzle, Under Armour's real success is reeling in the millennial generation away from the more historic brands, says Dan Hess, chief retail analyst at Merchant Forecast, a retail research firm.
"Under Armour owns the younger generation. You can't put a price on that," says Hess. "We remain really bullish on this company."