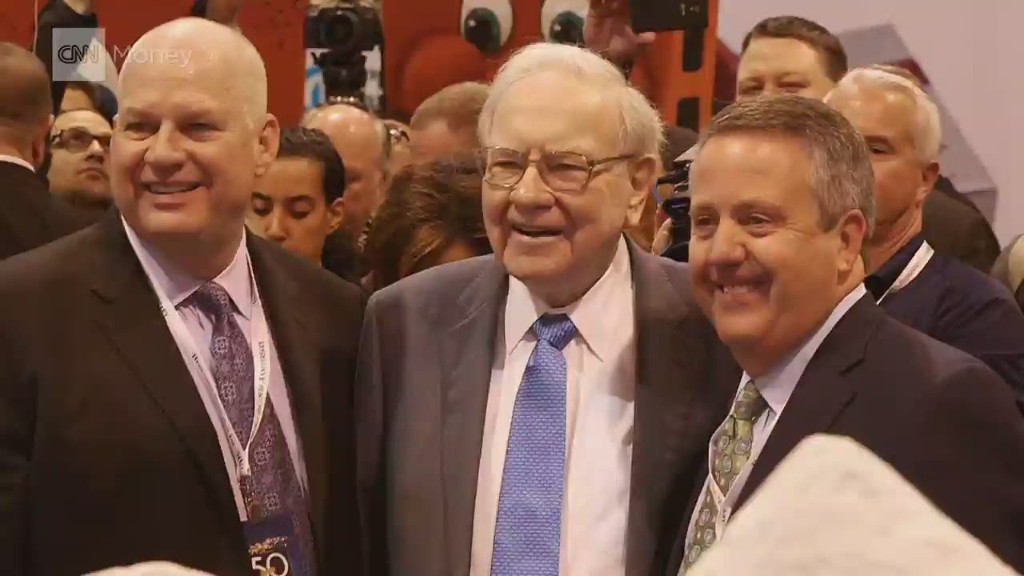 Many Berkshire Hathaway shareholders adore Warren Buffett. But the first question lobbed at him during Saturday's annual shareholder meeting was hardly a softball.
Retired Fortune writer Carol Loomis read the question from a long-time shareholder concerned that Berkshire may no longer be as ethical a company as it used to be.
The shareholder cited a report in the Seattle Times that accused Clayton Homes, the manufactured home maker owned by Berkshire (BRKA), of predatory lending practices.
That same shareholder also aired reservations about Berkshire's partnerships with Brazilian private equity firm 3G Capital -- which has made big layoffs at companies it has acquired.
Berkshire and 3G co-own Heinz and recently announced plans to merge with Kraft (KRFT).
Buffett addressed the Clayton criticism first. He said the Seattle Times report had many "important mistakes" in it.
He noted that the article misidentified the size of Clayton's profit margins.
And Buffett said he was proud that Clayton made homes affordable for many lower-income people that don't have the best credit scores.
"I make no apologies whatsoever about Clayton's lending," Buffett said, adding that he has "not gotten one call" from any customers complaining about Clayton.
Related: Berkshire's top stocks off to lousy start in 2015
Buffett also defended 3G, saying that no company should have more employees than it needs.
He touted the financial success at Heinz and also at 3G-backed Burger King and Tim Hortons. Those two fast food chains recently merged to create a firm now known as Restaurant Brands (QSR).
Another shareholder was critical of Berkshire's investments in sugary foods and beverages at a time when obesity is a problem for many Americans.
The company owns See's Candies and Dairy Queen as well as a big stake in Coca-Cola (KO).
Buffett was unrepentant about his love for junk food. He joked that one-quarter of all the calories he gets are from Coke products and added that he never sees anyone smiling at Whole Foods (WFM).
Related: Warren Buffett must really love mac & cheese
That comment elicited a big round of laughs from the audience. But Buffett may be underestimating the organic food revolution. After all, two big Berkshire holdings -- Wal-Mart (WMT) and Costco (COST) -- are increasing their organic food offerings.
Despite some of the skeptical questions, Buffett continued to talk a lot about the culture at the company -- a common theme.
He said investors can expect that Berkshire will continue to operate much like it does now even after he and vice chairman Charlie Munger are gone.
But Buffett also quipped that Berkshire is "hardly a monastery by any means."
Making money is the most important thing. When Munger said that there were worse things in life than slowing growth at Berkshire, this was Buffett's terse response:
"Name one."