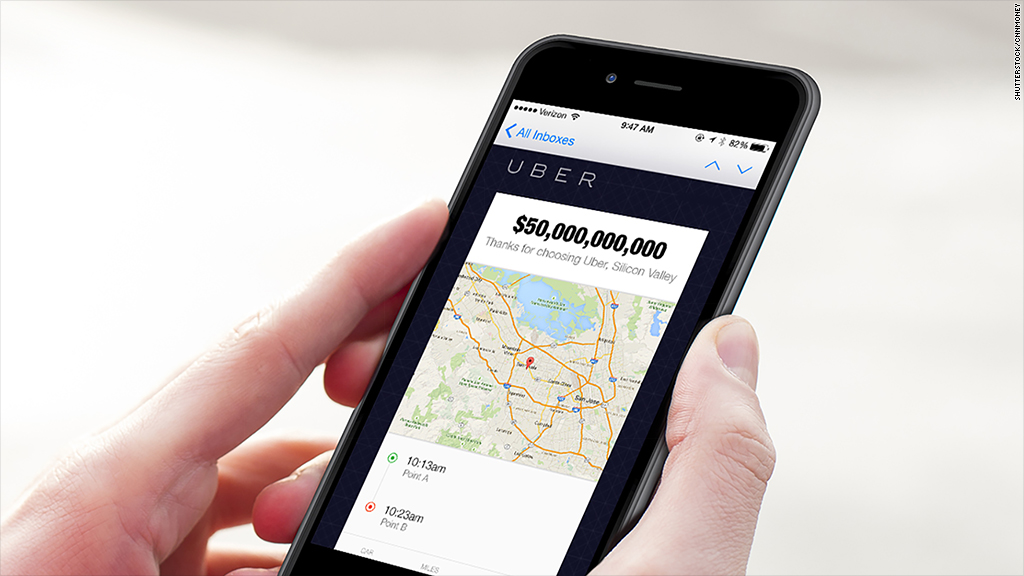 Now that's an expensive cab ride!
Ride sharing app Uber is reportedly raising more money in a round of financing that would value the company at $50 billion.
That is higher than 406 companies in the S&P 500, including blue chip industry leaders like FedEx (FDX), Capital One (COF), DirecTV (DTV) and Charles Schwab (SCHW).
It was less than a year ago that Uber was worth only $18 billion. Uber's valuation rose to $40 billion by December.
How can Uber possibly be worth this much? Since the company is still private, it's impossible to know what its finances look like.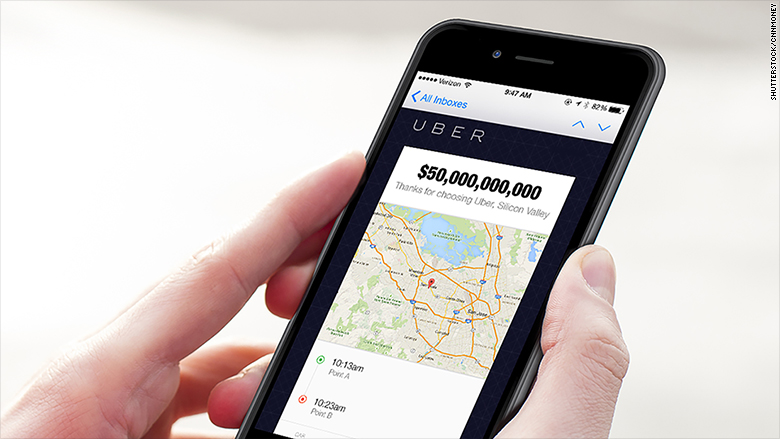 But there have been reports suggesting that Uber could generate more than $2 billion in revenue this year. Uber was not immediately available for comment.
Uber is clearly growing rapidly -- despite many legal and public relations problems, as well as competition from the likes of Lyft and others.
Related: Uber is not in Kansas anymore
In fact, the president of Google's venture arm -- Bill Maris -- said at the TechCrunch Disrupt conference last week that Uber was the fastest-growing company that he and his team at Google (GOOGL) have ever seen. Google Ventures owns a stake in Uber.
Uber, to be fair, is trying to be much more than a 21st century taxi dispatch service.
It's experimenting with a food delivery business called UberEATS in several big markets. If this takes off, it could be a problem for a company like the popular online food ordering service GrubHub.
Uber also has a bike messenger service it is testing in New York called UberRUSH. The company is trying to take advantage of its technology to deliver more than just people from one place to another.
And Uber may soon be able to improve its technology as well. The company is rumored to be one of the bidders for Nokia's (NOK) mapping service, with a reported offer of $3 billion.
Related: Here's why Uber may want Nokia's maps
Still, how does this add up to $50 billion? A lot of it is hype.
Uber is attracting levels of buzz similar to Facebook (FB) and Google when they were private. Both companies went public at prices that seemed absurdly high at the time ... but long-term investors are now sitting on gigantic returns.
That's one reason why hedge funds, mutual funds and venture capitalists continue to love Uber. It's the financial equivalent of FOMO.
Much like someone afraid to stay home on a Friday night for fear of missing out, big investors are scared of what will happen if they don't have a stake in Uber.
"For investors who think this is a life changing company they may pursue it at any valuation," said Matt Wong, research analyst with CB Insights, a venture capital database. "Why sit on the sidelines?"
That's all well and good. But we have to ask this again. $50 billion? Really? Seriously?
Related: Uber investor says millennials just don't care about owning a car
Max Wolff, chief economist with Manhattan Venture Partners, an investment bank focusing on late-stage private tech companies, is concerned that there is not enough critical analysis about Uber's valuation.
Wolff pointed out that the company's chief financial officer announced he was stepping down in March. His successor has yet to be named. If Uber were already public, that type of news could have sank its stock.
Now it's possible that Uber may soon hire a superstar CFO with public company experience to help Uber go through the IPO process. Wolff also admits that he thinks "Uber is a great company with a good opportunity."
But there are other red flags too.
"There is a lot of legislative fighting to come. There is major competition that's more locally entrenched in China," Wolff said. "A healthy dose of skepticism is needed. Uber is priced for a scenario where everything is going right."