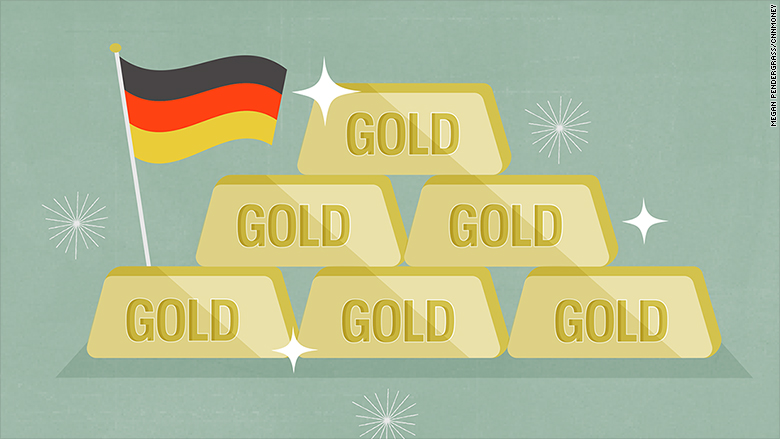 Germans are buying gold at a frantic pace.
It may be a sign they are worried about the future. People tend to buy gold when they fear economic disaster or a spike in prices.
The World Gold Council report released on Thursday said demand for total gold bar and coins spiked by 20% in Germany during the first quarter from the year before.
It's unusual for gold to be a hot commodity in an economy as strong Germany's is right now. And growth in Europe has regained momentum in recent months, outpacing even the sluggish pace experienced in the U.S.
Here is what's driving the European gold rush:
Inflation fears: The sale of gold has surged as the European Central Bank embarked on an experiment aimed at purchasing at least $1.3 trillion of bonds.
Some German citizens appear to be worried about a spike in prices triggered by so-called central bank money printing.
"You're talking about a group of people who have been burned before by governments overprinting currency. They've been through hyperinflation back in the 1920s," said Van Simmons, a buyer and seller of gold coins who is president of David Hall Rare Coins.
Simmons was referring to the psychological scars inflicted by the epic hyperinflation experienced by Germany in the Weimar Republic. Many gold bugs still point to that experience to justify buying gold today.
Related: Europe: There's plenty of good news. And then there's Greece
Greek jitters persist: Germans aren't the only ones in Europe stepping up their purchases of gold. Demand also increased by at least double-digits in France, Switzerland and Austria during the first quarter.
The World Gold Council said the first three months of 2015 represented the strongest start to a year for European gold demand since 2011 -- the year of the sovereign debt crisis that threatened to tear the eurozone apart.
Not only are people in Europe expressing concern about the ECB's stimulus programs backfiring, but they also seem to be fretting about the never-ending Greek crisis and lingering tensions with Russia over Ukraine.
Gold still sluggish: Yet the enthusiasm for the yellow metal wasn't shared by the rest of the world. Global demand for gold bars and coins actually declined by 10% during the first quarter. American demand shrank by 12% as the Fed positioned itself to raise interest rates, though that may now be postponed by the economic slowdown.
Gold prices have also been relatively tame. Gold is up 3.5% so far this year to $1,225 a troy ounce. With inflation remaining tame around the world, gold is well off its all-time high of nearly $1,900 experienced in 2011.
Gold bulls believe that will change -- eventually.
"It is only a matter of when, not if, the bull market resumes in light of the major instability that is being created by reckless global monetary policy, trillions of negative yielding paper and fiat currencies that continue to get abused," Peter Boockvar, chief market analyst at The Lindsey Group, wrote in a note to clients on Thursday.