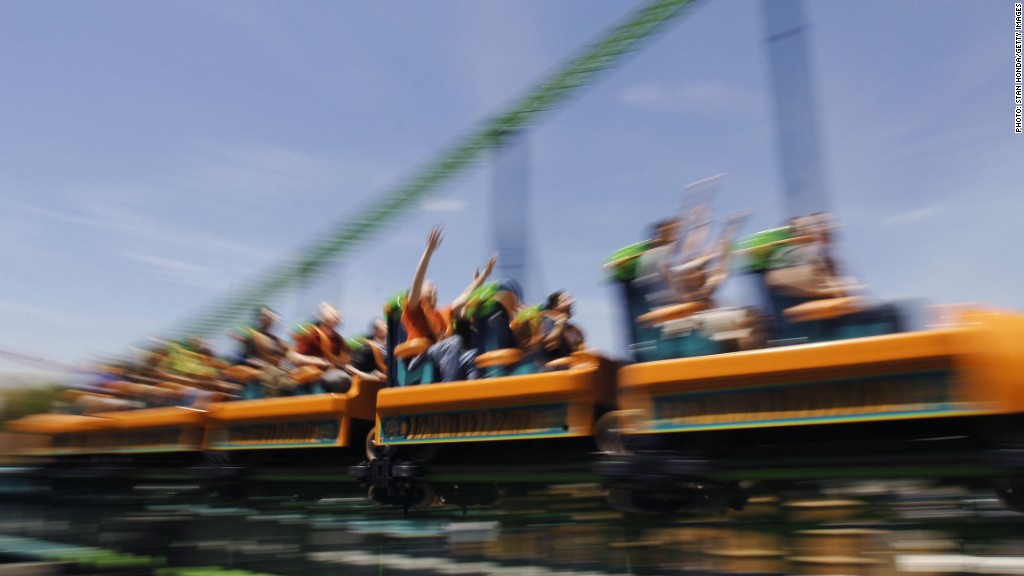 The stock market often seems like one big roller coaster. So why not invest in roller coasters?
Companies that own theme parks have done surprisingly well in 2015 -- despite concerns about sluggish consumer spending.
And it looks like the summer -- which unofficially kicks off this Memorial Day weekend -- will be a great one.
Shares of Cedar Fair (FUN), which owns Cedar Point in Ohio and several other amusement and water parks throughout the country, are up 20% so far this year.
Six Flags (SIX), operator of 18 theme parks in the United Sates, Mexico and Canada, is up 15%.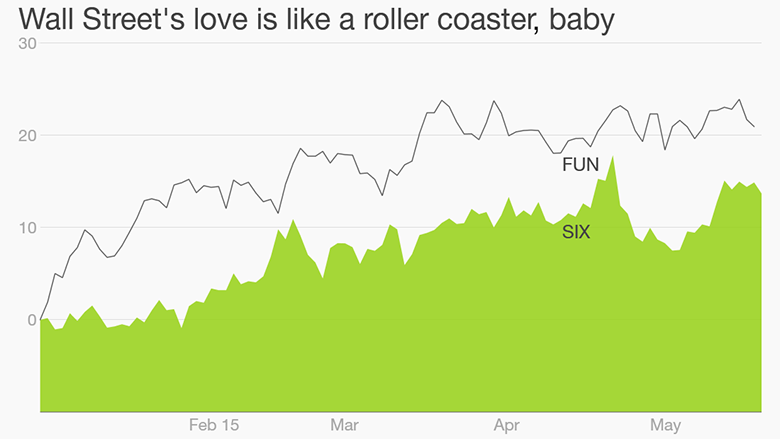 And the theme park units of two media giants, Disney (DIS) and Comcast (CMCSA), are also thriving. Comcast owns Universal Parks and Resorts. That division reported a 34% jump in revenue in the first quarter.
Disney said that operating profits from its parks and resorts unit were up 24% in the most recent quarter. And most of the growth was due to increased attendance and spending at its domestic parks, especially Walt Disney World in Orlando.
Follow CNNMoney's Cristina Alesci at the Magic Kingdom! #Disney24
So why are these companies doing so well while many retailers have posted disappointing sales for the first quarter?
Simply put, it's good entertainment.
"Our guests are looking for ways to spend quality time with their family and friends—and escape from day-to-day routines—even during tough economic times," said Jim Reid-Anderson, CEO of Six Flags.
Matt Ouimet, CEO of Cedar Fair, echoed that sentiment. He said he thinks consumers -- particularly parents -- are willing to pay up for a day or two at their local theme park, even if it means cutting back on spending elsewhere.
"Consumers have to prioritize," he said, adding that Cedar Fair and many of its competitors realize that they need to keep investing in new rides and better attractions to get customers to keep coming back.
Related: Disney raises theme park ticket prices again
Cedar Fair has several new rides this year, including the Fury 325 roller coaster at its Carowinds park in Charlotte and Voyage to the Iron Reef, a dark ride at Knott's Berry Farm in California.
Meanwhile, Six Flags is touting its new Twisted Colossus at Magic Mountain just outside of Los Angeles, the Wicked Cyclone at Six Flags New England (shouldn't it be "Wicked Awesome?) and Batman: The Ride, which is due to open this weekend at Six Flags Fiesta Texas.
"Innovation is part of our DNA. We introduce something new at every park, every year," the Six Flags CEO said.
These new rides cost a fair amount of money to build. But Ouimet said that Cedar Fair has been able to raise ticket prices at all its parks pretty consistently over the past few years to help offset those expenses.
The competition has been pushing up prices as well.
"We implement moderate price increases on our admissions tickets every year due to the incremental value we offer guests," Reid-Anderson said.
But that hasn't put a dent in attendance.
One reason for that? Both Cedar Fair and Six Flags have done a good job of promoting their season passes as good values for consumers.
Related: Sherlock may come to live at new London theme park
Ouimet said the average Cedar Fair season pass holder comes to a park four or five times a year. Six Flags said its season pass holders come three to four times a year.
If you've ever been to an amusement park on a busy weekend day, you know that it's nearly impossible to do everything you want.
"The season passes are a great way for people to come and enjoy the park without worrying about rushing from ride to ride in eight hours," Ouimet said.
There's one other factor that might be helping Cedar Fair, Six Flags, Disney and Universal. The weather.
After a brutally cold and snowy winter in many parts of the country, Ouimet said consumers may be more eager than ever to head to theme parks.
"I pay a lot of attention to weather reports and they are all good for this weekend," Ouimet said. "A little sunshine and warmth is what we need. People remember that it's time to get outside."