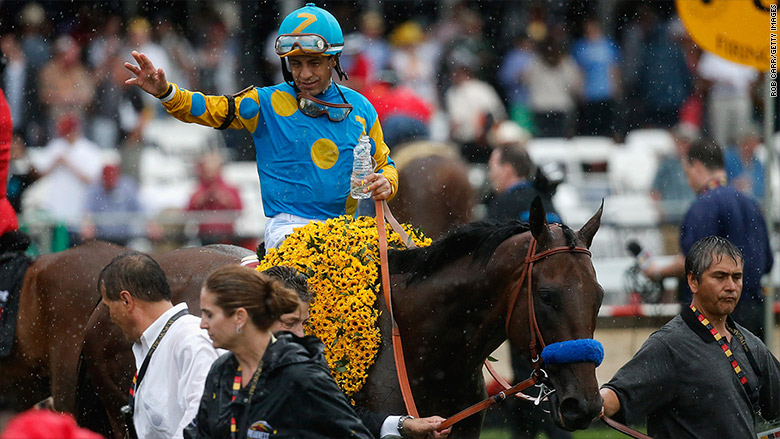 American Pharoah winning the Triple Crown was a great sporting moment, but it's a terrible sign for stocks.
Bespoke Investment Group crunched the numbers: the U.S. stock market has fallen 9%, on average, for the rest of the year when there's a Triple Crown winner. To put it another way, stocks sank 90% of the time after the big win.
Of course, this is hardly a well-tested predictor of stock market performance. Prior to American Pharoah, only 11 horses had ever accomplished this athletic feat, so data is thin.
Still, it's alarming how often the Triple Crown coincides with economic gloom.
Gallant Fox's 1930 Triple Crown was in the midst of the Great Depression, a year when stocks tumbled over 30%. That was followed by a another economic slump right around the time War Admiral was fighting his way to horse racing glory in 1937.
Related: American Pharoah's next big win: Stud fees
The early 1940s winners might have lifted the nation's spirits during World War II, but stocks slid after their crowning achievements.
And then there was Secretariat in 1973. Only a few months after cheering on that Belmont Stakes victory, Americans were cringing at gas stations during the oil crisis. That was a big reason that the stock market fell nearly 9% after Secretariat. The full list from Bespoke is below.
It's perhaps fitting that the only horse that has ever coincided with an S&P 500 rally was named Omaha -- home of famed investor Warren Buffett. Omaha won in 1935 -- when Buffett was barely out of his toddler phase. The stock market surged nearly 36% after that set of victories.
Related: Lunch with Warren Buffett goes for $2.3 million
In years where there is no Triple Crown champ, the S&P 500 index gains 5%, on average, leading Bespoke to jokingly say the firm was rooting for "the field" this year. The U.S. stock market is currently up slightly for 2015, and many experts say the S&P 500 will likely end the year higher, albeit not by a lot more.
Nearly half of American population witnessed the first Triple Crown horse racing winner of their lifetime on Saturday. That's how rare it is.
But it seem that it would be even more exceptional for the stock market to soar after American Pharoah's achievement.
Related: The stock market is long overdue for a big drop
S&P 500 Performance Following a Triple Crown win
1919: Sir Barton -- Data not available
1930: Gallant Fox -- S&P 500 falls -34.8% for the rest of the year
1935: Omaha -- S&P 500 gains +35.7% for the rest of the year
1937: War Admiral -- S&P 500 falls -35.2% for the rest of the year
1941: Whirlaway -- S&P 500 falls -8.43% for the rest of the year
1943: Count Fleet -- S&P 500 falls -4.2% for the rest of the
1946: Assault -- S&P 500 falls -18.7% for the rest of the year
1948: Citation -- S&P 500 falls -8.4% for the rest of the year
1973: Secretariat -- S&P 500 falls -8.9% for the rest of the year
1977: Seattle Slew -- S&P 500 falls -3.4% for the rest of the year
1978: Affirmed -- S&P 500 falls -3.8% for the rest of the year
2015: American Pharoah -- TBD (Note: S&P 500 was up 1.5% year-to-date before the win)
Average: -9% drop
Source: Bespoke Investment Group