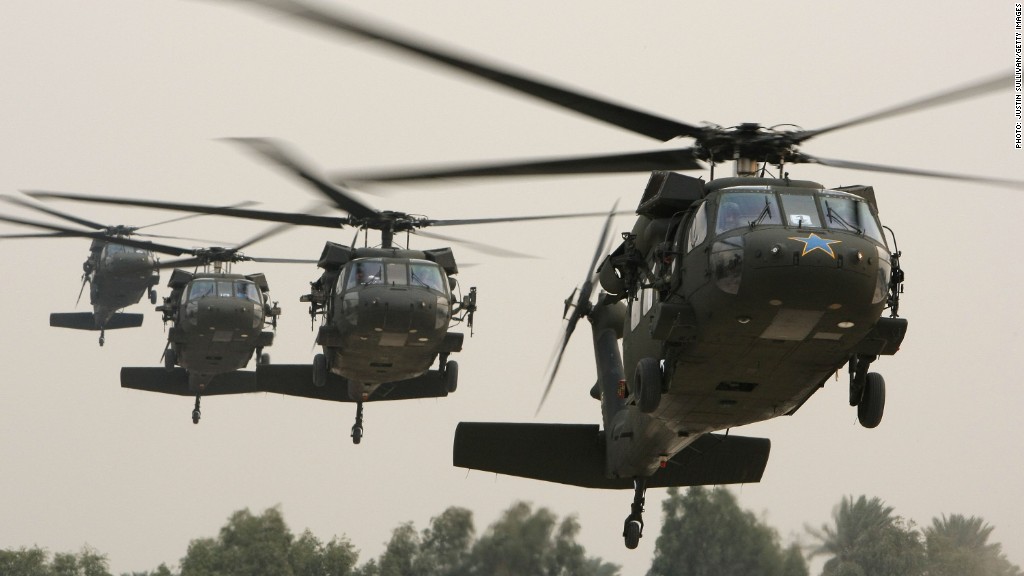 The company that makes the iconic Marine One fleet of helicopters for the President of the United States as well as the Black Hawk military chopper may soon have a new owner.
United Technologies (UTX) announced Monday that it plans to either sell or spin off its Sikorsky business later this year.
Sikorsky has been making helicopters for the White House since 1958. It won a $1.24 billion contract last year from the U.S. Navy to build six new helicopters by 2020 and will eventually make a total of 21 helicopters by 2023 to replace the current Marine One fleet.
The Black Hawk is probably most famous for its use by United States forces in Somalia in 1993.
Eighteen American soldiers were killed after two helicopters were shot down in the October 1993 Battle of Mogadishu. The events were the basis for the book and movie "Black Hawk Down."
Sikorsky, which began making aircraft 90 years ago, has been part of United Technologies since 1929.
But Sikorsky, which accounted for nearly 10% of the total sales at United Technologies in the first quarter, is not very profitable.
Related: The Pentagon courts Silicon Valley
The unit accounted for only 4% of the company's overall operating earnings and its margins were the lowest among all of United Technologies' major business lines.
Gregory Hayes, the CEO of United Technologies, said in a statement that although Sikorsky remained "the world's most premier helicopter company," the decision was made to exit the business so United Technologies could focus more on other units.
United Technologies also owns the Otis brand of elevators, Pratt & Whitney jet engines, and the Carrier line of air conditioners.
And it looks like some of these other businesses could use more attention. United Technologies also lowered its earnings guidance for the year on Monday. Shares fell 2.5%, making it the worst performer in the Dow.
Sikorsky could be a good fit for another military contractor though. The Black Hawk is still one of the top helicopters purchased by the federal government.
According to budgets from the Department of Defense, the U.S. military has requested $1.6 billion to buy 94 UH-60 Black Hawks in fiscal 2016.
Related: The rocket built to take down Elon Musk
The Pentagon bought 70 Black Hawks in fiscal 2014 and 86 in fiscal 2015 for a combined total of $2.8 billion.
There has been speculation that Boeing, Textron or Lockheed Martin could be interested in buying Sikorsky.
Boeing (BA) makes the Apache while Textron (TXT) makes Bell helicopters. The two have a joint venture to manufacture the Osprey. Lockheed (LMT) makes the Seahawk and Romeo helicopters.