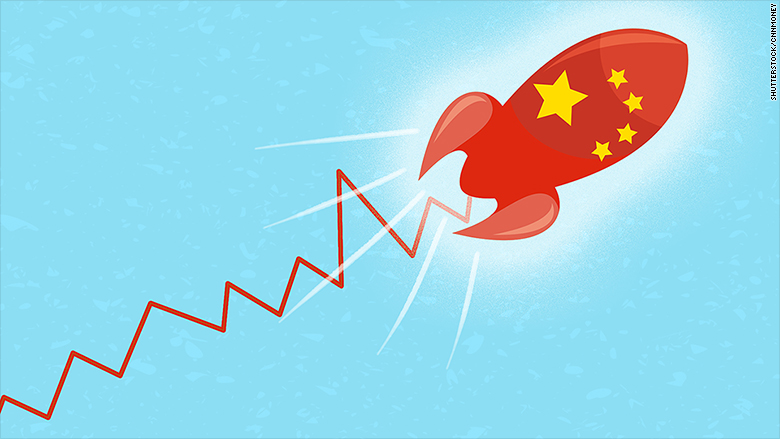 $10 trillion! That's how much money China's stock market is worth right now.
As of the end of May, the Shanghai Stock Exchange had a total market cap of $5.9 trillion while the Shenzhen Stock Exchange clocked in at $4.4 trillion, according to the World Federation of Exchanges.
That means there's at least $10.3 trillion floating in China's stock market right now, as both stocks in Shanghai and Shenzhen have surged further in June.
China's stock market has rocketed this year to astonishing new highs. The benchmark Shanghai Composite is up nearly 60% since Jan. 1, and the Shenzhen Composite has jumped by 120%, easily making it the world's best-performing market.
The crazy rise has pushed the Shanghai Stock Exchange up the ranks to become the world's third-biggest by market cap, behind the New York Stock Exchange at nearly $20 trillion and Nasdaq at $7 trillion.
Related: It's official: Chinese stocks have surged over 100%
Markets have spiked despite slowing economic growth in China -- first quarter GDP came in at 7%, the worst since the financial crisis. Still, investors remain optimistic that Beijing will step in to support the flailing economy.
The central bank has already taken some steps, announcing interest rate cuts and lowering the amount of cash banks must keep on reserve -- a move meant to help the economy by freeing up money for loans. Economists expect the government to do more in coming months.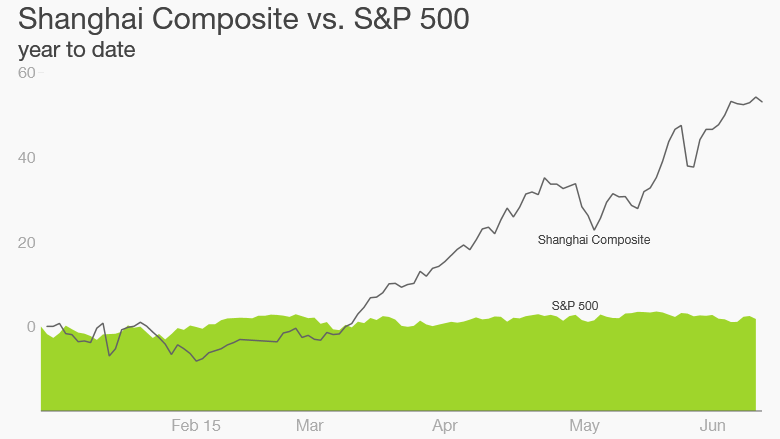 Much of the money rushing in to stocks is coming from individual investors -- many of whom had previously sunk savings into the real estate market. But now, the housing bubble is deflating, and they're piling into stocks.
Eighty-one percent of retail investors in China trade at least once a month, according to a State Street survey published earlier this year. That's the highest of any country on the planet -- just 53% of Americans and 32% of French investors say they trade monthly or more often.
There's so much investor interest that BNP Paribas estimated that about 170,000 new stock trading accounts were being opened each business day in China at one point this year, more than 10 times the average for 2014.
Related: Bubble trouble: China's stock market looks too hot
Plus, a few other government initiatives have bolstered interest in China's markets.
The government recently unveiled a plan to allow Hong Kong mutual funds to be sold on the mainland for the first time. Nearly 1,000 funds qualify for the scheme which will allow foreign investors to tap China's fast growing consumer sectors, and vice versa, Macquarie China economist Larry Hu wrote in a research note.
This program, along with a similar scheme launched last year connecting the Hong Kong and Shanghai markets, gives investors more channels than ever to make financial investments in China.
Related: Investors flee China funds in historic rush
Despite China's stock rise and various government efforts to open up its markets, index provider MSCI said last week that it's still not ready to include Chinese stocks in its global benchmarks.
Here are the top stock exchanges by market cap:
New York Stock Exchange - $19.7 trillion
NASDAQ OMX - $7.4 trillion
Shanghai Stock Exchange - $5.9 trillion
Japan Stock Exchange - Tokyo - $5 trillion
Shenzhen Stock Exchange - $4.4 trillion
Hong Kong Stock Exchange - $3.96 trillion
Euronext - $3.5 trillion
Source: World Federation of Exchanges, data as of end-May.
--CNNMoney's Matt Egan contributed to this report.