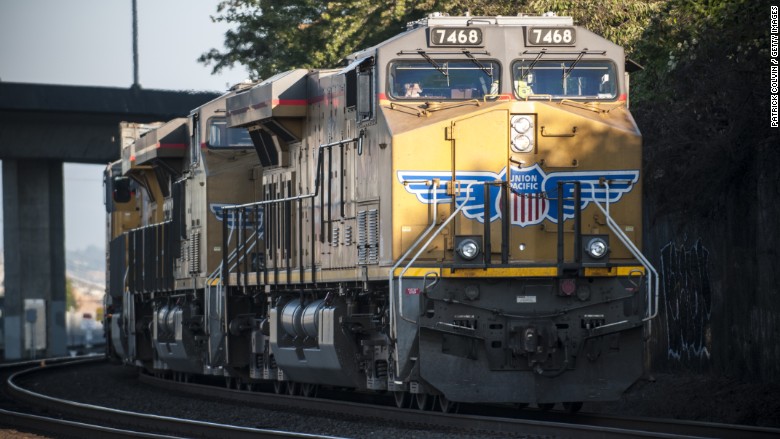 After cruising for years, railroad stocks are hitting the brakes in 2015.
They've been hurt by the U.S. economy's sluggish growth this winter and the big slide in energy prices.
There's a lot to glean from what's happening to the railroads. Many of the issues that have impacted America's economy -- low oil prices, the strong dollar, cold winter weather, the West Coast port strike -- hit the rail companies too.
Union Pacific (UNP) is America's largest rail company, and its stock is down 16% this year. Five of the six major railroad companies have seen their stocks go down 20% or more since peaking last fall, according to a report by UBS.
Related: A stock market 'leading indicator' is tanking. But why?
Time to sell? After buying up railroad stocks for years, some investors are starting to get out.
"The railroad business is getting more sluggish," says Peter Tuz, president of Chase Investment Counsel in Charlottesville, Va. "It's a myriad of things that's made their business a little less robust than we'd like to see."
Tuz sold his holdings in Union Pacific earlier this year. The numbers explain why.
Rail volume, measured by carloads, was down almost 10% in May compared to the same time a year ago, according to the Association of American Railroads. Coal carloads were down almost 19% in the first week of June compared to the same week a year ago. That's a significant slide.
Related: Airline profits could take off in 2015
Commodity bust: Like oil and gas, coal prices have tanked this year too. One ton of Central Appalachian Coal is worth $42 today, a 31% drop from a year ago. As coal prices have fallen, rail traffic has declined too. Fewer shipments means less business. No wonder the stock prices are falling.
But it's not just energy that's hurting rail companies. Many commodities -- from certain foods to metals -- have slumped in price over the past year. The rail companies can't catch a commodity break.
Related: Wall Street bets on 75% chance of Greek default
What's next? Railroad stocks are sometimes viewed as a leading indicator of where the rest of the stock market is headed. If businesses aren't shipping as much, that's not a good sign for many companies.
However, experts say don't panic. The downturn in rail stocks and traffic is mostly an energy-driven story. Some industries benefit heavily from cheap commodities., and so far, the fallout has been mostly limited to oil and gas companies and closely-related sectors.
Investors should keep an eye on railroad stocks because some could be worth buying later this year, says UBS analyst Thomas Wadewitz. Investors should be patient and wait for rail traffic to pick up more later in 2015 before buying though. Weak traffic could lag on railroad stocks for months, he says.
"There's a favorable opportunity for the rail stocks," says Wadewitz. "But patience is probably required because this current weakness in volumes is likely to persist through a good portion of the year."