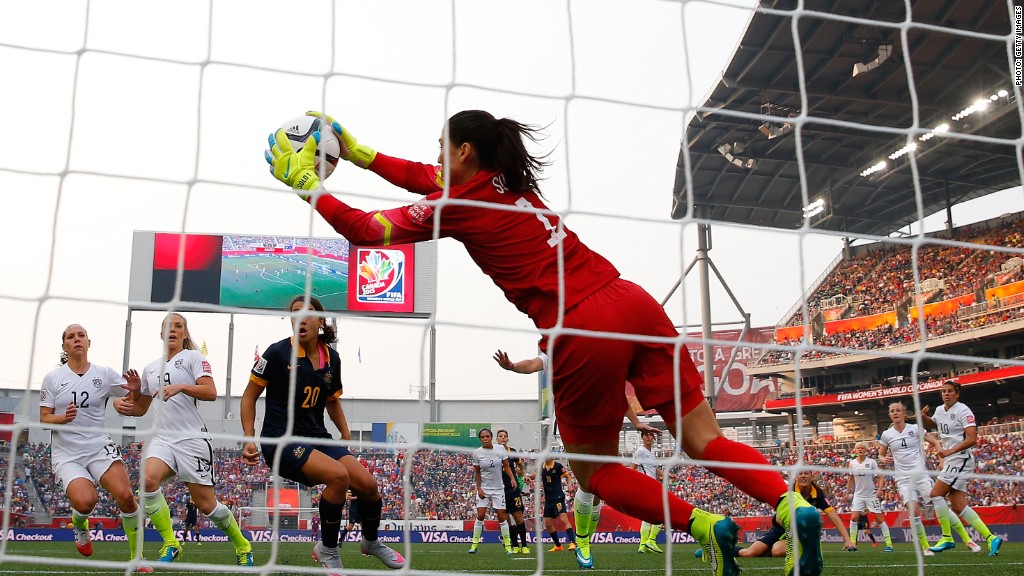 Don't underestimate the power of the swoosh.
Nike (NKE) shares surged more than 4% Friday and hit a new all-time high.
The athletic apparel giant reported strong quarterly results after the closing bell Thursday. Earnings rose 26% and easily beat Wall Street's estimates.
Sales topped forecasts too, led by big gains in North America, Western Europe and China. Investors also liked the fact that orders, which are an indicator of future sales, rose at a healthy clip too.
"At no time in our history has the growth potential been greater for Nike," said CEO Mark Parker in a statement.
Related: Nike's Parker is one of the most-loved CEOs by employees
The solid results are a sign that Nike is still the dominant player in sports clothing, despite a challenge from upstart Under Armour (UA).
Under Armour is on a huge winning streak this year. The stock is up 26% so far, compared to a 14% gain for Nike.
And the company's exposure has increased thanks to the championship performance of several of its top spokesathletes.
The New England Patriots won the Super Bowl. Quarterback Tom Brady is an Under Armour endorser.
Stephen Curry won the NBA MVP award, and his Golden State Warriors won the NBA championship this month as well -- defeating the Cleveland Cavaliers and Nike-backed LeBron James in the process.
Under Armour started selling the Curry One sneaker earlier this year.
And then there's golfer Jordan Spieth, who signed a new 10-year deal with Under Armour earlier this year. Spieth has won golf's first two majors -- the Masters in April and the U.S. Open this month.
Related: Tiger who? Nike and Under Armour face off over new golf stars
Spieth, who is just 21, is now being compared to Tiger Woods (who is still a Nike guy) at his prime.
But it's not as if Nike is slouching in the endorsement department. In addition to James, it backs several other star NBA players, such as Kevin Durant and Kobe Bryant.
Under Armour may be riding high with Curry right now. But it has a long way to go before it can catch Nike for hoops supremacy.
Related: NIke wins deal to provide NBA uniforms
Nike's basketball revenues in its most recent fiscal year were $3.7 billion. That's more than Under Armour's overall sales last year.
Golfer Rory McIlroy and tennis legend Serena Williams are Nike athletes too.
Nike also is a big player in the sport that many people around the world care about the most -- soccer.
Related: How Nike became the king of endorsements
The company has deals with many teams and several top players, including Ronaldo and Neymar. Nike also makes the uniforms for the U.S. women's World Cup soccer team.
Nike's ties to scandal-plagued FIFA have cast it in a negative light though. It appears that Nike is the unnamed company cited in the bribery allegations made against FIFA officials last month.
But so far, Wall Street doesn't seem too worried.
And as long as the company keeps hitting baskets/sinking putts/scoring goals or whatever your preferred sports cliche for financial success is, Nike will probably continue to be a winner on Wall Street.