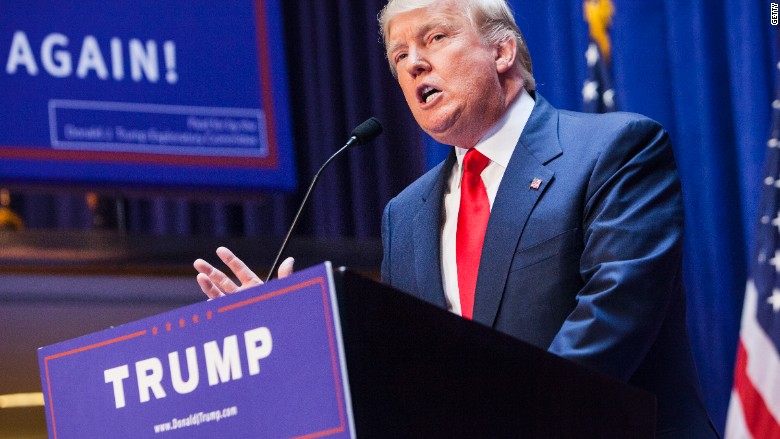 Donald Trump may be losing business deals left and right, but his stock picking is pretty good.
Trump gave the public a glimpse into his investment portfolio on Wednesday, a preliminary disclosure required of presidential candidates in which he also claimed he's worth $10 billion.
Trump's investments aren't all that bold. They are more or less a Who's Who list of America's biggest companies, many of which are listed on the Dow.
Still, many investors would envy his track record. Out of 45 stocks he said he sold through January 2014, Trump lost money on just five stocks. Here are his five biggest stock wins, as measured by percentage gains:
1.) Facebook (199% gain, $3.9 million profit)
2.) Bank of America (135% gain, $6.7 million profit)
3.) Best Buy (113% gain, $2.2 million profit)
4.) Boeing (80% gain, $4 million profit)
5.) Morgan Stanley (75% gain, $750,000 profit)
It's not clear when he purchased the shares, and he didn't say what stocks he currently owns. All told, Trump said his equity investments generated a gain of $27 million.
Related: Trump-branded golf resort files for bankruptcy
Here's what else we know about Donald Trump, the stock picker.
Trump basically owns the Dow: While The Donald comes off as brash in his campaign speeches, his stock picks are relatively tame. Of the shares listed, 16 were part of the Dow 30, including Intel (INTC), General Electric (GE) and McDonald's (MCD).
That speaks to Trump's preference for large, multinational companies. Large-cap stocks have performed well during the bull market, though ones with heavy international exposure have been hurt more recently by the strong dollar.
Trump REALLY loves America: Only three of Trump's stock picks were based outside of the U.S.: Enbridge (ENB) (Canada), Noble (NBL) (U.K.) and Volkswagen (VLKAF) (Germany).
That was probably a smart move considering American stocks outperformed their global peers during much of the bull market. However, that patriotic investing strategy has been less lucrative this year. During the first half of 2015, the U.S. ranked 47th among 74 countries in terms of equity performance. While the S&P 500 was virtually flat, stocks in China, Japan and even Argentina soared.
Related: The world's best performing stock markets in 2015
He's not perfect: Trump might not admit it, but even he can make poor decisions. He lost money on investments in Pepsi (PEP), Occidental Petroleum (OXY), Coca-Cola (KO) and Enbridge (ENB).
Trump also likely regrets his investment in D.R. Horton (DHI), the home builder he sold shares in at a loss of about 20%. Don't feel too bad for Trump though. He lost only $205,000 on it.