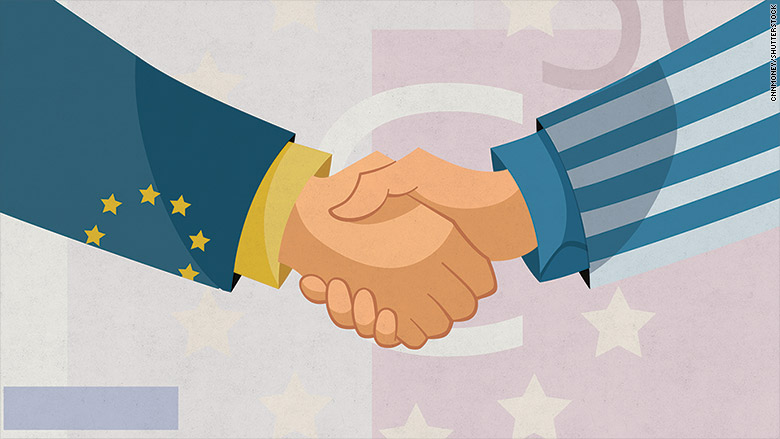 Greece was thrown two financial lifelines Thursday just hours after taking the first step to securing a new bailout from its creditors.
European finance ministers approved an interim loan worth seven billion euros ($7.6 billion) to help Greece pay its most urgent debts in the next few days. Then the European Central Bank said it would pump 900 million euros in emergency funding into Greek banks, which have been shut for nearly three weeks.
But the new cash won't provide immediate relief for Greeks. The government said banks would stay shut through Sunday. A banking source said the banks were ready to resume limited operations on Monday, but the government had yet to make that decision.
Europe's moves to restore funding to Greece came after the Greek parliament backed a proposed three-year rescue package -- worth as much as $96 billion -- overnight, and passed into law several key economic reforms set by creditors as preconditions for a deal.
The details of the new rescue will take weeks to negotiate but Greece needs money now -- to clear its arrears of about two billion euros with the International Monetary Fund, and to make a debt repayment of 3.5 billion euros to the ECB on Monday.
Its banks also need money to stay afloat. The ECB had been turning down requests for more cash since the government abandoned bailout talks in late June.
Greece was then forced to shutter the banks after panicked savers pulled billions out of their accounts. Daily withdrawals were limited to 60 euros.
Related: Will Greece have to sell off an island or two?
Markets were worried that if Greece didn't have the money to make its Monday repayment to the ECB it would effectively get kicked out of the euro and be forced to return to its old drachma currency.
Greece has gotten itself into a financial mess over the past few years by spending too much and getting into a lot of debt. Other countries that use the euro, along with the ECB and IMF, have all pitched in by lending the country roughly 233 billion euros ($255 billion) in bailout loans since 2010.
But now the country needs more.
In order to access further financing from these lenders, Greece committed to overhaul its spending and taxation. The Greek parliament voted to approve the first in a series of tough economic reforms on Thursday morning after hours of debate.
But the moves are deeply unpopular among Greeks, who feel their government was forced to bow to the demands of lenders instead of setting its own course.
Once Greece gets this bridge loan, the focus will turn to the bigger, promised eurozone bailout.
Formal negotiations will begin on this bailout program once Germany and a handful of other nations get parliamentary approval to lend out more money. Finland's parliament agreed to the deal Thursday. Germany's parliament will vote Friday.
--CNN's Elinda Labropoulou and Ivana Kottasova contributed to this report.