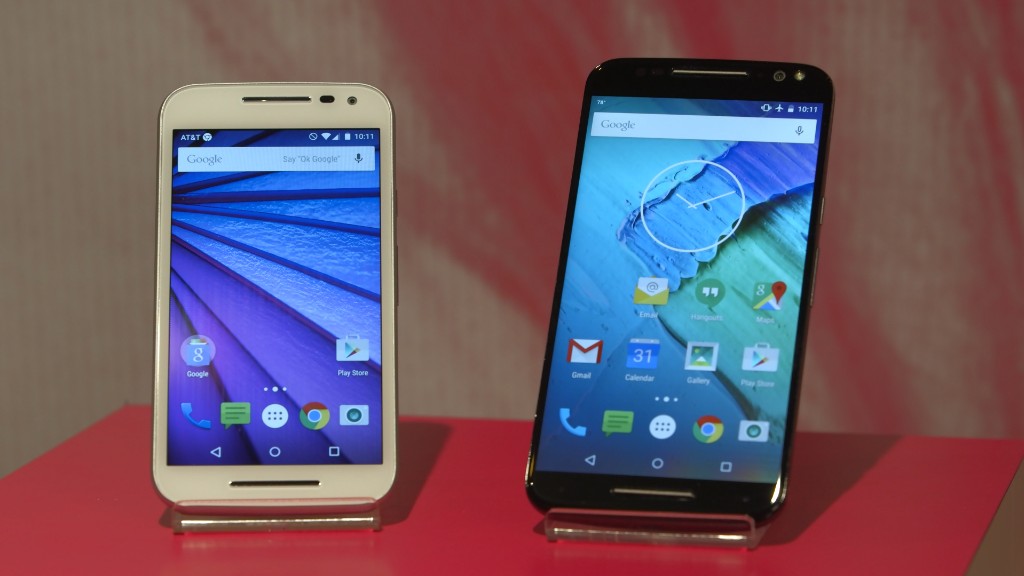 The Moto X was the best smartphone of 2014, and this year's version is getting a significant upgrade.
Buying the "Moto X Pure Edition" will get you a smartphone with a giant 5.7-inch screen and terrific software. The price is good for a top-of-the-line phone.
And Motorola said it has solved some of the most glaring problems with last year's Moto X: It says the new one has a great camera and a battery that will charge super fast and get you through the whole day. (With just a few minutes to play around with the device, CNNMoney didn't get to test out any of those claims.)
Like its predecessors, the Moto X Pure Edition will be extremely customizable.
You can design one yourself online, choosing dozens of color combinations, leather or even wood grain.
The software is customizable too.
The new Moto X essentially runs Android as Google designed it with just a few tweaks that make your phone more personal. For example, you can tell it to talk to you when you're home, vibrate at work and silence itself during meetings. It'll recite texts to you when you're driving and give you notifications at a glance if you wave your hand over the screen. And you can launch the camera or flashlight with a quick shake.
Great hardware and software are nice, but most high-end smartphones today have super fast processors and awesome features.
What makes Motorola's new phone stand out is the price. It compares equally or favorably in hardware specifications with the Apple (AAPL) iPhone 6 Plus, the Samsung Galaxy S6, the LG G4, the OnePlus 2 and other top-of-the-line phones.
Yet the entry-level 16 GB Moto X Pure Edition will sell for $399. That's about $350 less than the iPhone 6 Plus, $250 less than the iPhone 6, $150 less than the Galaxy S6 and $100 less than the LG G4 (the Galaxy S6 and G4 start at 32 GB). Only the OnePlus 2, which sells for $329, beats it on price.
"We're trying to be one step ahead of the competition in offering value for money," Jeff Miller, Motorola's North American sales chief, said in an interview. "People don't like to be taken advantage of."
Like the OnePlus 2, the Moto X will only be offered off-contract, meaning you won't be able to get a subsidized phone from your carrier. But it will work on any of the four nationwide cell phone companies, which means you can use the same exact phone on Sprint (S), T-Mobile (TMUS), AT&T (T) or Verizon's (VZ) networks.
Motorola says going contract-free is a gamble it expects to pay off. Customers will notice, for example, that software updates come in more quickly since they don't have to go through a carrier first.
"We're confident this is the new wave of the future," Miller said. "It will be so much faster."
The Moto X Pure Edition will launch in September. It will be sold online on Amazon (AMZN), Motorola.com and at Best Buy (BBY) stores.
Also on Tuesday, Motorola announced that the lower-end Moto G phone, which starts at $180, has gone on sale.