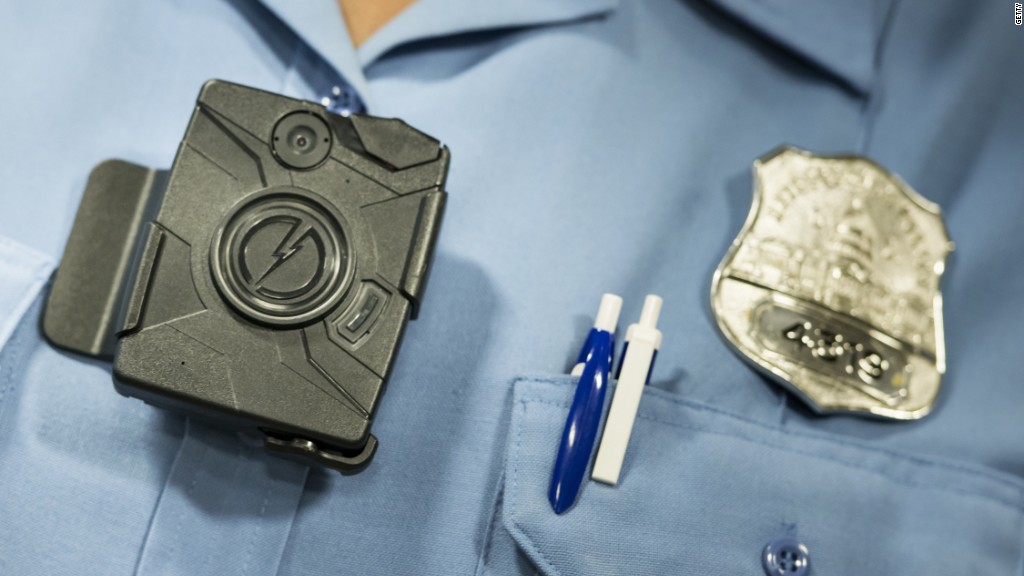 A year ago, shares of wearable body camera Digital Ally traded for less than $4. The stock is now trading above $8.50.
Stun gun maker Taser, which also makes the Axon line of cameras for police officers, was hovering around $12 this time last year. Today, Taser trades for about $24.
A big reason both stocks have doubled? The demand for body cameras after Michael Brown was shot and killed in Ferguson, Missouri, on August 9, 2014.
Video footage of arrests could make some officers think twice about how they treat suspects. At the same time, police who've been falsely accused of misconduct could be exonerated thanks to video evidence.
And there have been several other controversial killings of suspects by police officers since Ferguson, most notably Freddie Gray in Baltimore in April.
Related: Ferguson is still pumping out arrest warrants
Orders from law enforcement agencies have come pouring in over the past year.
Digital Ally (DGLY) reported on Thursday that sales in the second quarter surged 63% from a year ago.
The company specifically cited "heightened interest in the benefits of video evidence among law enforcement agencies following civil unrest in Ferguson, Missouri; Baltimore, Maryland and other cities during the past twelve months" in its earnings release.
Taser (TASR) said last month that Axon sales nearly doubled in the second quarter. In June, the Dallas Police Department placed an order for 1,000 Axon body wearable cameras over the next three years -- the third-largest order ever for the cameras.
The company also noted that it had big orders for Axon and its Evidence.com digital management service from police departments in Portsmouth, Virginia, Salt Lake City and New Orleans in the quarter.
Related: Why Baltimore police offers don't wear digital cameras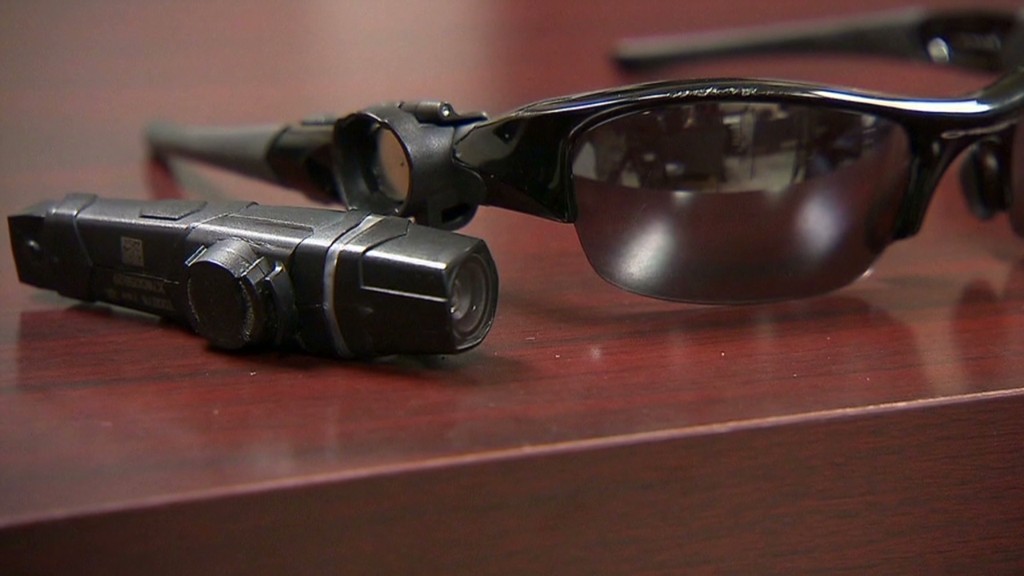 Some politicians, including Democratic presidential frontrunner Hillary Clinton, have called for body cameras to be mandatory nationwide. Comments like that have also helped lift the stocks of Digital Ally and Taser.
But it's unreasonable to expect that all police departments will have body cameras soon.
For one thing, there are privacy concerns.
Maryland, for example, has what's known as a "two-party consent" rule for audio and video recordings. The person doing the recording and the person being recorded both have to agree to the recording.
Buying the cameras is also an expensive proposition. Then, law enforcers have to spend even more to house all the data they capture.
The Obama administration has proposed $75 million in funding for body cameras in partnership with state and local governments.
The federal government will match up to 50% of what state and local agencies spend. The program could pay for 50,000 body cameras over a period of three years.
Related: Big order for Axon cameras from Dallas is latest boost for Taser
Luke Larson, president of Taser, said in an interview with CNNMoney that it was good to see governments step up. But the funding is just a start.
"It's really important that we're seeing a commitment from the federal government to provide funds, but we're also seeing state and local agencies provide funds as well," he said. However, he added, "they've got to be able to fund that year over year."
Still, Larson said he believes that "every police officer will be wearing this technology" within the next few years.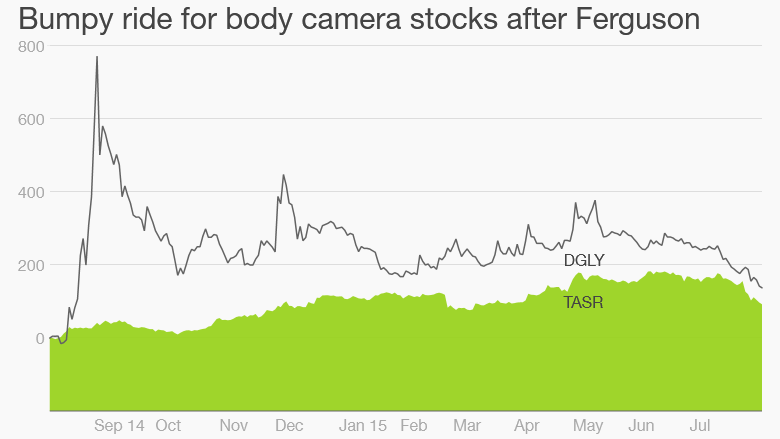 But investors need to be careful before buying either Digital Ally or Taser. Digital Ally is a tiny company -- worth only $46 million. And the stock has been extremely volatile.
Shares plunged 8% Friday because sales, while strong, missed forecasts. The company also reported a loss.
And even though Digital Ally's shares are up dramatically from a year ago, they are down 45% so far in 2015 and are a whopping 70% below the peak they hit last September when Ferguson was dominating the headlines.
Taser's stock is down nearly 35% from the 52-week high it traded at in June. While the company's Axon business is growing rapidly, its stun gun unit is reporting slower growth. And that business still accounts for 80% of Taser's overall sales.
Digital Ally and Taser also face competition from Panasonic (PCRFY) and privately held companies VieVu and Wolfcom.
So even if a lot more police officers are wearing body cameras in the next few years, they won't all be made by Taser and Digital Ally.
-- CNNMoney's Laurie Frankel contributed to this report.