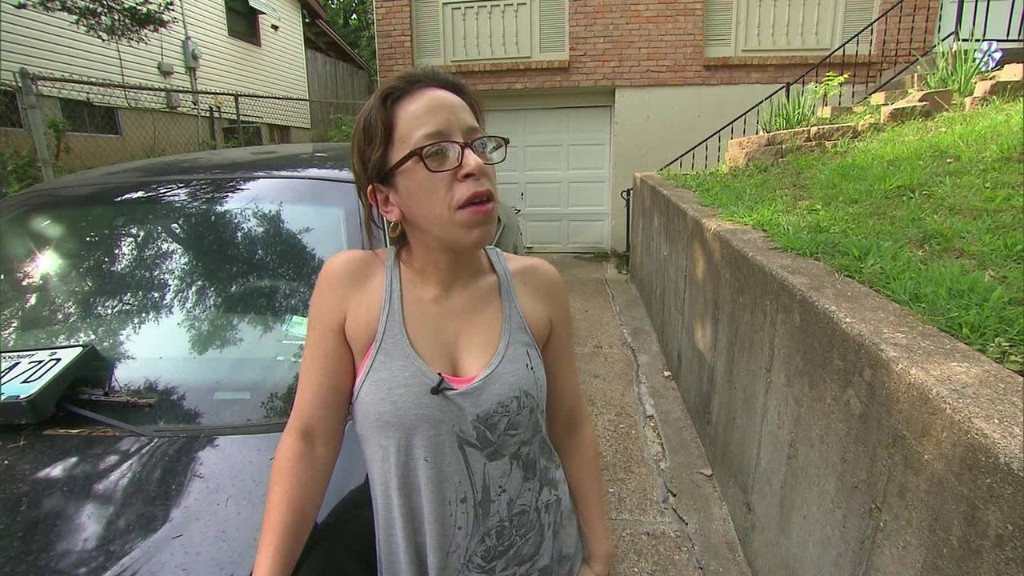 Loud music. Not wearing a seat belt. Speeding.
A year after the fatal shooting of Michael Brown sparked a firestorm in Ferguson, the city is still pumping out thousands of new arrest warrants and jailing people over minor offenses, according to an exclusive CNNMoney analysis.
This practice continues despite a scathing report from the Department of Justice in March that found that Ferguson's police department and municipal court were unconstitutionally targeting low-income and minority residents with tickets and fines for minor offenses -- often in pursuit of revenue. The report noted that there were more than 16,000 people (residents and non-residents alike) with outstanding arrest warrants as of the end of last year, equivalent to around 75% of the town's population.
While the police were the ones giving out the tickets, the DOJ slammed the city's court for using arrest warrants to squeeze money out of the people least able to afford the fines. Even though there need to be repercussions for people who break the law and ignore their tickets, the DOJ says jail time is far too harsh a punishment for infractions that rarely pose a major threat to public safety.
But in the wake of the DOJ report, CNNMoney found that Ferguson is still at it. The city has issued more than 2,300 new arrest warrants so far this year and thousands of older warrants continue to haunt people -- even as neighboring municipalities are wiping out old tickets or warrants entirely.
But that number, provided to CNNMoney by the state, only tells part of the story. So CNNMoney decided to zero in on the underlying offenses that are leading to these warrants. Getting this information wasn't easy. At first, CNNMoney filed a public records request for data showing all offenses that have led to outstanding warrants, which was denied. CNNMoney then turned to a state committee of judges, which ultimately ordered Ferguson to release the city's court records. But then the city said it doesn't store these records digitally and could only make paper copies available.
So CNNMoney analyzed more than 700 pages of paper court dockets from the two most recent months available at the time, April and May.
Related: Traffic tickets land pastor, student, single mom behind bars
For one Ferguson woman, an old ticket for an expired car registration resulted in a warrant that she didn't learn about until she tried to renew her license several months ago. Meanwhile, her neighbor could be arrested at any time because of a ticket she couldn't afford to pay for having an old, beat-up car parked in her driveway.
A St. Louis mail carrier went to court in Ferguson five times to fight a ticket for driving through a stop sign, but he still ended up with an arrest warrant when he was late to pay the fine. And CNNMoney spoke to multiple people who had recently been arrested and taken to Ferguson's jail after police had discovered their warrants during traffic stops.
"They're still engaging in racial profiling, still over-enforcing and still issuing too many warrants," said Brendan Roediger, a professor at St. Louis University School of Law who is representing plaintiffs in two lawsuits against Ferguson over its municipal court operations.
Arrest warrants on the rise
Some things have changed amid the scrutiny: Thanks to a new judge, the court is increasingly offering more flexible payment plans and community service options. Fines for failing to show up to court have been eliminated and others have been reduced, dealing a big blow to the city's coffers. Police officers are issuing fewer tickets, and a new interim police chief says he wants to help the city turn a corner.
"I think most of the community really recognizes the amount of progress we've made over the past year," Ferguson Mayor James Knowles told CNN.
Related: Is Ferguson really changing its ways?
While these changes could eventually reduce the number of warrants that are issued, interviews with more than a dozen residents, lawyers and activists, along with CNNMoney's analysis of city and state data, show that the city's problems are far from over.
One sign of improvement: New arrest warrants issued this year are down from the same time last year, though five court dates -- where hundreds of individual cases would typically be heard -- were canceled during this time.
But the city is ramping up again.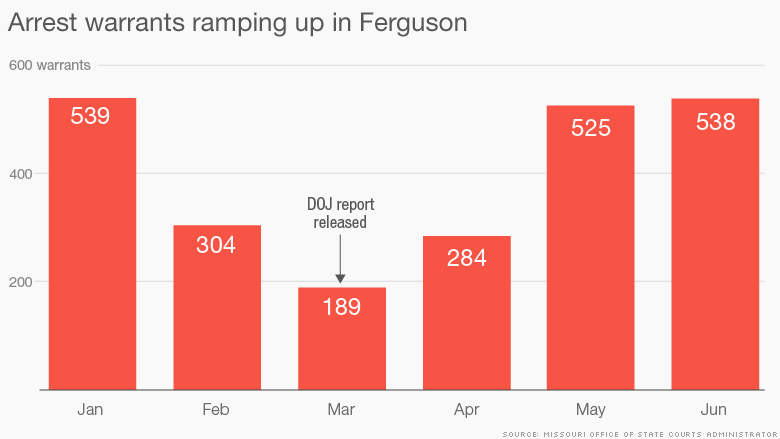 In May and June alone, more than 1,000 people were hit with new arrest warrants -- making up almost half of all new warrants this year (as of June 30), according to figures provided by Ferguson. That represents a 20% decrease from the same period in 2014 -- before the city's court had come under national scrutiny.
What's sparking arrest warrants?
Warrants are issued in Ferguson when someone misses two court hearings or fails to pay their fines in time -- which court officials say are used to get people to show up to court.
In CNNMoney's analysis, minor offenses dominated the dockets, representing nearly 80% of the nearly 2,000 tickets that led to arrest warrants in April and May. For example, 37 seat belt citations and 104 speeding tickets turned into arrest warrants in these two months. Meanwhile, nearly 100 tickets were for the most minor of violations: having an overgrown yard or rundown house, playing loud music, parking incorrectly, being out past curfew, displaying a license plate in the wrong way, or walking in the road inappropriately.
This last charge, officially listed as "manner of walking along roadway," was highlighted by the DOJ in its report, which cited an example of one man who received a ticket after dancing in the street. The report said 95% of the people cited for this offense in recent years were African-American.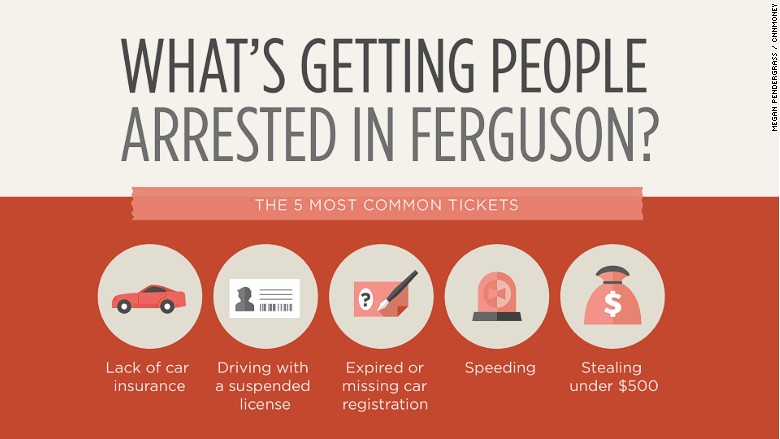 In contrast, around 14% of these citations were for more serious violations like possession of marijuana, stealing less than $500 or driving under the influence. (Because municipal courts don't handle felony offenses like murder or rape, this is about as serious as it gets.)
Another 6% of the tickets that became warrants were related to disrespecting the police. The DOJ report found that charges like these had been repeatedly given unlawfully and were often triggered when people complained about police conduct. Others are likely linked to last year's protests.
Vicious cycles
Among the most common offenses: lack of car insurance, driving on an expired or suspended license, and out-of-date car registration. And while driving without these necessities is obviously a problem, legal advocates say tickets like these should not result in jail time and are often a symptom of poverty.
For many low-income people, it's a vicious cycle: Out-of-date license plates make them an easy target for a traffic stop. If someone lacks car insurance, which can be prohibitively expensive for low-income drivers who often get charged higher rates -- that can easily lead to another ticket.
And that's just the beginning.
During a single traffic stop, it's not uncommon for multiple other charges to be tacked on for offenses like a broken headlight, failure to pass emission standards, or objects hanging near the windshield. CNNMoney's analysis found dozens of people with warrants out for their arrest who had received tickets like these.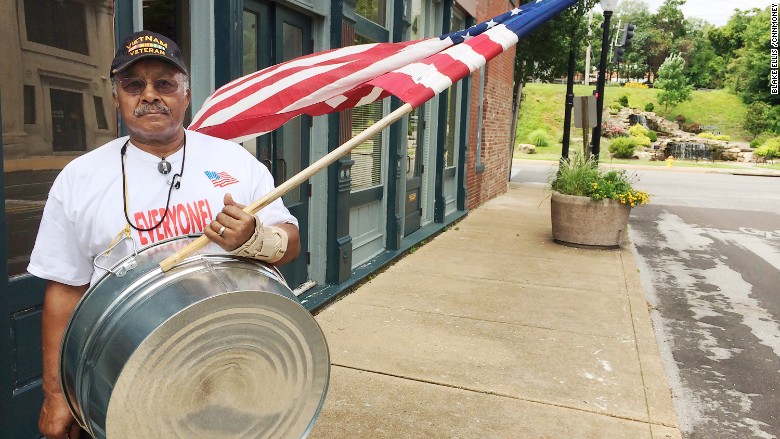 Failure to address any of these tickets right away can cost a person driving privileges until the fines are settled. Or too many tickets can result in a license suspension even if the fines are paid. Either way, driving to work can spark a whole new ticket for driving on a suspended license.
"You are just punishing someone for being poor," Roediger said.
The court says that it's simply following the law, and that the warrants it issues could be avoided if people showed up to court. If a ticket isn't paid, a court appearance is required to contest the charge or to ask for payment options -- and some tickets require a trip to court no matter what. Of course, some people flout the law and skip their hearings with little thought. But many who don't have the money to pay their tickets say they are terrified that they will be immediately locked up if they appear in court -- a fear the mayor calls "unfortunate."
"We continue to see this cycle for a lot of people," he said. "They cannot pay, they are afraid to come to court to deal with the situation and deal with the original ticket or the warrant, and it remains outstanding and it compounds."
How tickets turn into jail time
On their own, these tickets typically wouldn't be punished by jail time. But once a warrant is issued, arrest is a real possibility. And the threat of arrest can last for years.
In June alone, more than 50 people were taken to Ferguson's jail after arrest warrants were issued for missing court or failing to pay fines, according to jail records requested by CNNMoney. In these cases, it was unclear what the original offenses were.
Some people are arrested solely because a police officer ran their license plate and found an active warrant. Others end up in jail after some other minor traffic stop. Ferguson says it's no longer holding people for days when they can't afford bail, instead limiting jail time to 12 hours. But even a single day behind bars is enough to cost some people their jobs -- not to mention serious emotional trauma.
Vincent Sadler, for example, was locked up in Ferguson's jail for 12 hours in June after being pulled over for improperly passing another vehicle. He says the arrest stemmed from tickets he received in 2011 for expired car registration and a defective windshield. He says he tried to pay the fine the same year, but the city said it was late and sent back his payment, telling him that an arrest warrant had already been issued.
A Ferguson spokesman said that Sadler has received a number of other tickets as well -- many of which have been dismissed. He also noted that Sadler's payment was returned because it wasn't correctly filled out and was for the wrong amount.
At a recent Ferguson court hearing, where the judge sentenced him to 20 hours of community service for the old ticket, Sadler told CNNMoney he was just glad to finally put the ordeal behind him.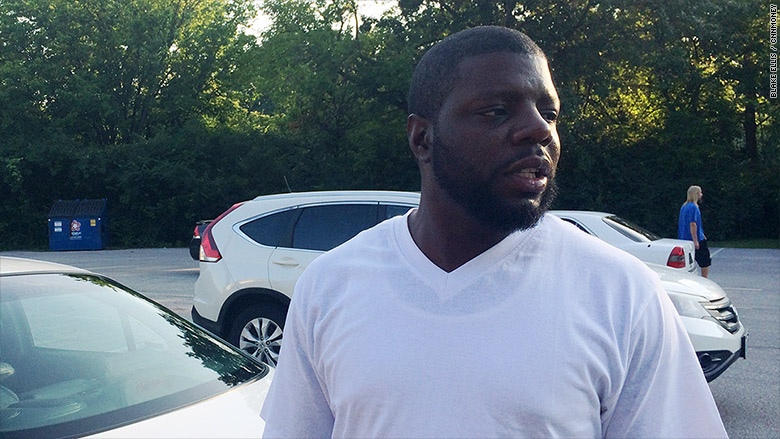 Leon Hale says he spent a day behind bars earlier this summer over two traffic tickets he received more than four years ago for driving on a suspended license and not having insurance. He had heard about a nearby town wiping out old tickets, so he thought Ferguson had surely done the same. But then he was pulled over by a police officer and taken to jail. At the most recent court date, he told CNNMoney he had been hoping to get the charges dismissed but was put on a $50 a month payment plan instead. Ferguson said it applied the $200 Hale spent on bond toward his total fines of $304 -- leaving him with a balance of $104.
"I'm tired of Ferguson," he said. "It's the same system."
Residents, city officials and law enforcement alike desperately want to move on. But critics say this can't truly happen until the city reckons with its past by wiping out all outstanding warrants and old tickets entirely like some of its neighbors.
"A payment plan is not the answer," said local attorney Sheila Stuart. "The answer is to wipe the slate clean."
Ferguson is currently allowing anyone with a warrant to come forward without being arrested and letting them pay their fines or plead their case to the judge.
"This is an invitation to come and get your warrants taken care of and get right with the court," said Mayor Knowles. "We've never invited someone in to take care of a warrant just so we can throw them in jail."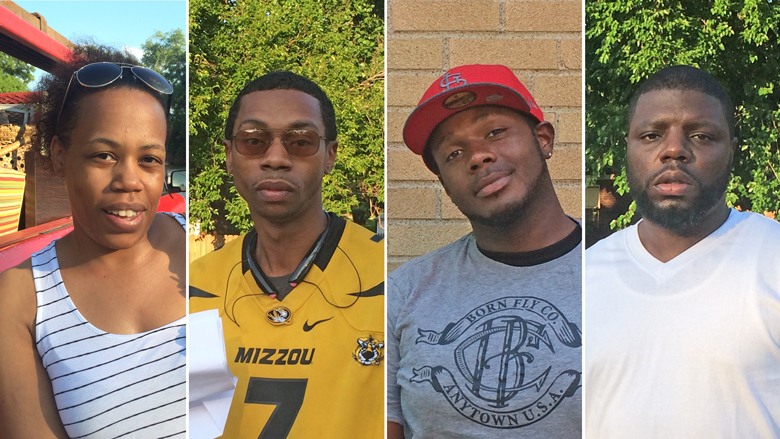 But critics like Stuart say that because of the distrust in the court system that has brewed for years, convincing people to show up is not an easy task. Meanwhile, many are unaware that this amnesty option even exists. And those who don't show up are still facing arrest.
Other towns have gone much farther to start anew.
Immediately after the release of the DOJ report, the town of Dellwood announced it would eliminate a big chunk of old warrants and fines. Meanwhile at the end of May, nearby Beverly Hills stopped issuing any warrants for people who missed court. In July, the City of St Louis wiped out tens of thousands of old warrants. And just last week, a municipal court overseeing four nearby municipalities told CNNMoney that it was about to conduct a "mass cancellation" of all of the court's thousands of outstanding warrants and that it would be reviewing old tickets. It also said it will hold off on issuing new warrants for the time being.
"We want to start completely fresh," a court employee told CNNMoney. "We're doing this on our own to make sure we're in compliance and doing the right thing."
But for now, Ferguson's mayor doesn't think a mass cancellation of warrants makes sense. But he notes that the decision is ultimately up to the judge. "I would encourage him to look at how we can better operate the court system," he said. "I think you'd have to take a look at what the warrants are for, what are the individual cases."
Haunted by warrants
In Ferguson, resident Veronica Ortega is one of the many people who would be helped by a clean slate. Ortega currently lives in constant fear of arrest, all because of an old car that used to be parked in her driveway. Three years ago, after moving to Ferguson from Brooklyn, New York, Ortega bought a used car for $500 so she could learn to drive. But shortly after bringing it home, she got a warning notice and then a ticket for having a "derelict vehicle."
Though such vehicles are viewed as eyesores for the community, Ortega says the car looked perfectly fine and "wasn't bothering anyone," even though it needed repairs. She couldn't afford the $102 fine, and she says an arrest warrant was issued when she missed the payment deadline.
Hoping to get rid of the ticket once and for all, Ortega went to the court on an amnesty day last year when people with warrants could come forward without being arrested. Because she couldn't afford the fine, she asked to make a small payment toward what she owed but says the judge refused.
"Anyone else would see that [arrest warrant] and think I'm a felon," she said. "But I'm not a felon -- it's all over a car."
Ferguson said that Ortega has a warrant because she has repeatedly failed to come to court. The city said her warrant was withdrawn when she came forward on the amnesty day, but a new one was issued when she missed another hearing.
Her neighbor Sabrina Miller-Floyd has a similar tale. Back in 2012, Miller-Floyd's family stopped driving their car because they couldn't afford to pay for the registration. But she still got a ticket when it was parked outside her house.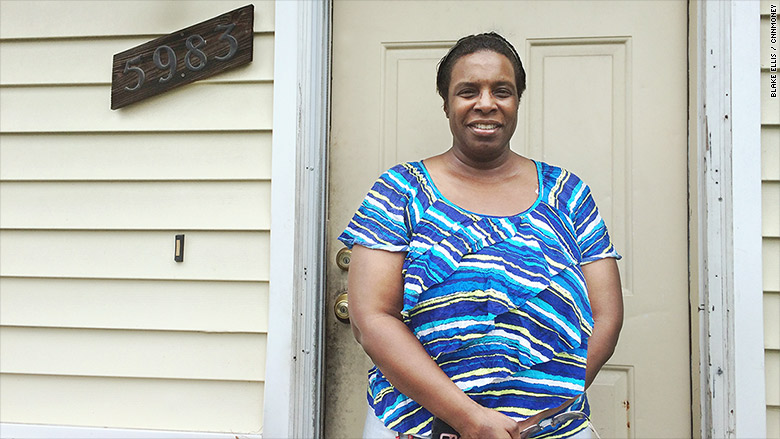 Arguing that she wasn't on the car's title because she was disabled at the time, she hired an attorney who she thought had gotten the ticket dismissed until she went to renew her driver's license this spring. That's where employees told her there was a warrant out for her arrest and she couldn't drive until it was cleared. Because she didn't have the money to pay the $127 fine immediately, she quit her new job out of fear of driving without a valid license. It took several months for her and her husband to come up with the money to pay the fine. Ferguson confirmed that Miller-Floyd's case has been resolved.
"I'm angry about it, because you have innocent people paying for stuff that is not their fault," said Miller-Floyd, who is about to start a new job as an insurance agent now that she has her license back.
Beyond Ferguson
Even if Ferguson truly reforms its police department and court system, it is just one of dozens of municipalities clustered together in St. Louis County where critics say policing for profit remains rampant.
Many of these small towns rely heavily on revenue generated by traffic fines, with low-income and minority residents saying they are ticketed unfairly by the police and fined excessively by the municipal courts as a way to boost the cities' budgets.
As a result, many area residents have multiple tickets and warrants from any number of the roughly 80 towns with municipal courts, making it very difficult for people to clear their names.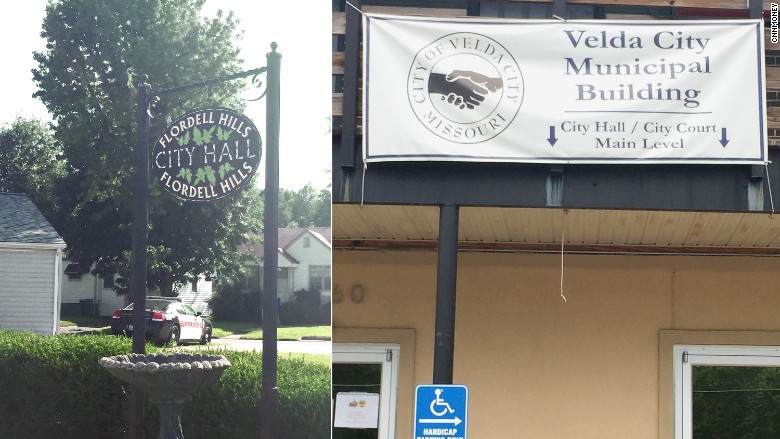 Take the case of 27-year-old single mom Marilyn Todd. She has spent more than a decade and thousands of dollars trying to resolve dozens of traffic tickets in Ferguson and its neighboring towns. The fines started at age 15, when she drove to work without a driver's license. With no real family to support her, she says she needed to drive to work to pay the bills.
The tickets started snowballing from there, as she racked up citations for things like lack of car insurance or registration. And when she missed court and didn't pay her fines, the towns added even more penalties and her debts got even bigger. "I was really young and didn't have any money," she said.
At one point, she had too many outstanding warrants to count, from all over St. Louis, and she has been arrested multiple times. Today she is on a number of payment plans and working with a lawyer to settle her debts, but she is still haunted by the few warrants that remain.
"I do my best at trying to stay out [of jail], stay free, and make payments," said Todd.
Knowles, Ferguson's mayor, told CNN that in many cases, it's the fear of warrants from other municipalities that keeps people from showing up to court in Ferguson. "They are often upset or worried that, 'okay, I have a warrant in Ferguson and I have a warrant in five other communities around me, [so] Ferguson's going to detain me and turn me over to those other communities,'" he said.
'Hope for the future'
A national research group called the Police Executive Research Forum noted in a May report that it has never before seen the level of policing for profit -- facilitated by both the police departments that give out the tickets and the courts that enforce them -- that is pervasive in large swaths of St. Louis County.
"The role of police is to protect the public and to work with local communities to solve problems of crime and disorder -- not to harass residents with absurd systems of fines and penalties, mostly for extremely minor offenses," the research group stated.
In the hope of keeping traffic stops from being used as revenue generators going forward, a new state law signed by the governor last month and being enacted in stages will slash the amount of money that towns like Ferguson can rake in from traffic fines. It also has provisions aimed at keeping people from ending up behind bars or losing driving privileges if they can't afford fines.
But some say this doesn't go far enough, pointing out that many towns may focus on housing violations like a rundown home or overgrown yard in order to make up some of the lost revenue -- since non-traffic offenses aren't covered by the law's revenue cap.
Another concern is that the law will be nearly impossible to enforce across so many tiny jurisdictions. The Ferguson Commission, a group of local leaders tasked by the state with crafting a plan for court reform, is among the loudest voices calling for the elimination of these small courts altogether, suggesting instead that they be folded into the county's court system. The group is also calling for a mass cancellation of problematic warrants.
"In order to move forward, there is an urgent and compelling need... to acknowledge and confess that past practices were clearly wrong," the Ferguson Commission has urged. "It is a very necessary step for healing and reconciliation, and for providing hope for the future of law and justice in our state."