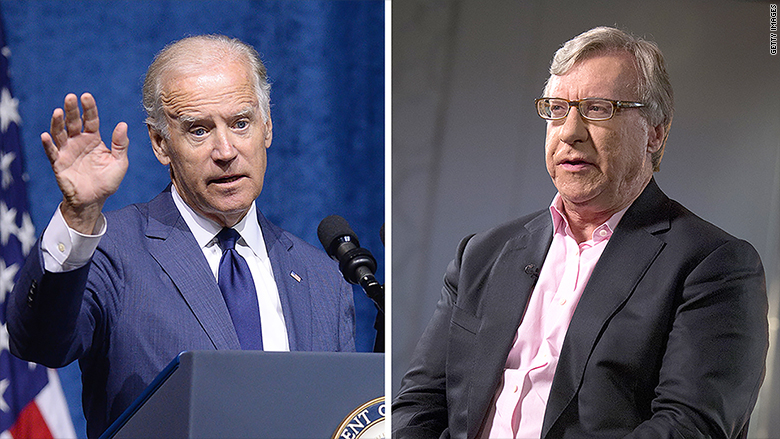 "Run, Biden, run." There are a lot of people urging the vice president to enter the 2016 presidential race, even on Wall Street.
Hedge fund billionaire Jim Chanos is a big fan of Joe Biden's. Chanos said Biden would "make a great president."
"The vice president is a good friend," Chanos told NPR's Roben Farzad in a recent interview. "I have no idea if he's going to run or not, but if he does, I will support him."
Chanos founded an investment firm named Kynikos Associates. It's the Greek word for "cynic." He is famous on Wall Street for predicting the fall of Enron, and his hedge fund makes money betting that certain company stocks will fall in value, a practice known as short-selling.
But Chanos is bullish on Biden. He says Biden has a track record of working with people across the aisle and that he has broad appeal.
Related: Inside Donald Trump's bankruptcy track record
"I think he actually hits a chord with the middle class that a lot of the other candidates might not hit," Chanos told NPR.
Biden's greatest appeal could be the Obama administration's economic record. Chanos says it's been "8 years of peace and prosperity." He says barring any unforeseen events, the U.S. economy in 2016 is likely to look like this:
-Stock market near record highs
-Corporate profits at record highs
-Low mortgage rates
-House prices at record highs
"This is not the worst record to run on if you're tied to the Obama administration," Chanos argues.
Related: Can the global gloom sink the U.S. economy?
The one major boomerang could be China. Chanos has been warning that the economic problems there could turn out to be the next Greece. He's especially worried about the large amount of debt building up in China.
Lately, developments in China seem to be validating some of his fears. One of the main economic concerns at the moment is whether China's slowdown will hurt the rest of the world, including the Untied Sates.
"The [Chinese] real estate market is a lot more important than the stock market," Chanos says. Chinese stocks have fallen dramatically in recent weeks, and that has caused investors in the U.S. to sell at record levels as well. August is set to be the worst month for U.S. stocks, for both the Dow & the S&P 500, in several years.
But overall, Chanos says the U.S. economy is in strong shape and is likely to pull through.
As for Biden, there are some concerns about his ties to Wall Street being a liability if he decides to run, but Chanos jokes that among the typical New Yorker banker set, he is viewed as a communist.