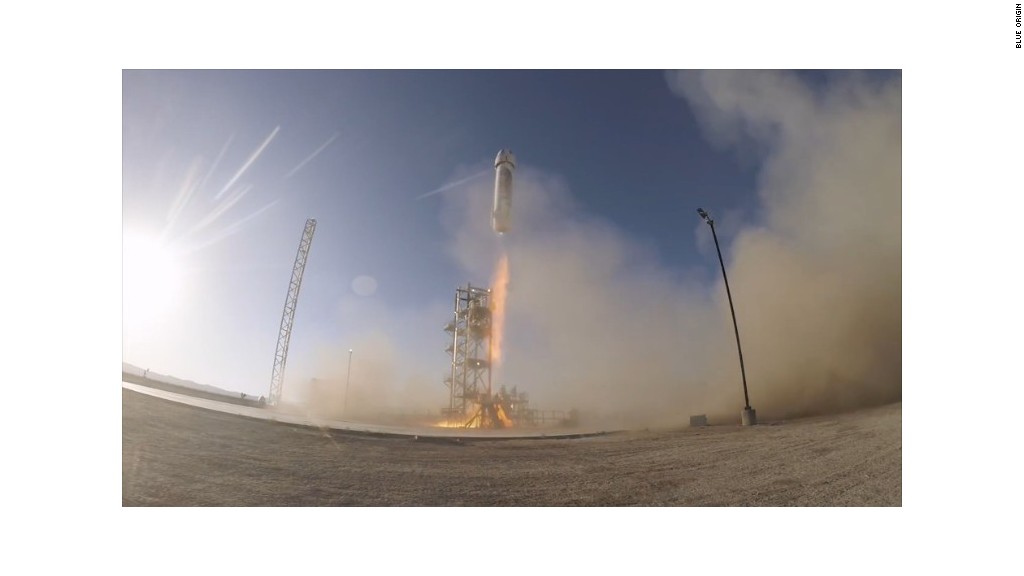 Jeff Bezos grew up as a boy in Florida marveling at rocket launches.
On Tuesday, the Amazon (AMZN) founder said his aerospace company, Blue Origin, would use Cape Canaveral's Launch Complex 36 to take paying passengers to space by the end of the decade.
Blue Origin originally attempted to secure launch pad 39A, but that lease was given instead to SpaceX, Elon Musk's space company.
Bezos made the announcement live on NASA TV and discussed the significance of being based in Florida.
"Cape Canaveral has long been a gateway to humankind's greatest adventures," Bezos said. "As a kid, I was inspired by the giant Saturn V missions that roared to life from these shores. Now we are thrilled to be coming to the Sunshine State for a new era of exploration."
In April, Blue Origin released its first test launch video, which featured dramatic cinematic elements and ended with the words: "Ready to take your first step?"
Related: Amazon founder Jeff Bezos' space company launches first rocket into space.
Space Florida's President Frank DiBello, the host of Tuesday's announcement, said Bezos' program would make "space and the stars available to average global citizens."
The event featured several notable figures within the aerospace industry and Florida, including Governor Rick Scott.
The governor said Blue Origin would invest $200 million locally and create 330 new jobs.
The venture is a partnership with the space launch company United Launch Alliance, which will build its booster engines in Florida.
Although Blue Origin was founded in 2000, it was first unveiled to the public in 2003 as a space research company.
-- CNN's Rachel Crane contributed to this piece.