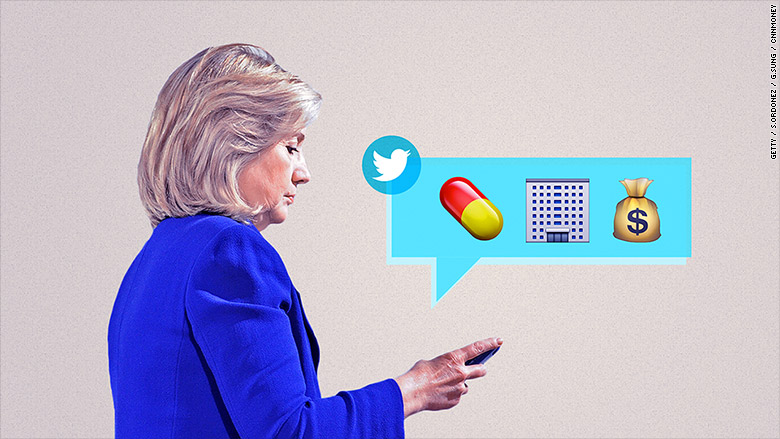 Wall Street is already betting that a President Hillary Clinton may not be good for the red-hot biotech industry.
Biotech stocks tumbled on Monday after Clinton fired off a tweet about "price gouging" in biotech drugs.
Prices had skyrocketed overnight to $750 from just $13.50 each for a drug called Daraprim -- a 62-year-old drug used to treat a life-threatening parasitic infection. Clinton sent out a link to a New York Times article about it.
Clinton promised to unveil a plan on Tuesday to take on "outrageous" price increases like that one. Her campaign did not immediately respond to a request for comment on specifics.
Related: Why Clinton's profit-sharing proposal may not do much
The drug highlighted by the Times was acquired in August by Turing Pharmaceuticals, a privately held startup that's run by former hedge fund manager Martin Shkreli.
Shkreli defended the price increase to the Times, saying: "This isn't the greedy drug company trying to gouge patients, it is us trying to stay in business."
The drug company said it has established a number of financial assistance programs for Daraprim. That includes offering the treatment without charge to qualified, uninsured patients and a co-pay assistance program for insured patients.
"We are committed to ensuring easy and affordable access to this important treatment," Turing said in a statement.
The former first lady's comments clearly spooked investors. The iShares Nasdaq Biotechnology ETF (IBB) went from flat on the day before the Clinton tweet to closing down nearly 5%.
Biotech stocks helped knock the Nasdaq into the red on what had been an otherwise positive day for U.S. stocks. The nine biggest losers on the Nasdaq 100 were all biotech stocks, led by BioMarin Pharmaceutical (BMRN) and Biogen (BIIB), both of which tumbled 6% apiece. Other big biotech names under pressure include Regeneron Pharmaceuticals (REGN), Gilead Sciences (GILD) and Celgene (CELG).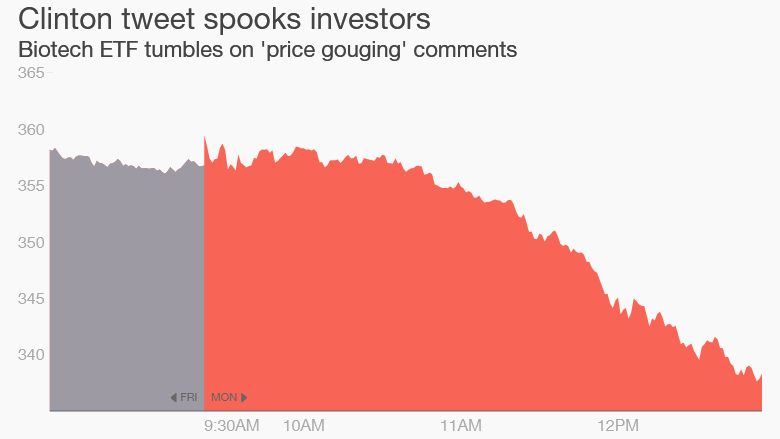 Related: The Silicon Valley recipe to win 2016 election
Biotech stocks have been on fire for years. The iShares biotech ETF has skyrocketed nearly 300% over the past five years, vastly outperforming the broader markets. The industry has benefited from huge demand for next-generation drugs and a wave of mergers & acquisitions.
One of the hardest-hit biotech stocks was Retrophin (RTRX), which plummeted 14% on Monday. Retrophin was founded by Shkreli, but he was fired by Retrophin last year and the company has since sued him. Still, investors are clearly worried Shkreli used some of the same strategies that have gotten the attention of Clinton.