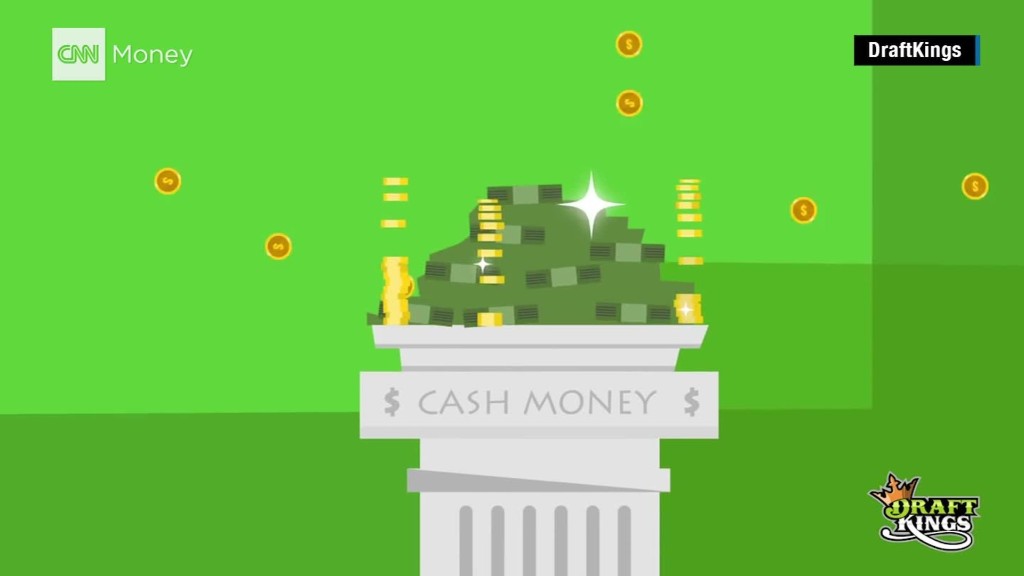 Ben Landowski and Brett Richey have made a real killing playing fantasy football this year.
The duo plopped down about $2,000 during the second week of the NFL season, half on FanDuel and half on DraftKings -- the two primary online sites for daily fantasy sports.
The player lineups they submitted crushed thousands of other fantasy football players. Their winnings that week: over $115,000.
"That week I only did three lineups on each site. I spent about five minutes on it. It worked out great," Richey, a 34-year-old former online poker player, told CNNMoney.
Fantasy football contestants get rewarded when the real players in their lineups perform well in actual games.
The pair are part of a growing number of Americans who play daily fantasy sports, a world that was rocked this week by a cheating scandal.
There's big money to be made and also big losses, like in any betting sport. Just the week before Richey and Landowski lost roughly $10,000 on FanDuel and DraftKings.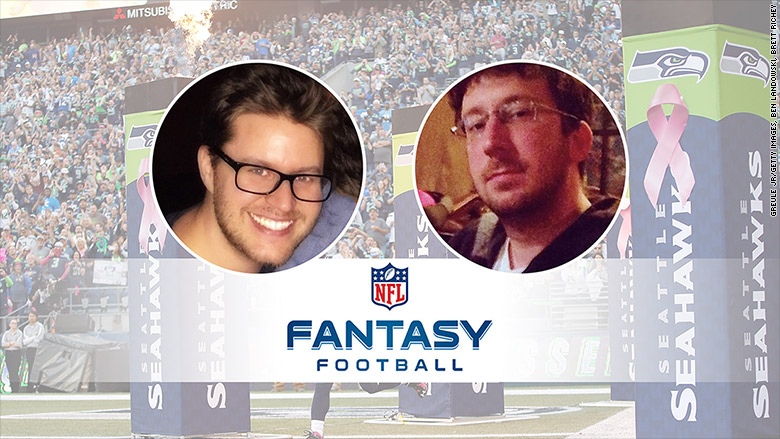 Related: Fantasy sports fans wonder if the games are rigged
Fantasy sports scandal
Traditional fantasy sports leagues on sites like ESPN and Yahoo (YHOO) have always kept fans entertained by rewarding them with points when the real athletes they draft for the season perform well.
The daily fantasy sports leagues have upped the ante.
Users pick new teams each day -- or in the case of football, each week, through auctions based on the value of each player. The two big sites FanDuel and DraftKings have lured millions of users by offering huge cash prizes. FanDuel alone expects paying out $2 billion in prizes this year.
Large companies involved in pro sports have bought stakes in these sites. CNN's parent Time Warner (TWX) has a stake in FanDuel.
But now the sites are attracting unwanted attention. New York Attorney General has opened an inquiry into allegations that employees of FanDuel and DraftKings use inside information to win major payouts.
Related: DraftKings, FanDuel ban employees from playing amid scandal
The scandal erupted after a DraftKings employee apologized for apparently posting important nuggets of information: the percentage of users who had chosen certain players. The fear is that access to that kind of information could give a fantasy player a leg up when it comes to selecting their own players.
Related: NY AG starts inquiry into fantasy sports sites
Fantasy games, real cheating concerns
The scandal annoyed fantasy player Landowski.
"If you know how to use the information, the advantage is huge," he said.
The real fear, according to both Landowski and Richey, is that FanDuel or DraftKings employees could act on information about how elite users are building their teams. That would be the fantasy sports equivalent to knowing what stocks legendary investor Warren Buffett plans to buy before the rest of the world does.
Landowski believes FanDuel and DraftKings are right to respond to the scandal by banning employees from participating in games.
Related: Fantasy sports: What is it, anyway?
Scandal could force industry to clean itself up
Even though Landowski and Richey obviously play a lot, neither consider themselves professional daily fantasy players because they both have other "jobs."
Richey spends most of time on a fantasy football mobile app he created that gives DraftKings and FanDuel users access to sophisticated research tools and algorithms.
It's called BlitzPick and aims to let average players create strong teams without spending hours of time researching them.
"We are trying to even the playing field so the casual player can compete with these sharks," Richey said.
Though Richey is concerned in the wake of the scandal, he's hopeful that the attention will clear out the bad players.
"I want to see a clean industry. I think ultimately this will be a good thing for the industry," Richey said.
Related: ESPN ends DraftKings-sponsored segments
Not your typical day jobs
Landowski, 32, has been a professional poker player for 10 years. After dropping out of college, the Wisconsin native sold ADT home security systems for six months.
"That was the extent of me having an office job. It just wasn't for me," said Landowski, who now lives in Manhattan.
He said the $30,000 he pocketed from his September fantasy football winnings have given him a "nice little breather for the rest of the year."
Then again, "a lot of people want me to buy them dinner and drinks," he said.