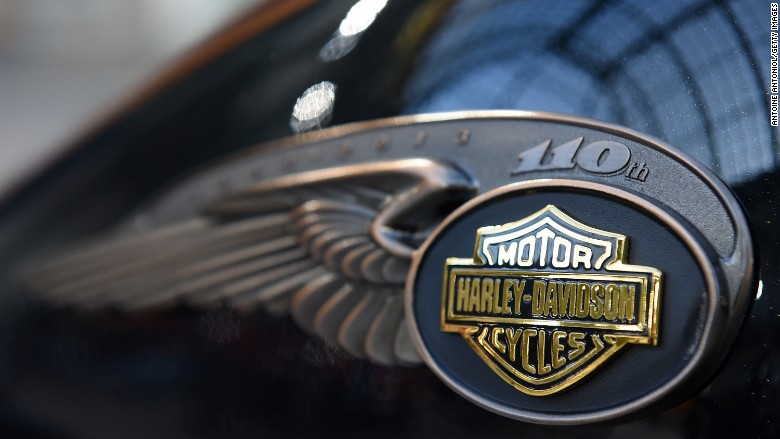 Wall Street is no longer high on the HOG.
The iconic motorcycle company Harley-Davidson, which trades under the appropriate ticker symbol of HOG, reported lousy earnings and sales Tuesday.
Harley-Davidson (HOG)said sales of new bikes to dealers were down 1.4% worldwide in the third quarter and 2.5% in the United States. Profits fell too and were below forecasts.
As a result, Harley-Davidson said it was cutting its full-year shipment outlook. And it also said it would be laying off an unspecified number of workers. The stock plunged nearly 14% on the news.
Related: Is this the Tesla of motorcycles?
The big problem? Competition.
"We expect a heightened competitive environment to continue for the foreseeable future, and now is the time for us to dial things up with significant additional investments in marketing and product development," said Harley-Davidson CEO Matt Levatich in a statement.
Harley-Davidson may be the Kleenex or Google of motorcycles for many average consumers -- the first and only name you think of when it comes to the category.
But there are actually many other bike makers that have been giving Harley-Davidson a run for its money lately.
You've got European motorcycle makers Ducati and BMW (BAMXY) as well as Yamaha (YAMCY), Honda (HMC) and Kawasaki (KWHIF) from Japan.
Polaris (PII), which owns the Indian brand of choppers, has also won rave reviews for its Chief Dark Horse line of motorcycles.
The company also makes the popular Slingshot reverse trike (two wheels in front with one in back) as well as snowmobiles.
Polaris will report its latest earnings on Wednesday morning and analysts are expecting sales and profits to increase by 10%.
During a conference call with analysts, Harley-Davidson CFO John Olin said that many of its rivals were aggressively cutting the prices of their products.
Related: Harley-Davidson recalls 185,000 motorcycles
That's a big problem since Harley-Davidson has traditionally been a more "premium" brand in the industry.
Olin added that Harley-Davidson has been losing market share to new vehicles known as "auto cycles" -- side-by-side bikes with a steering wheel and gas pedal.
So how does Harley-Davidson plan on pulling a Steppenwolf and get its motor runnin' again?
The company said it will invest about $70 million more next year on marketing and product development than it did this year.
But that's going to come at the expense of existing Harley-Davidson employees.
The company said it plans to take a charge of between $30 million and $35 million in the fourth quarter "primarily for employee separation and reorganization costs."
Harley-Davidson executives didn't give any more details during the call about how many jobs would be cut.
Investors usually cheer when companies give out pink slips. But the market clearly is doubting whether Harley-Davidson will be able to recover anytime soon.
The stock hit a 52-week low Tuesday and is down more than 25% this year. Call it born to be mild.