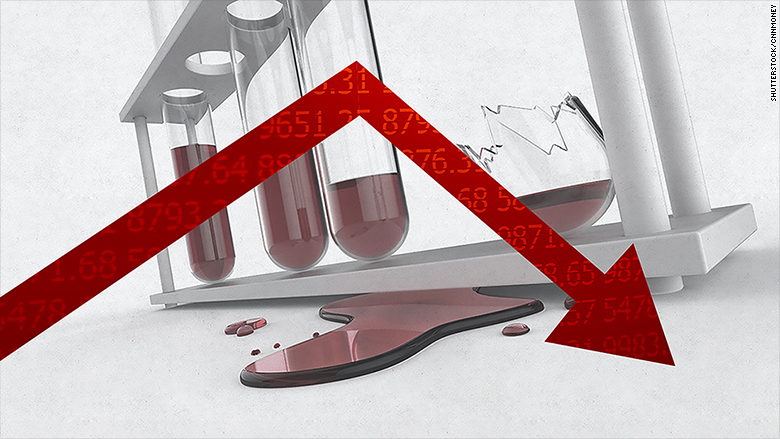 The previously-booming biotech world is bracing for darker days ahead.
Biogen (BIIB), one of the sector's former darlings, announced plans on Wednesday to slash 11% of its workforce.
The belt tightening at Biogen is the latest sign of a changed environment for biotech. After incredible growth, the stocks have lately crumbled amid fears they've gotten too expensive. Analysts warn biotech companies may not be able to tap the capital markets for cheap money to fuel their growth like they have in the past.
"It's inevitable that as capital gets tighter, some companies will have to resort to other ways to stay afloat," said Thomas Shrader, an analyst who covers Biogen at Stifel Nicholas.
Related: Sticker shock: Drugs with price hikes of up to 1,200%
Price gouging fallout
The pharmaceutical industry is also being slammed by charges of "price gouging" from Hillary Clinton, Bernie Sanders and others outraged by sticker shock on older drugs. The controversy reached a fevered pitch amid disgust over a 5,000% increase in the price of an AIDS drug owned by former hedge fund manager Martin Shkreli.
Analysts say that even if Congress takes no action to curb price hikes, the resulting scrutiny from media and law enforcement may limit the ability of drug companies to pad profits by jacking up prices on older drugs.
However, there is still a premium being placed on revolutionary new medicines.
Related: Hillary Clinton calls for U.S. probe of 5,000% drug price hike
Doubling down on R&D
Biogen's move is a reflection of that. The company has signaled it will cut back on spending aimed at boosting sales of older drugs.
Instead, Biogen plans to reinvest the money it's saving on layoffs by ramping up spending on developing promising drugs in areas like Alzheimer's, multiple sclerosis and spinal muscular atrophy.
"They are recognizing you can't drive sales through marketing like you used to. You have to do it through innovation," said Shrader.
Related: Is Hillary Clinton tweet a sell signal for biotech?
More biotech job cuts ahead
Biogen hopes to save $250 million a year in part by cutting 11% of its workforce. That translates to roughly 830 job cuts, based on the 7,550 people that FactSet says Biogen employs.
Shrader said it's extremely likely other biotech companies will lay off workers in the coming months to adjust to the new environment.
That would represent a change as there have been few mass layoff announcements in the sector of late. The most recent biotech layoffs occurred a year ago when Amgen (AMGN) slashed 4,000 jobs, according to outplacement firm Challenger, Gray & Christmas.
Other layoffs in the broader healthcare industry include 2,500 job cuts by Zoetis (ZTS) last May and reductions made last year by Allergan (AGN) and GlaxoSmithKline (GSK).
Related: Biotech bull market is dead
Has the bleeding stopped in biotech?
Wall Street seemed to like the latest moves by Biogen. The company's shares spiked as much as 9% on Wednesday following better-than-expected results and the cost-cutting moves. More recently the stock was up just 3%. That means it's still down by nearly half from the all-time highs it set in March.
"It's a company that was nearly in freefall. In some sense they stopped the bleeding," said Shrader.