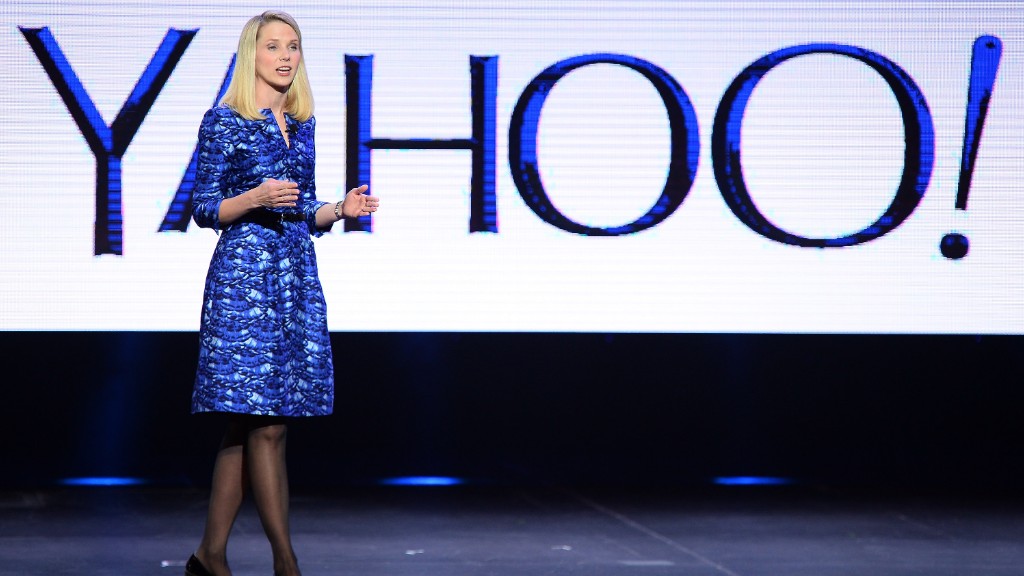 Marissa Mayer has been the CEO of Yahoo since July 2012. But on Tuesday, she told investors it was time to "reset and realign."
For long-suffering Yahoo shareholders, that may sound an awful lot like a rehash of recycled remarks from other Yahoo CEOs during the past decade.
Yahoo is still a turnaround story -- except it's not really turning around. It's been stuck in transition mode pretty much since Terry Semel stepped down as Yahoo CEO ... more than eight years ago.
The company reported sales and profits on Tuesday that missed forecasts. The outlook is weak too.
Shares of Yahoo (YHOO) fell 4% Wednesday and are now down nearly 40% this year.
So is time running out on Mayer to prove to Wall Street that she has what it takes to finally get Yahoo back on track?
Still searching for an identity
What is Mayer's "reset?" She says the company needs to be "focusing on fewer products with higher quality."
That seems like an admission that Yahoo threw too much spaghetti at the wall and found that very little of it stuck.
Yahoo has spent a lot on acquisitions and big hires -- think Tumblr and Katie Couric -- and made plenty of big bets.
They aren't panning out. Yahoo said it was taking a $42 million writedown on some of its online video assets, including shows like "Community" and "Sin City Saints."
"We couldn't see our way to make money over time," Yahoo CFO Ken Goldman admitted.
Related: Katie Couric renews Yahoo contract
Wall Street analysts aren't optimistic.
"We are not yet convinced of a notable turnaround in the core business within the next year," wrote Rosenblatt Securities analyst Martin Pyykkonen in a report Wednesday.
"As it has been for some time, the core business remains weak, and we see no end in sight to these circumstances," added Pivotal Research analyst Brian Wieser.
The key problem: For all of the hype, Mayer has failed to make Yahoo relevant in the world of digital media -- just like Semel, Jerry Yang, Carol Bartz and her other numerous predecessors.
And Yahoo still lacks an identity. Is it a tech company? A mainstream media company? A social media company? A fantasy football company? (That's what I primarily use it for these days.)
Most people probably still think of it is a "Web portal" -- which is not good since that term is now a mid-1990s anachronism.
Mayer has touted the company's push into what she calls Yahoo's Mavens business -- Mobile, video, native (i.e. advertorials) and social. (The A and E don't stand for anything. I guess Mayer doesn't like acronyms featuring only consonants.)
And these four businesses are growing rapidly. Mavens revenue was up 43% from a year ago.
But they still only account for about a third of Yahoo's overall sales -- not yet enough to offset slower growth from search and more traditional online display advertising.
Yahoo has bought itself some financial wiggle room by announcing a new search partnership with Google this week to go along with the one it has with Microsoft (MSFT).
Related: Time may be running out on Mayer to save Yahoo
Alibaba spin-off may not provide that big of a lift
The company should eventually cash in on its stake in Chinese e-commerce company Alibaba (BABA). Yahoo plans to sell nearly 384 million shares to the public later this year.
What will Mayer do with the money? More acquisitions seem unlikely, especially since AOL -- long thought to be a natural merger partner -- sold out to Verizon (VZ) earlier this year.
Instead, Yahoo is expected to use the proceeds to buy back its own stock, which should benefit shareholders because it will boost earnings per share.
Related: Yahoo to spin-off Alibaba stake no matter what IRS says
But the IRS has refused to sign off on favorable tax treatment for the spin-off. So it's not clear how much Yahoo will really make from the sale. As a result, Mayer said the spin-off could get pushed to early 2016.
Making matters worse, the value of the Alibaba stake isn't as high as it used to be.
Shares of Alibaba have plunged this year due to concerns about pirated goods on the company's Taobao and Tmall platforms and broader fears regarding the health of the Chinese economy.
In some respects, Yahoo is nothing more than Alibaba West. And Marissa Mayer can't do anything to help Alibaba's fortunes.
All she can do is hope that consumers eventually embrace the new Yahoo -- whatever that turns out to be.