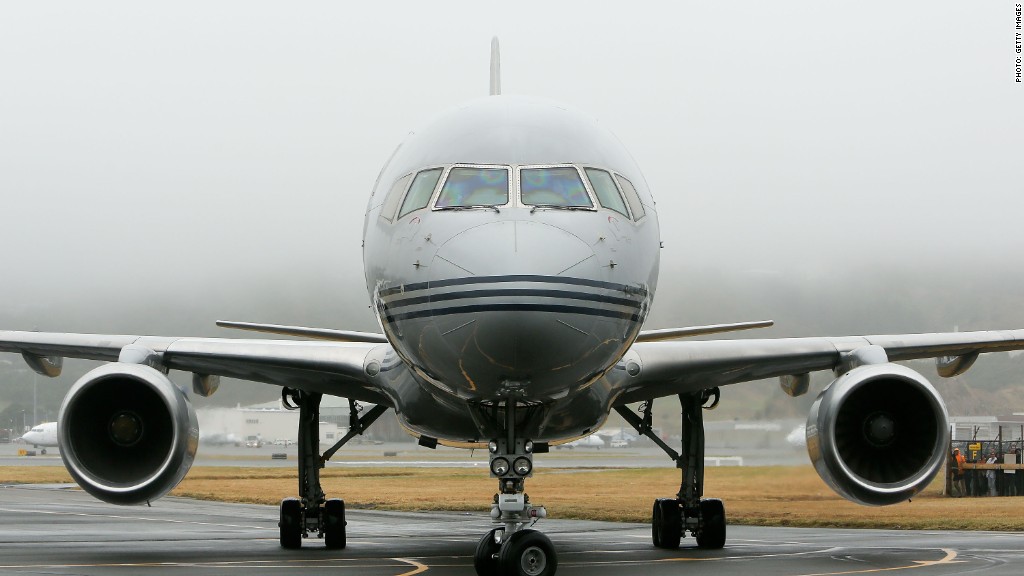 United Continental has hit another rough patch.
The airline said Thursday that sales in the third quarter were down from a year ago and profits missed forecasts.
And while falling jet fuel prices have helped United save money, the airline said the weakness in the energy sector is now hurting demand as fewer oil workers take business trips.
Then there's the internal turmoil at United.
New CEO Oscar Munoz, who just joined the company in September, suffered a heart attack on Thursday.
United (UAL) said on Monday that Munoz, 56, would be taking a medical leave and named its general counsel, Brett Hart, to be its acting CEO.
In a statement Thursday, Hart thanked United's employees for their "hard work, professionalism and contributions" and added that "the United family has had a challenging few weeks."
Hart said United would continue to work on the agenda put into place by Munoz to try and boost the airline's profit margins.
Related: United names acting chief following CEO's heart attack
Munoz replaced Jeff Smisek, who resigned last month in the wake of some questionable dealings with the Port Authority of New York & New Jersey.
United started running twice-weekly direct flights from Newark to Columbia, South Carolina -- not far from a vacation home of former Port Authority chairman David Samson -- in 2012. Those flights ended days after Samson stepped down in March 2014.
The route was reportedly dubbed "the chairman's flight" and was thought to be United's way of currying favor with the Port Authority.
But the Port Authority scandal was only one problem for Smisek and United.
The airline is still grappling with integration issues related to its merger with Continental five years ago.
United has ranked near the bottom of several recent customer satisfaction surveys. It also suffered an embarrassing technical glitch this summer that grounded its flights.
Related: United CEO hospitalized
Wall Street was hoping that Munoz would help repair United's image with travelers.
Munoz was previously president at railroad CSX (CSX) and also has years of experience at consumer-oriented companies, having served as an executive at Coke (KO), Pepsi (PEP) and AT&T (T).
United should be doing better. The airline industry has thrived during the past few years thanks to lower energy prices and more rational pricing.
Delta reported strong results last week, citing increased travel demand and more savings on jet fuel. Southwest posted a profit that topped forecasts on Thursday morning as well.
United also benefited from the drop in oil prices. Jet fuel expenses were $1.2 billion lower in the quarter, compared to last year.
But the dramatic plunge in crude prices is no longer universally good news for United. The company cited "travel reductions from corporate customers in the energy sector" as one reason why sales were soft.
United's stock is down more than 15% this year and has lagged rivals such as Delta (DAL), Southwest (LUV) and JetBlue (JBLU). Shares have fallen more than 3% since United said Munoz was in the hospital.
Related: Airline complains soar. Here's why.
With that in mind, the decision to name Hart as the acting CEO disappointed one Wall Street analyst.
"Mr. Hart has limited experience in finance, operations or customer service, the areas that UAL is most in need of improving. We would have preferred an interim leader with more experience in these areas," said S&P Capital IQ analyst Jim Corridore in a report Tuesday.
But Hunter Keay with Wolfe Research took the opposite view.
"We've spent a bit of time with Mr. Hart and found him to be engaging, thoughtful, and possessive of leadership qualities," Keay wrote.
United executives did tout some positive signs for the company in a conference call with analysts.
COO Greg Hart, (no relation to acting CEO Brett) said that United has canceled 30,000 fewer flights so far this year than last year. He added that the company was doing a better job of managing customers' bags.
And Vice chairman Jim Compton said United's operations in China appear to be stabilizing after the huge stock market drop there this summer. Compton said bookings in China briefly dropped but have since "rebounded nicely."
Still, Compton noted that the strong dollar will continue to weigh on United's results.
Compton also said fares are expected to keep coming down as the airlines engage in a new round of price wars. That may be good news for travelers, but not for investors.