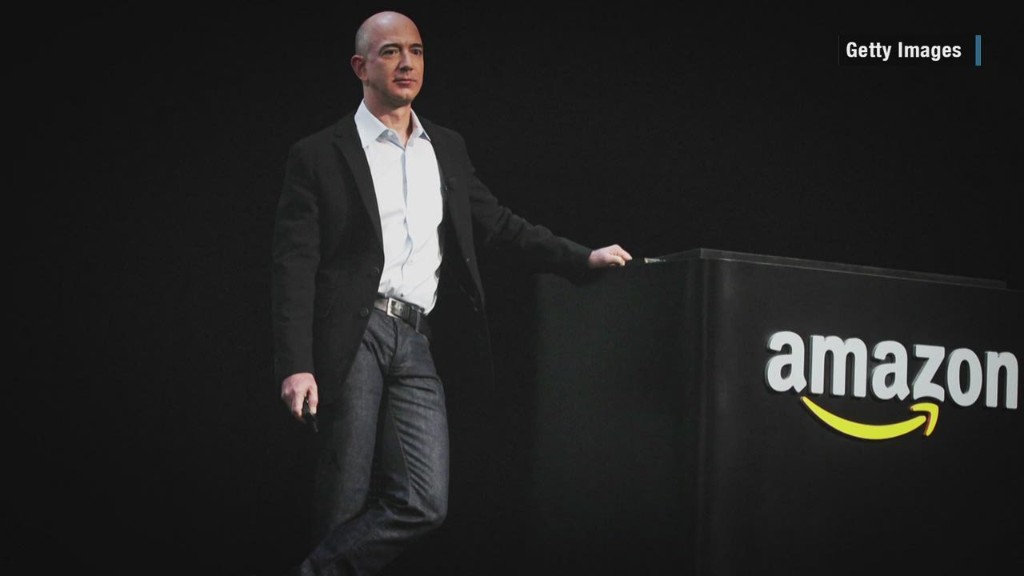 Amazon CEO Jeff Bezos is now the third richest billionaire in the United States after his company's stock soared on Thursday. And Bill Gates may no longer be the richest person in the world.
It depends who you ask, though: Bloomberg and Forbes maintain rival "richest people in the world" trackers.
Bezos was rewarded for Amazon's (AMZN) second consecutive quarter of surprise profits. The stock soared 10% and is trading at an all-time high. He is now the fifth-richest person in the world, according to both lists.
The surge bumped Bezos' overall wealth by almost $5 billion overnight. He's now worth more than $55 billion.
You'd think that Bill Gates would have had a big boost too. Microsoft (MSFT) shares are at a 15-year high after the company wowed investors with surprisingly strong cloud sales. He's no longer Microsoft's biggest individual shareholder (No. 35 on the list, Steve Ballmer, is), but Gates still holds a lot of Microsoft stock.
Yet Zara founder Amancio Ortega overtook Gates, according to the Forbes list. Shares of Zara parent company Inditex are surging, sending Ortega's wealth up more than $2 billion over the past day. Meanwhile, Gates' value actually fell by $1 billion.
Gates is still No. 1 on the Bloomberg list.
The shuffling of the billionaires leaves the Koch brothers behind. The 51-year-old Bezos leapfrogged over the brothers on Thursday.