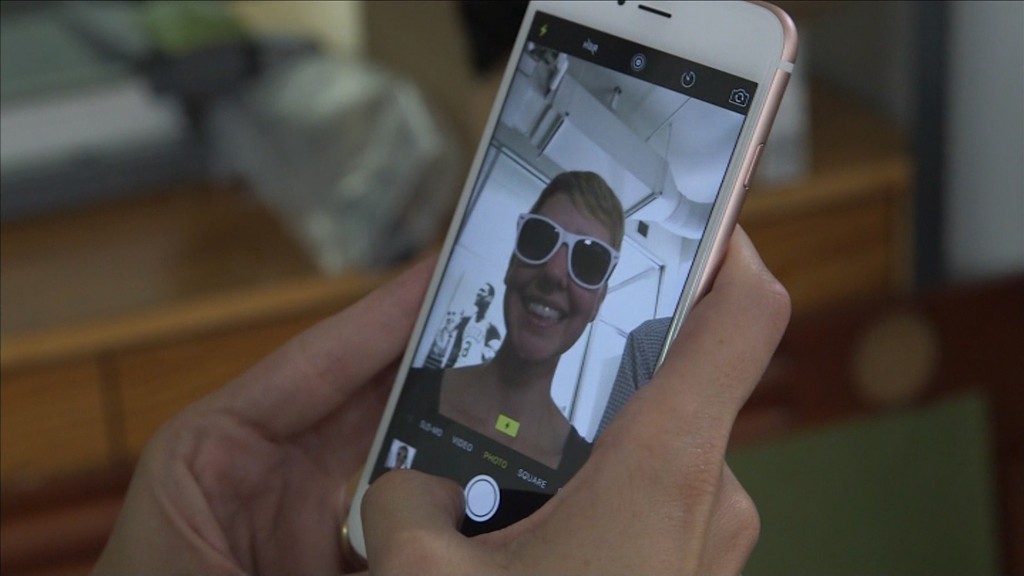 Will Apple wow investors with its latest earnings like other big tech companies did last week?
Or will the results be a major flop -- the Wall Street equivalent of the box office of Aaron Sorkin's "Steve Jobs" movie?
The answer may very well depend on how Apple (AAPL) did in China in the past three months.
The strong earnings of Amazon (AMZN), Google parent Alphabet (GOOGL) and Microsoft (MSFT) should bode well for Apple. Tech seems to be holding up better than other sectors in this rocky market.
Apple also ended the quarter on a solid note, with 13 million sales of its new iPhone 6s and iPhone 6s Plus in the first three days following its September 25 launch in several key markets ... including China.
Is the 6s a success in China?
China has become increasingly important to Apple. Nearly 30% of Apple's sales came from China in the past two quarters. It's now a bigger market for the company than Europe.
But China has been a source of problems for many big consumer companies lately as its economy has lost momentum and its stock market has been incredibly volatile.
Related: Chinese iPhone users targeted in latest App Store security snafu
High-end fashion retailers Hugo Boss (BOSSY) and Burberry (BBRYF) reported weak sales in China. So did food giant Nestle (NSRGF).
Casino companies with a presence in Macau, notably Wynn Resorts (WYNN), are struggling.
And things are so bad for KFC owner Yum! Brands (YUM) in the world's second largest economy that it is now planning to spin off its Chinese restaurant operations.
Will Apple fare better than these other big Western brands?
Apple does have the benefit of a brand new product. But is the Chinese consumer able to afford it?
The cheapest iPhone 6s sells for 5,288 yuan ($832.52) on the Chinese Apple Store website. So it's worth wondering if that high price is an issue at a time when there are questions about the health of the Chinese consumer.
What's more, Apple lost market share in China earlier this year to Chinese smartphone makers Xiaomi and Huawei.
Adding to the concerns are mixed results last week from China Mobile (CHL) and China Unicom (CHU) -- two of the big three Chinese wireless carriers that sell the iPhone.
China might be on the mend
There is reason for investors to be hopeful that China may be stabilizing. Even though several companies have been reporting poor sales, other brand-name firms have noted that things actually may be improving.
An executive at European car maker Peugeot (PEUGF) said during a conference call Monday that "the situation in China is normalizing." And Mercedes said last week that its Chinese car sales hit a new record.
United Continental (UAL) Vice Chairman Jim Compton noted last week that booking levels in China have "recovered nicely" since China devalued the yuan this summer.
Related: Hugo Boss and Burberry slammed by weak China sales
That's a good sign. But if you want to get a sense of what business may be like for Apple in China right now, a good proxy might be, strangely enough, baby formula maker Mead Johnson (MJN).
The company, which makes the popular brand Enfamil, thinks Chinese consumers will still embrace Western products -- despite some short-term pain in the market.
Mead Johnson generates nearly half its overall sales from Asia, with a bulk of that from China. Sales in Asia slumped in its most recent quarter.
Sandra Yu, the company's general manager for China, said during a conference call last week that price discounts from competitors was one reason for the slump.
Related: Apple News is blocked in China
"Chinese consumers will continue to be willing to pay high price for high quality products," Yu said. "Pricing discounting activity should continue in China, given the softening economy and heavy competition. But over the long run, this should subside over time."
If that winds up being the case for the iPhone as well as Enfamil, then that's great news for Apple.
Still, Wall Street is not convinced that Apple will be able to overcome softness in China.
Apple's shares fell nearly 3% Monday and remain in a so-called correction status. The stock is 14% below its all-time high.
Meanwhile, Alphabet and Amazon hit all-time highs last week. And Microsoft reached its highest level since the dot-com glory days of 2000.
Apple, amazingly enough, is being treated like a tech underdog.