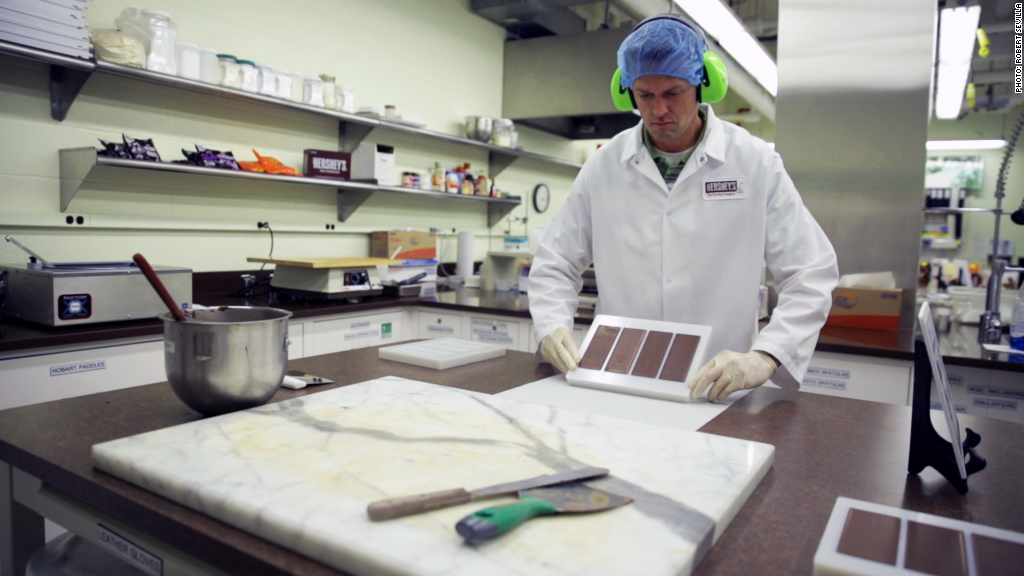 How sad is this?
Investors were "Kiss"-ing Hershey goodbye Wednesday -- just three days before Halloween.
And on National Chocolate Day no less! Yes. That's actually a thing. So says the National Confectioners Association. And Twitter. #NationalChocolateDay is one of the top trending terms.
Why was the stock more trick than treat? Hershey reported that sales in the third quarter were down slightly from a year ago and below Wall Street's forecasts. Shares of Hershey (HSY) fell nearly 5% on the news.
The strong dollar was partly to blame. International sales plunged 15% from a year ago. Hershey generates more than 10% of its overall sales outside of North America.
Related: Remember Smarties? The retro candy is thriving
And the company is really struggling in China. Hershey said it lost market share in that key market during the quarter.
China's macroeconomic turmoil has been a problem for other Western companies besides Hershey.
Rival Nestle (NSRGF) has also hit a rough patch in China. Luxury retailers Burberry (BBRYF) and Hugo Boss (BOSSY) have too.
But other brand-name companies, such as Daimler's (DDAIY) Mercedes, Coach (COH) and Apple (AAPL), have all recently reported solid sales growth in China.
So it may be tougher for big companies to blame China for weak results going forward now that some companies are proving that economic conditions there may not be as gloomy as once feared.
Hershey has bigger issues besides China as well. Sales in the U.S. have been sluggish too.
CEO John Bilbrey said in the company's press release that demand for candy, mint and gum (as well as snacks overall) was lower in the quarter than it was earlier in the year.
He cited fewer in-store promotions from retailers as one problem. But it appears that consumers simply didn't go out as much to shop for candy either.
Bilbrey was optimistic that sales will improve for Halloween and the fourth quarter overall. Candy is big during the winter holidays too.
He also touted new products like the Hershey's Kisses Deluxe and Brookside dark chocolate nut and fruit bars.
Related: Hershey debuts souped-up chocolate Kisses
But Hershey lowered its sales and profit forecasts for the year, and that's a big reason why investors are so disappointed.
Shares are now down more than 13% so far in 2015. Nestle, despite its recent China woes, is up more than 5%. And Mondelez (MDLZ), which owns Cadbury, has surged nearly 30%.
Hershey is taking steps to diversify beyond its core chocolate brands.
It acquired Canadian confectioner Allan Candy, known for its gummies and gum drops, last December. And it bought jerky maker Krave earlier this year.
But those efforts don't appear to be panning out just yet.
Hershey investors must feel like Charlie Brown. Instead of getting a delicious treat this Halloween, they're getting a rock.