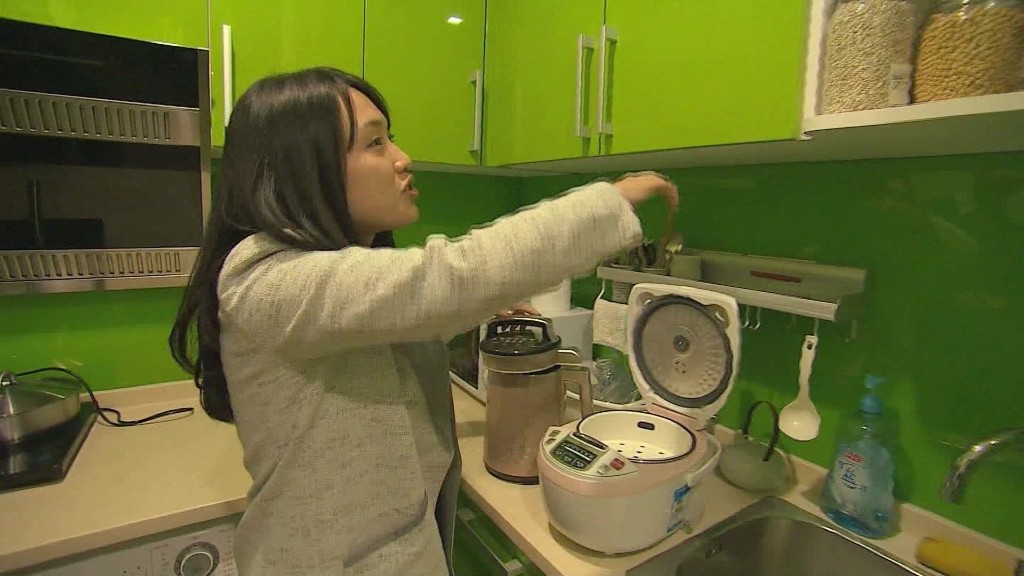 It's been a tough year for Chinese e-commerce leader Alibaba.
The stock has plunged. There are still concerns about fake goods on its sites. And the Chinese economy has slowed down dramatically.
But are things about to get a whole lot better for Alibaba (BABA)?
Wednesday is Singles' Day in China ... a celebration of commerce that's similar to Black Friday and Cyber Monday in the United States.
Alibaba executives are even ringing the opening bell for the New York Stock Exchange remotely from Beijing Wednesday to note the occasion, also known as the Global Shopping Festival.
Related: Alibaba buys China's 'YouTube' for $3.6 billion
Singles' Day originally started a few years ago as a way for bachelors and bachelorettes to treat themselves. It was billed as sort of an anti-Valentines' Day.
And what better day to do so than 11/11 -- a date loaded with what any Three Dog Night Fan knows is the loneliest number that you'll ever do.
How big of a boost could Alibaba get from Singles' Day?
Last year, the company reported that it sold more than $9 billion worth of merchandise on Taobao, Tmall and its other online platforms.
And this year's Singles' Day is off to a solid start.
Alibaba said in a statement midday Tuesday (early morning in China) that gross merchandise volume through its payment service Alipay exceeded $5 billion in the first 90 minutes of Singles' Day. And more than 70% of that came from Alibaba's mobile sites.
But competition is increasing from other Chinese e-tailers such as JD.com (JD), Jumei (JMEI) and Vipshop (VIPS).
JD in particular could make a big splash on Singles' Day this year.
The company has the financial backing of Chinese mobile giant Tencent (TCEHY) and Kingdom Holding, the investment arm of Saudi Prince Alwaleed bin Talal.
And noted hedge fund manager Jim Chanos of Kynikos Associates, a long-time China bear, may be betting on JD as well.
Related: Jim Chanos got China right
According to several media reports, Chanos told attendees at an investing conference in Miami last Friday that he was buying JD and shorting (i.e. betting against) Alibaba.
Chanos and Kynikos declined to comment about the reports. But shares of JD rose on Friday while Alibaba fell.
Tom Caporaso, CEO of Clarus Commerce, an e-commerce solutions provider which owns FreeShipping.com, thinks that JD will report bigger percentage increases in sales than Alibaba this Singles' Day.
"Alibaba has owned this holiday for the past few years. But now JD is in the mix," he said.
Brian Buchwald, CEO of Bomoda -- a consumer intelligence company that focuses on the global Chinese consumer, also thinks that JD, Alibaba and others should post strong sales on Singles' Day. But it may not be for the best reasons.
Buchwald said that Singles' Day discounts may lure in shoppers because of concerns about the overall health of the Chinese economy.
What remains to be seen is how much consumers will spend once Singles' Day is over.
"Chinese consumers may not necessarily be looking to spend less on Singles' Day. But they are looking to get products at a discount," Buchwald said. "That may not bode well for retailers overall. Consumers have been trained to wait for big promotions."
Alibaba helped allay some concerns about Chinese consumer spending last month when it reported better-than-expected sales and earnings.
Related: What China slowdown? Alibaba's sales surge
But Buchwald pointed out that Alibaba and other Chinese e-commerce firms need to convince Singles' Day shoppers to keep coming back once the big discounts disappear.
"On Singles' Day, retailers are probably going to be selling a high volume of products at a lower margin. The challenge is to sell more profitable things the other 364 days of the year," he said.
Still, there is no denying that Singles' Day is quickly becoming a retailing phenomenon -- and not just in China.
Caporaso said that some U.S. firms are trying to capitalize on the holiday -- even though it falls on Veterans' Day and is close to Black Friday and Cyber Monday.
He said that his firm is working with QVC (QVCA) on a Singles' Day site in the U.S. this year.
But most U.S. firms are focusing more on Singles' Day sales in China instead of America. Calvin Klein, online jeweler Blue Nile, Costco and Macy's are all pushing Singles' Day in China for example.
And Alibaba still doesn't have much of a presence in the U.S. It set up an e-commerce site called 11 Main last year but wound up selling it this summer.
So don't expect too many Singles' Day promotions in America anytime soon. Although it's not as if U.S. consumers are lacking for shopping holidays -- especially after Amazon (AMZN) invented a new one in Prime Day earlier this year.