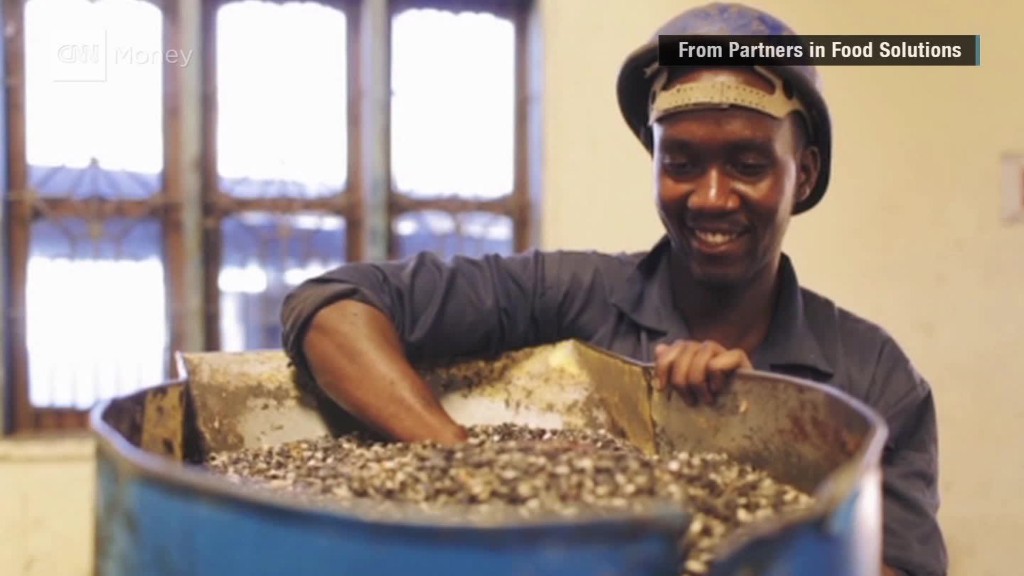 You're probably getting ready to chow down on turkey, potatoes and that gloopy, cylindrical cranberry sauce from a can.
But investors have already been busy gorging on food stocks ahead of Thanksgiving.
Poultry producer Tyson Foods (TSN), SPAM maker Hormel (HRL) and Andy Warhol inspiration Campbell Soup (CPB) all reported solid earnings this week.
And all three stocks are more buoyant than the balloons at the Macy's Thanksgiving Day parade.
Campbell Soup hit a 52-week high this week while Hormel and Tyson are trading at record highs.
Food stocks have held up fairly well all year even as the overall market has been whipsawed by concerns regarding a slowdown in China and anxiety about a looming interest rate hike from the Federal Reserve.
The PowerShares Dynamic Food & Beverage ETF -- which has the appropriate ticker symbol of PBJ (PBJ) -- is up more than 8% this year while the S&P 500 and Dow are relatively flat.
Related: Thanksgiving turkeys go old school
The ETF includes a mix of food giants like Mondelez (MDLZ), General Mills (GIS) and Kraft Heinz (KHC) as well as other companies with ties to the food and drink industry such as Pepsi (PEP), Starbucks (SBUX), Kroger (KR) and Sysco (SYY).
Strong sales and profits are one reason why food stocks have been tasty morsels.
But an increase in merger activity is helping too, as more companies look to gobble, gobble, gobble up their rivals.
Of course, there was the Kraft and Heinz merger. That deal led to almost immediate speculation that Mondelez -- which split off from Kraft in 2012 -- could be the next big food company to be taken over.
Related: Ackman takes aim at Oreo maker
To that end, activist shareholder Bill Ackman bought a stake in Mondelez in August and indicated that one reason he invested is because of the possibility of a merger.
There have been some smaller food deals as well.
Last month, pretzel, potato chip and cracker maker Snyder's-Lance (LNCE) announced it was buying Emerald Nuts and Pop Secret owner Diamond Foods (DMND) for $1.3 billion.
And Pinnacle Foods (PF), owner of Birds Eye, Vlasic pickles, Aunt Jemima and Duncan-Hines, agreed to buy organic and gluten-free food maker Boulder Brands (BDBD) for nearly $1 billion on Tuesday.
Some smaller food companies are also scooping up asset sales by food behemoths.
Related: ConAgra to cut jobs and move from Omaha to Chicago
Earlier this month, private label food company TreeHouse (THS) said it was buying the private label food assets of Chef Boyardee and Slim Jim owner ConAgra (CAG) for $2.7 billion.
B&G Foods (BGS), owner of Cream of Wheat and Pirate's Booty, agreed to buy the Green Giant brand from General Mills in September for $765 million.
The food M&A craze isn't just about treats for humans either.
Smucker (SJM) bought pet food company Big Heart Brands, which makes Meow Mix and Kibbles 'n Bits -- for $5.8 billion earlier this year. Investors liked the deal. Smucker's stock is up more than 20% this year.
So it might make sense to save some room in your portfolio for food stocks. Their returns are expanding -- just like our collective waistlines after a big holiday feast.