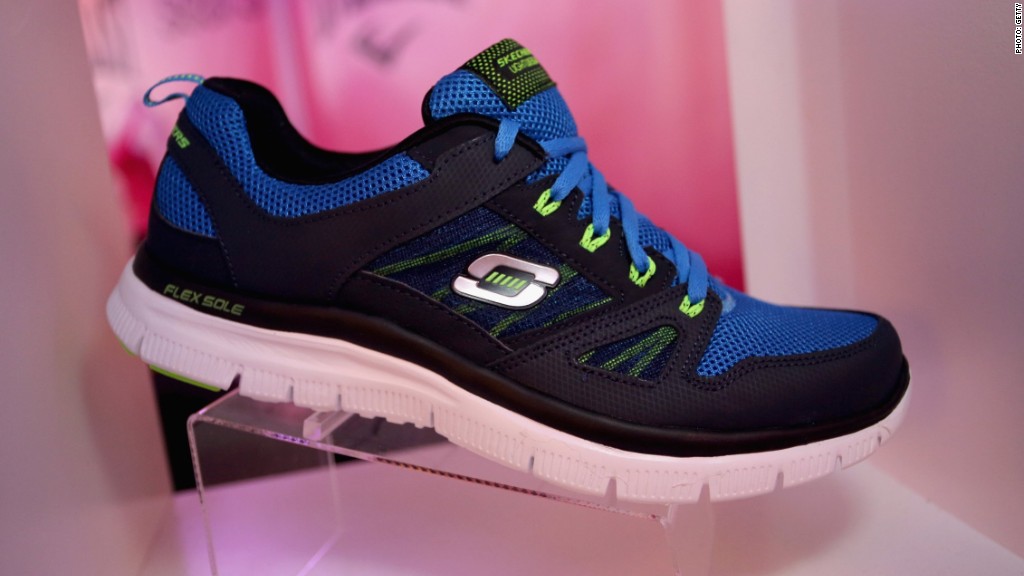 Athletes who wear Under Armour apparel are having a pretty good year.
The latest Under Armour star to shine? Carolina Panthers quarterback Cam Newton.
The Panthers are undefeated. Carolina won its 11th game of the season on Thanksgiving against the Dallas Cowboys.
Under Armour (UA) is having some fun with Newton too.
Newton wore custom-designed UA cleats Thursday that featured images of him doing his two signature touchdown moves -- the dab dance that's all the rage now and a Superman pose -- on one side. The words "thankful" and "grateful" are on the other.
And Under Armour got a lot of free publicity for those cleats on Turkey Day.
The broadcasters on CBS (CBS) mentioned them several times. Newton also did the dab -- with what looked like a side of the 1960s mashed potato and twist dances thrown in -- after he scored a touchdown in the third quarter.
Newton is one of two leading NFL MVP candidates so far this year. The other? Tom Brady of the New England Patriots -- who won the Super Bowl earlier this year ... and are also currently undefeated. Brady also endorses Under Armour.
If the Panthers and Pats win the rest of their games and meet next February in Super Bowl 50, one team is guaranteed to go 19-0 for the first time in NFL history. Don't be surprised if Under Armour CEO Kevin Plank is happily dabbing in a luxury box.
Under Armour's stock is up 35% this year. Analysts are predicting that sales will increase more than 25% in 2016 and that earnings will be up nearly 30%.
Related: Will Under Armour of Nike buy lululemon?
And the company has become a more formidable competitor to Nike (NKE) (which is also thriving) thanks in large part to its highly successful endorsers.
Steph Curry was named the NBA MVP this summer and his Golden State Warriors won the NBA championship.
The Warriors are off to a 16-0 start this season as well. And that has fans wondering if the Warriors could break the all-time best 72-10 season held by Michael Jordan's 1995-1996 Chicago Bulls.
Given that Jordan is still a major Nike endorser, having Curry top one of his records would be a huge symbolic win for Under Armour.
Related: A rare glimpse into the Michael Jordan marketing machine
Under Armour has arguably already supplanted the swoosh in golf this year.
Jordan Spieth became golf's breakout star by winning two major championships and finishing in the top five in the other two. He won five tournaments overall ... and $12 million in prize money in the process. Tiger who?
If that wasn't enough, Washington Nationals star Bryce Harper won the National League MVP in a unanimous vote.
And Under Armour's biggest stars all could have many years of greatness ahead of them. Curry is the "geezer" of the group. He's 27. Newton is only 26. Harper is 23. And Spieth is just 22.
Still, Under Armour isn't perfect. The company also signed Dallas Cowboys quarterback Tony Romo to a deal this year.
Romo broke his collarbone in September and was forced to miss seven games. He reinjured the same collarbone Thursday and is now likely done for the season.