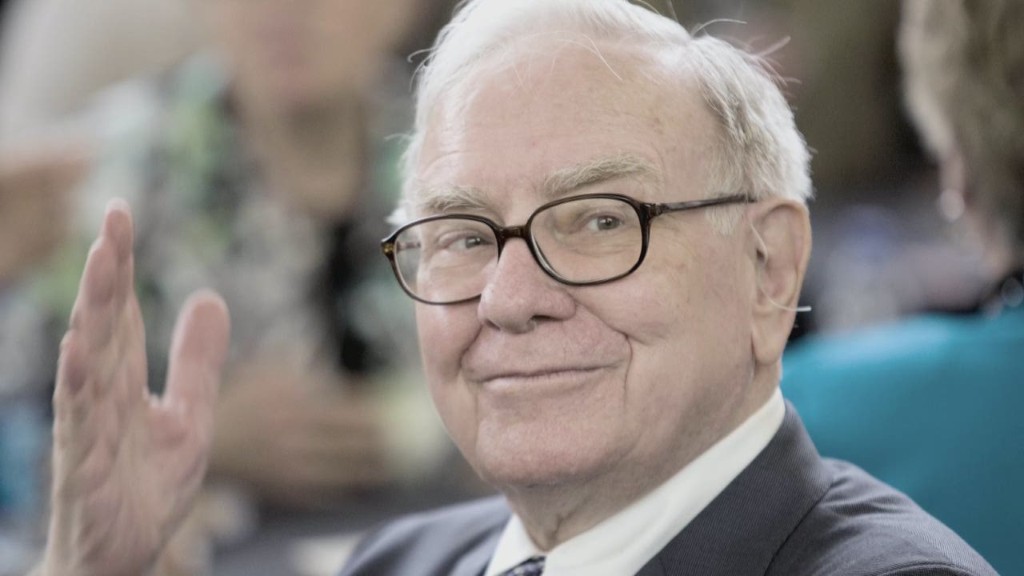 Warren Buffett moves markets.
Anytime Berkshire Hathaway (BRKB) -- the conglomerate run by the Oracle of Omaha -- reveals a new investment, that stock usually goes up. But Buffett rarely makes personal investments outside of Berkshire Hathaway.
He disclosed one on Thursday.
Buffett personally bought 2 million shares of a company called Seritage Growth Properties (SRG). That works out to an 8% stake and makes him Seritage's second-largest shareholder.
Shares of Seritage surged 17% (that's a tongue twister) on the news.
What the heck is Seritage? It's a real estate investment company that was spun off by struggling retailer Sears (SHLD) earlier this year.
Seritage owns 262 retail locations. Most of them are Sears or Kmart stores. (Sears also owns Kmart.) Seritage then leases the properties back to the Sears and Kmart stores.
Related: Warren Buffett to campaign for Hillary Clinton
The company has a joint venture with shopping mall owners Simon Property Group (SPG), General Growth Properties (GGP) and Macerich (MAC) as well.
Sears has been in decline for some time. Sales have fallen every year since 2006 and the company has racked up annual losses since 2011.
But many investors have long thought that Sears did have some valuable real estate and urged the company's CEO -- hedge fund manager Eddie Lampert -- to set up a new company for it.
Sears has also spun off other assets to raise cash, including Sears Canada (SRSC) and everyone's favorite lumbersexual oriented retailer, Lands' End (LE).
Now back to Buffett. Why would he want such a big piece in Seritage? Buffett was not immediately available for comment.
Related: Berkshire's top stocks are dogs this year
But it could be a savvy move just before the company announces a huge dividend for investors.
Seritage is set up as a real estate investment trust, which means it legally has to pay at least 90% of its taxable earnings back to shareholders.
The company said last month when it reported earnings that it expected to declare a dividend by the end of the year.
Related: Kmart's sales have fallen off a gigantic cliff
Berkshire Hathaway famously does not pay a dividend.
But it's no secret that Buffett likes receiving them from his many investments. Berkshire Hathaway has often bought preferred stakes in companies -- investments that usually pay higher dividends to their investors than the common stock.
Buffett may also be making a bet on the U.S. consumer -- although not necessarily Sears and Kmart shoppers. Seritage said last month that 22% of its revenue came from third-party tenants -- i.e. not Sears or Kmart.
That group includes Walmart (WMT), Dick's Sporting Goods (DKS), Nordstrom Rack (JWN) and Lands' End.
And Buffett isn't the only well-known investor making a big bet on Seritage either.
The firm's largest shareholder is Fairholme Capital Management, which is run by the well-regarded value investor Bruce Berkowitz. Hedge fund Citadel is the third-biggest investor.
So the Oracle of Omaha is in pretty good company.