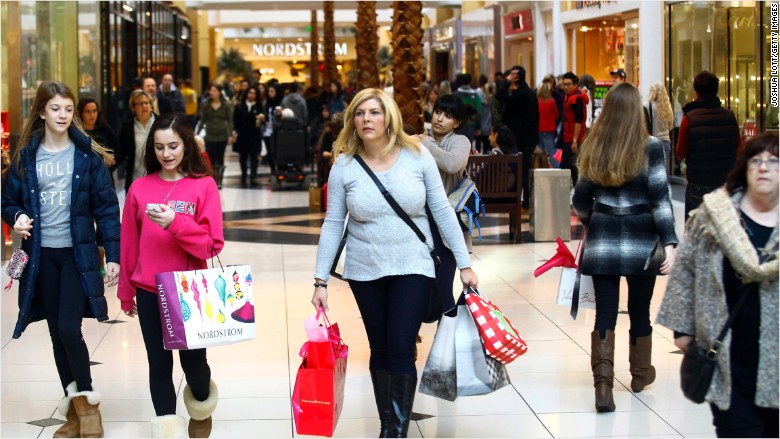 The holiday shopping season is in full swing.
Americans are buying clothes and other items and also eating out a lot in the process.
U.S. retail sales rose 0.2% in November compared to 0.1% in October, according to the Commerce Department.
Restaurant sales rose 0.7% and clothing and sporting goods stores also got a healthy pick up.
Earlier in the year, spenders had been focused on big ticket items such as cars, appliances and furniture. However, sales of these items all declined in November.
Related: Americans will spend over $130 on 'self-gifting'
But in the midst of the holiday season, perhaps drawn by sales and gift-giving, shoppers are paying a visit to clothing and merchandise stores.
"As the song goes, 'It's beginning to look a lot like Christmas...everywhere you go.' Everywhere, particularly at the malls," said Jennifer Lee, senior economist at BMO Capital Markets.
Related: Americans are saying 'supersize me' again
That's a healthy sign for the U.S. economy, which depends a lot on consumers. More good consumer news came Friday morning: consumer confidence ticked up a bit in December, according to the University of Michigan consumer confidence survey.
Americans are feeling better about their personal finances, says economist Richard Curtin, who conducts the survey. The consumer confidence index this year is at the highest level in 11 years.
The pick up in retail sales and consumer confidence are signs that American spenders have remained resilient this year while the other key parts of the economy -- manufacturing and trade -- are getting hurt by the global economic slowdown and strong U.S. dollar.
November's retail sales were one of the last bits of economic news before the Federal Reserve's crucial meeting next week. The Fed will decide whether to raise its key interest rate for the first time in nearly a decade. Many people expect the Fed will raise rates.