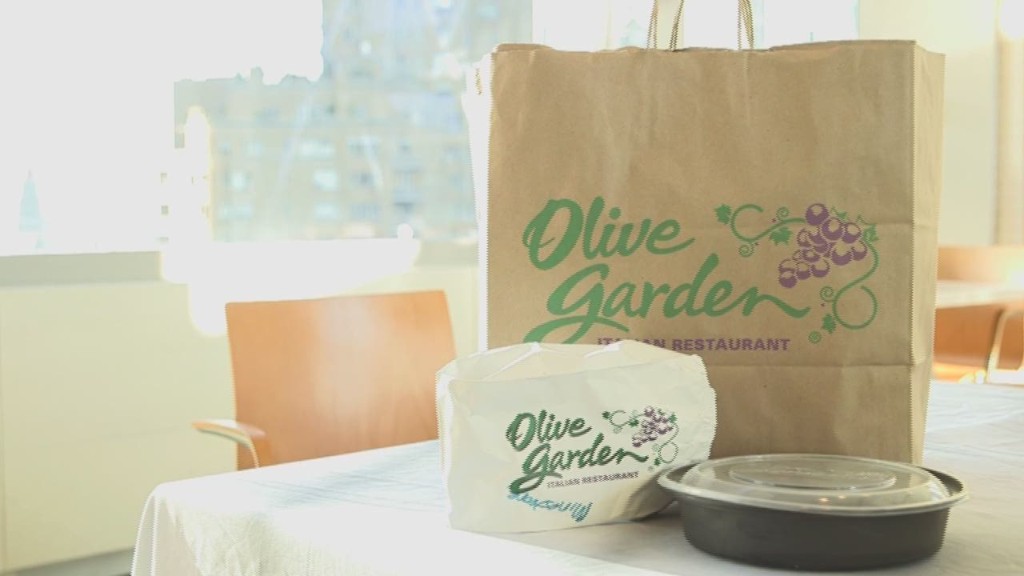 Stock market volatility got you down? Then mangia! Have some more pasta and breadsticks from the Olive Garden. Apparently, you wont be alone.
Darden Restaurants, owner of the popular Italian food chain, reported earnings that easily beat forecasts on Friday morning thanks to continued sales gains at the Olive Garden.
The company also raised its outlook for this fiscal year (for the second quarter in a row), announced a new stock buyback plan and boosted its dividend. Wall Street always likes to see those things on the menu.
Shares of Darden (DRI) shot up 7% Friday on the news -- even as the broader market was in the midst of day 2 of its post-Fed rate hike hangover.
Darden's stock is now up nearly 20% this year. Its been a stunning turnaround for the overall company -- and Olive Garden in particular. The company has now reported seven consecutive quarters of sales growth.
Related: Olive Garden brings back its Pasta Pass
Activist hedge fund and Darden shareholder Starboard Value Partners -- which is also rattling the corporate cages at Yahoo (YHOO) and armored truck company Brink's (BCO)-- went on a campaign against it last year.
In September 2014, it released a scathing 294-slide presentation that criticized Olive Garden for not salting its pasta water, putting too much sauce (or what this Italian American would call gravy) on its food, and having too many non-Italian items on the menu.
Starboard also said Olive Garden was wasting too much food. A month later, Starboard won a battle to take control of the company's board.
CEO Clarence Otis soon left. COO Gene Lee was promoted to the top spot, and Starboard CEO Jeff Smith became the company's chairman.
Since then, Darden has taken several steps to boost sales and profits at Olive Garden, which accounts for more than 55% of Darden's total sales.
Darden also owns LongHorn Steakhouse and The Capital Grille. It sold Red Lobster to a private equity firm last year.
Olive Garden's total sales were up 1.2% in its most recent quarter. But profits grew nearly 12% -- a testament to all the things its new management team has done to make the restaurant's operations more efficient.
The company also decided to spin off its real estate holdings into a separate company called Four Corners Property Trust (FCPT) last month, a move many shareholders had been calling for. Shares of Four Corners Property Trust rose more than 3% Friday.
Related: Starboard executives waited tables at Olive Garden
Still, one not-so-great trend has continued at Olive Garden. The company's traffic fell slightly in the quarter. But sales still rose thanks to price increases.
In other words, many diehard Olive Garden fans keep coming back and are happy to pay more for their neverending pasta bowls.
But that doesn't seem to concern Wall Street -- and that might be due to the fact that LongHorn Steakhouse has emerged as the star of the company's dining portfolio.
Sales at LongHorn Steakhouse rose nearly 6% during the quarter while profits soared 28%. LongHorn Steakhouse now accounts for nearly a quarter of Darden's overall revenue.
The combination of strong growth at LongHorn Steakhouse and stability at Olive Garden seems to be a recipe for success at Darden.
It's definitely a contender for comeback stock of the year -- although it faces tough competition for that honor from an even bigger and more well-known restaurant franchise.
McDonald's (MCD) stock is up nearly 25% this year thanks to steps taken by new CEO Steve Eastebrook to shake up the Golden Arches.