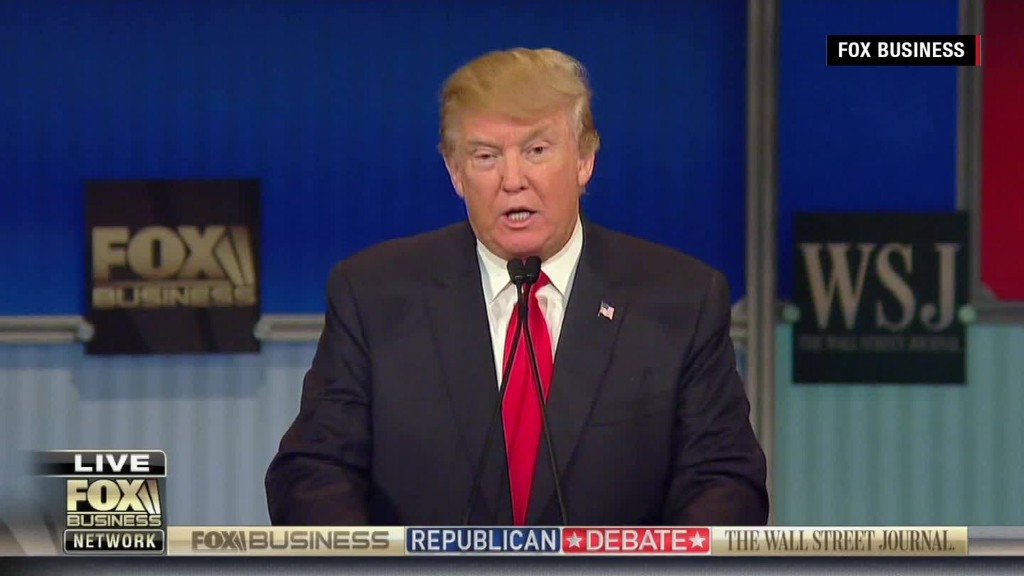 Donald Trump may think the minimum wage is too high, but he revealed Monday that he thinks wages are too low.
In a series of tweets, the Republican presidential frontrunner talked about the plight of the middle class, calling out a lack of good jobs and good wages.
The mini tweet storm came after Senator Bernie Sanders, a Democratic contender for president, said Sunday that his message of economic inequality can appeal to Trump's frustrated, working class supporters.
Sanders pointed out that Trump does not want to raise the minimum wage, noting that his Republican rival has said wages in America are too high.
Trump blasted Sanders, calling him a liar.
Trump continued Monday morning, pointing out the problems that plague middle class workers. This summer, Trump said the middle class was getting hurt and that he would lower their taxes to save them.
He then said that wages are actually too low.
Just how would Trump fix things?
He has said that his tough stance on immigration would make it easier for poor and working class Americans to earn a middle class wage. He would also create a resume bank for inner city youth to help them land employment. And he would change the rules of certain work visas to encourage companies to hire more American workers.
Trump said he would also reform trade rules with China and lower the corporate tax rate to stop companies from shipping jobs overseas.
His tax plan, which he says would help the middle class achieve the American Dream and boost the economy, would cut taxes for everyone, but the largest reductions would go to the wealthiest Americans, a Tax Policy Center analysis found.
Middle-income households would see their taxes cut by an average of $2,700, or 4.9% of after-tax income. Those in the top 0.1%, however, would see their taxes reduced by an average of $1.3 million, or 19% of their after-tax-income.