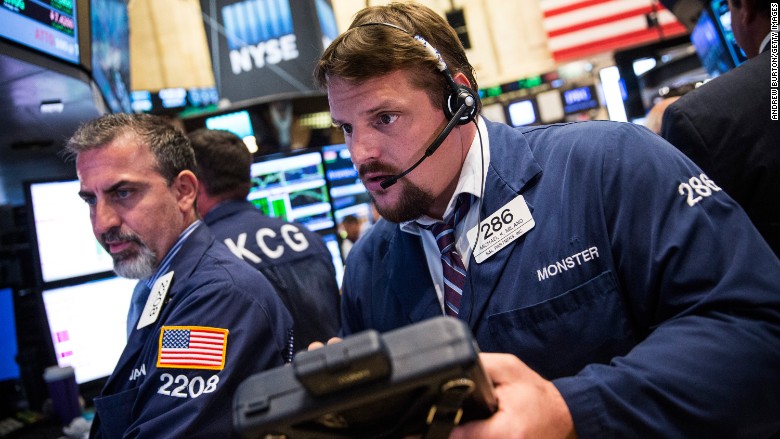 Investors haven't quite recovered from Monday's dramatic global stock selloff.
The Dow was down about 35 points on Tuesday afternoon, but that's an improvement from an early loss of around 100 points. The Nasdaq lost another 0.3%, while the S&P 500 was trading flat.
European markets posted more solid gains after China's markets weathered a tough day. The Shanghai composite index ended with a 0.3% loss Tuesday following a volatile session. The Chinese government tried to reassure investors Tuesday, announcing it had was pumping $20 billion into the financial system.
Related: Watch China's economy, not its stock market
Tuesday's losses were modest compared to a brutal day for investors around the world. Those dramatic global declines were prompted by news that China's factory production had been weaker than expected. The country's main stock market in Shanghai actually halted trading after stocks fell 7%.
Investors read it as a sign that China's economy might be slowing down faster than previously thought.
That grim news sent markets south. After European markets sold off, the Dow dropped as much as 467 points before recovering a little and ended the day off 276 points.
Usually, after steep losses, stock markets tend to bounce back. But U.S. investors seem to be reluctant to jump back into the market ahead of the big monthly U.S. jobs report that's due on Friday.
The report will provide an important snapshot of the health of the U.S. economy. Both October and November showed strong hiring by employers. Investors want to see if the momentum kept going in December.