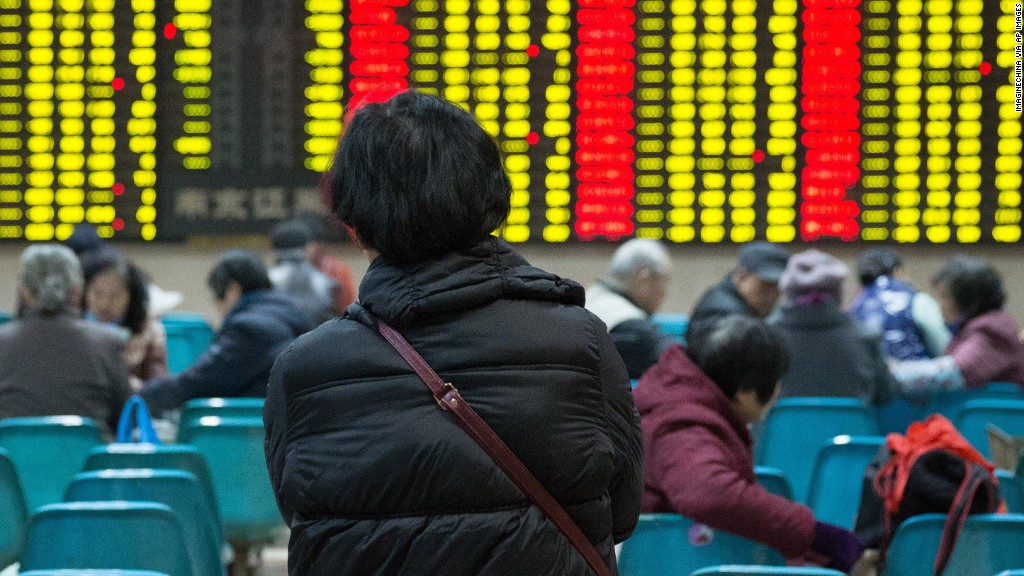 If you've looked at the stock market at all this year, you know it's cringe-worthy.
Stocks are off to one of their worst starts in years. The Dow (an index of 30 of America's biggest companies) is having its ugliest 4-day kick-off ever.
Time to panic? Hardly.
There are plenty of reasons to relax, especially if you are a U.S investor. Here are the top two:
1. America's economy is still in good shape.
2. Staying in stocks pays off. Since World War II, investors who remained in stocks for at least 15 years made money (often A LOT of money).
The U.S. economy looks good
America's stock market hit an all-time high in May 2015. Even with all the turmoil since then, the market is only about 10% below that record level. We aren't anywhere near a "bear market" (a 20% drop).
Really bad stock market downturns typically occur when the U.S. economy tanks or the Federal Reserve makes a terrible call on interest rates.
Right now, the U.S. economy is growing. It's not rock star growth, but 2% to 2.5% a year is good, and the Fed is being very cautious.
More importantly, businesses are still hiring. Over 2.3 million jobs were added last year (the latest data on hiring comes out Friday and it's widely expected to show more jobs added).
While China's slowdown is a concern, remember that by far and away the main driver of the U.S. economy is Americans buying goods and services. There are encouraging signs consumers are spending. Auto makers just sold the most cars ever in 2015.
"We expect domestic demand in the U.S. to remain reasonably healthy -- a very important variable for corporate revenue growth," says David Donabedian, chief investment officer at Atlantic Trust.
Related: Is this another 2008 for the stock market?
Stocks make money over time
Need another reason to relax? Look at historical data. Staying in the market pays off, even if it gets ugly for awhile.
Stocks investors made money over every 15-year period since World War II. That's according to S&P Capital IQ analyst Howard Silverblatt.
He ran the data on S&P 500 performance for every 15-year timeframe from 1945 to 2015, and CNNMoney verified it.
Even if you put your money in the market right around the time it hit a peak like 1999, you earned your money back -- and then made some -- if you stuck with stocks.
Over many 15-year time spans, investors more than doubled their money.
Get a plan and stick to it
Fidelity Investments ran a similar analysis. Since 1926, investors with 85% in stocks and 15% in bonds averaged a whopping 9.6% a year return.
That's why people saving for retirement are advised to put most of their money in stocks. It's how you grow your money and beat inflation over time. It doesn't mean you make money every year, but the up years outweigh the down years.
Older investors, especially those who are retired, tend to be more conservative. They may not believe they have enough time to wait for the market to rebound.
Fidelity found people who have only 20% in stocks and 80% in bonds and cash had an average annual return of 6% over time. The conservative portfolio doesn't make as much money, but it also doesn't lose much in the terrible years.
The key for most Americans is to figure out a plan for your younger years (20s/30s/40s) your end-of-career years (50s/60s) and then (hopefully) your retirement years. The younger you are, the more you want in stocks.
"Would the advice we give anybody today be any different than what we would give them last year? The answer is no," says John Sweeney, executive vice president at Fidelity for retirement and investing.