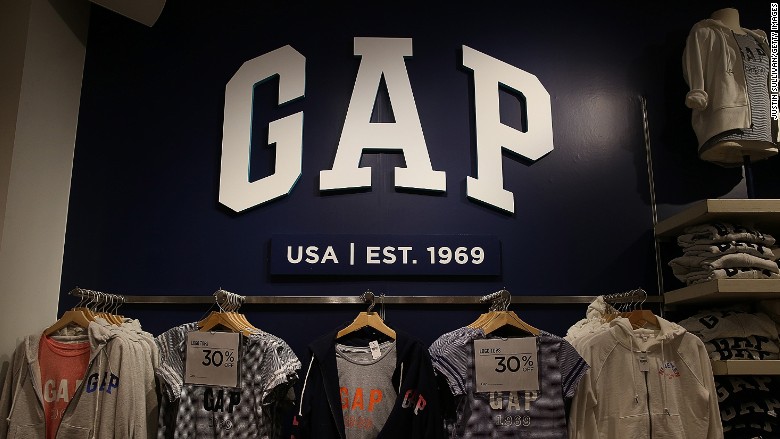 Uh-oh. Old Navy was the only good thing that Gap had going for it. But it just reported lousy sales for December -- along with Gap and Banana Republic.
Gap said that its overall same-store sales fell 5% last month. Old Navy's sales fell 7%.
Banana Republic's sales continued to plunge as well, falling 9%. Things actually stabilized a bit at the Gap. Sales were only down 2% there.
But the woeful numbers from Old Navy is truly terrible news for the struggling retailer, which was one of the worst performing stocks last year.
Shares of Gap (GPS) plunged more than 40% -- largely due to the weakness at its namesake brand and Banana Republic.
Gap, like many apparel retailers, has struggled to keep pace with so-called fast fashion retailers ... companies like Zara, H&M, Uniqlo and Forever 21.
But Old Navy sales held up well throughout most of 2015. So the sudden plunge during the holidays is a big problem.
Related: Fashion retailers pay heavy price for warm weather
It's an even bigger concern considering that the person who was given a lot of credit for Old Navy's success is no longer at the company. Old Navy global president Stefan Larsson left in October to become the CEO of Ralph Lauren (RL).
Gap didn't give any specific reasons for its poor results. Executive Jack Calandra said in a brief recorded message for shareholders that "traffic continued to be challenging in December, and was especially disappointing at Old Navy."
At least it didn't blame the weather though.
And CFO Sabrina Simmons merely said in a press release that the company is looking forward "to delivering new Spring collections across our brands."
Related: Walmart is the only Dow stock up this week
Those new clothes better be snazzy. Gap needs to win back customers ... and investors.
Gap's stock had actually been enjoying a good week up until Friday. The stock had surged during the past few days despite the broader market carnage as investors went bargain shopping for beaten down retailers.
Walmart (WMT), Kohl's (KSS) and Macy's (M) have also rallied this week.
But the Gap's stock plummeted 14% Friday. So its latest results should be a warning to investors rushing to scoop up last year's retail losers.