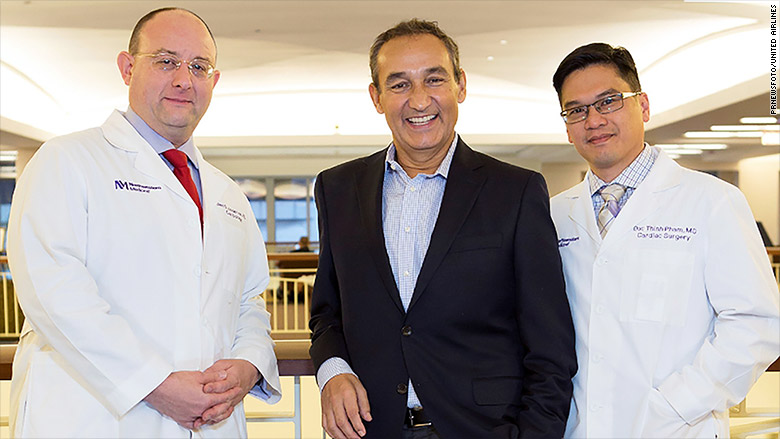 This CEO is heading home with a new heart -- literally.
United Airlines CEO Oscar Muñoz announced on Friday in a letter to employees that he was heading to his Chicago home after his successful heart transplant last week.
Muñoz thanked his "United Family" for their collective thoughts and prayers and commended his doctors, whom he said were impressed with his progress.
He credited his strong desire to return to work with aiding his recovery and said he planned to "participate in key meetings and be involved in strategic planning" before returning full time.
"My new heart makes me feel like I've been given a new set of wings," he said in the letter. "I will be relying on this sense of team purpose as I transition back."
Muñoz also praised his employees for helping United get its highest customer satisfaction report in three years.
Related: U.S. sues to block United's expansion in Newark
United announced last Friday that Muñoz was "recovering well" after the transplant on January 6. According to leading doctors, transplant patients can recover quickly and be up and around after a few days.
Patients are given donor organs based on a combination of factors including medical need, blood type and body size.
As of January 1, the list of patients waiting for a heart transplant contained roughly 4,200 names, according to the United Network for Organ Sharing.
Related: United in turmoil, reports drop in revenue
Muñoz first suffered a heart attack and was hospitalized in October -- after just five weeks on the job.
United announced in November that Muñoz would be returning as CEO during the first quarter of 2016.
Before the transplant, Muñoz "had been cleared to return to work" with the use of an implanted medical device. However, the heart transplant was the "preferable" long-term treatment.
Related: Tinder users can find love, become organ donors
Muñoz was brought in to replace Jeff Smisek, who resigned amid an ongoing federal investigation into United. The airline faces allegations that it rigged flight schedules to win favor with the New York-New Jersey Port Authority.
The company had also been grappling with low morale among employees, poor customer satisfaction and a struggling stock price.
Brett Hart, United's general counsel, has been serving as temporary CEO while Muñoz is out.