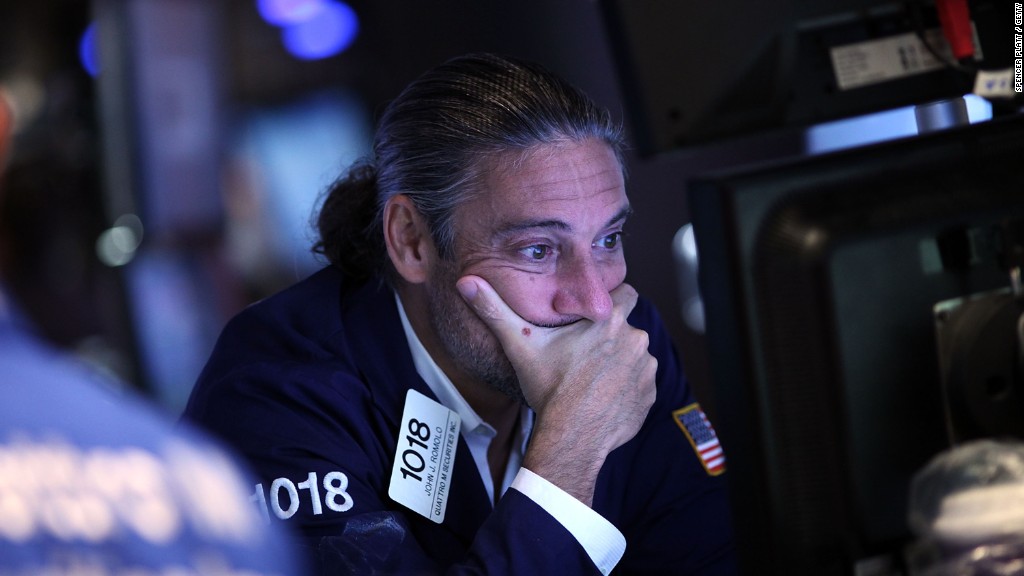 Cue the world's tiniest violin. It looks like bonuses are going to plunge for Wall Street bankers, brokers and traders.
Goldman Sachs (GS) disclosed in its fourth quarter earnings report Wednesday that its total compensation expenses, a figure often referred to as the bonus pool, fell 12% in the last three months of the year compared to the same period in 2014.
Compensation expenses were flat for the full year. And here's where that little Stradivarius comes in handy. The average compensation for a Goldman Sachs employee in 2015 was $344,511.
Still, Wall Streeters typically expect their bonuses and salaries to rise pretty dramatically. And when you consider that Goldman actually increased the number of its employees by 8% in 2015, the average compensation per Goldman worker fell last year.
But the new reality is that Goldman and other big banks simply can't afford to keep paying huge bonuses to its workers at a time like this. Stocks were flat last year but it was an extremely bumpy ride.
Related: Banks brace for oil loans to implode
In a massive understatement, Goldman CEO Lloyd Blankfein referred to 2015 as "a year characterized by uneven global economic activity."
Goldman's compensation news comes one day after rival Morgan Stanley (MS) said that its compensation expenses shrank 28% in the fourth quarter.
For the year, Morgan Stanley's compensation costs were down 10%. And that's despite the fact that the firm's total headcount rose 1% last year.
During a conference call with analysts on Tuesday, Morgan Stanley CEO James Gorman explained that the lower bonuses were in part due to the impact that market volatility was having on its business.
"As a management team, our number one priority is to control what we can control, given market realities," he said, adding that Morgan Stanley is looking to do even more belt-tightening with a program somewhat ominously called Project Streamline.
Related: JPMorgan Chase reports big profit but investors still concerned about 2016
Other big banks are cutting back on bonuses as well.
JPMorgan Chase (JPM) chief financial officer Marianne Lake told analysts last week that compensation "has come down across the trading businesses" -- with a big chunk of the declines in the bank's bond trading division.
And then there's U.S. Bancorp (USB). CEO Richard Davis said in a conference call with analysts after its earnings report last week that it was not going to pay out 100% of its bonus pool in 2015 -- the first time that's happened in his 10 years as CEO.
"I'm okay with that, because we live and die by the sword, and our guys are amazingly competent and capable," Davis said. "And when we have great years, we pay them out handsomely over 100% of target and when we don't, we don't."
Based on how this year has started, it's not looking promising for banker bonuses in early 2017 either.