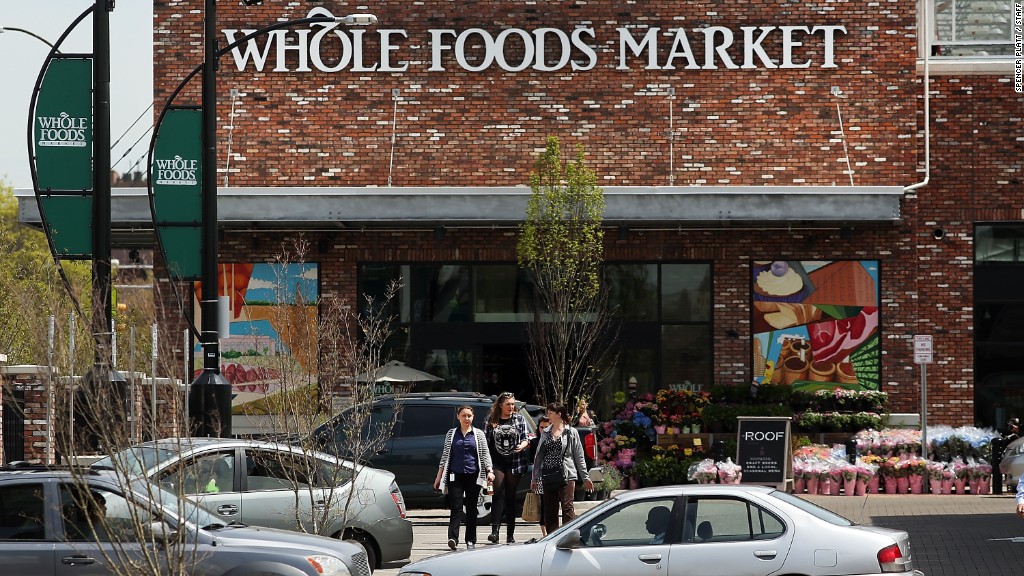 Whole Foods still has a whole lotta problems.
Shares of Whole Foods (WFM) sank 5% Monday after an analyst downgraded the organic grocer to an "underperform" -- a Wall Street euphemism for 'sell." The stock rebounded slightly Tuesday but is down nearly 15% this year and not far from its 52-week low.
Kelly Bania of BMO Capital Markets slashed her rating and price target for Whole Foods after conducting a survey of more than 1,000 Whole Foods customers. Her findings do not bode well for the company.
More than 70% of the respondents told Bania that they had not noticed any changes in prices in Whole Foods over the past three months -- even though the company has touted its efforts to lower prices to be more competitive with supermarkets.
In other words, the perception of Whole Foods being a place where you spend your Whole Paycheck remains.
Related: Is Whole Foods on the shopping block?
And in an even more troubling development, only 24% of customers said organic products at Whole Foods were "definitely" higher quality than organic food at grocery stores.
Fifty-four percent of those surveyed said the quality of the food was "sometimes" better at Whole Foods while the remaining 22% said "not at all."
That's bad news for Whole Foods. If Whole Foods' own customers don't think the products are worth the price, then how much longer will they remain loyal shoppers?
"This poses an uphill battle for Whole Foods, as we believe mainstream consumers find it difficult to differentiate the quality of organics," Bania wrote in her report.
Whole Foods was not immediately available for comment about the findings in Bania's report.
Related: Kroger is eating Whole Foods' overpriced lunch
But Wall Street is very, very worried. Whole Foods stock is now selling for Half Price. It has lost about 50% of its market value since the end of 2013.
The stock dipped in 2014 as sales growth started to slow due to tough competition from organic rival Trader Joe's as well as supermarket chain Kroger (KR), Costco (COST) and Walmart (WMT).
And last year was even worse.
Whole Foods was accused by New York City in the summer of overcharging by wrongly pricing previously weighed goods. That hurt the company's reputation ... and financial performance. Same-store sales fell in its fiscal fourth quarter, which ended in September.
Related: Whole Foods denies its shrimp is prepared by slave labor
It doesn't appear that shoppers have forgiven Whole Foods just yet either.
Even though Whole Foods apologized for the errors and agreed in December to pay $500,000 to New York City to settle the overcharging probe, analysts are predicting that same-store sales fell 2.2% in its first quarter, which ended in mid-January.
Whole Foods reports its first quarter results on February 10.
The company's defiant stance may be rubbing consumers the wrong way too. Whole Foods co-CEO John Mackey told investors last July that he felt the company was being unfairly singled out by regulators and the media.
Related: Angry Whole Foods pays $500K to settle NYC pricing probe
Whole Foods was targeted in a similar pricing probe in California in 2014 and agreed to pay $800,000 to the cities of Los Angeles, Santa Monica and San Diego.
"We do feel like we're victims," Mackey said.
And when Whole Foods settled with New York City in December, the company said in a statement that it was mainly doing so to "put the issue behind us."
Howard Penney, a managing director who follows consumer stocks for Hedgeye Risk Management, said Whole Foods has lost the trust of consumers. It may take a while to work through that -- especially when rivals offer organic food for a lot less.