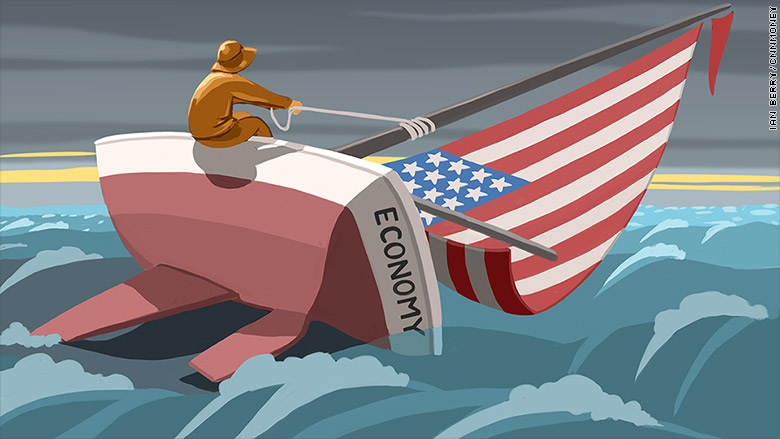 America's economy hit the brakes during the holidays.
Some recent economic data even raises fears that we might be heading towards a possible U.S. recession in 2016. Big banks like Morgan Stanley (MS) estimate there's a 20% chance of recession this year.
On Friday, the government will release data that show how the U.S. economy fared in the last three months of the year. Many experts forecast that the U.S. economy barely grew -- about 1% or less -- between October and December of 2015 compared to a year ago.
Even the Federal Reserve admitted Wednesday that the economy "slowed" at the end of last year.
On Thursday, the bad news continued. A key sign of confidence is orders for new products and equipment -- known as "durable goods" -- placed by companies to power their business. Orders for durable goods fell 5% between November and December, according to the Commerce Department. That was a lot below expectations that orders would be flat.
It shows that some companies are delaying or deciding not to purchase any new piece of equipment they need.
The news on durable goods caused Barclays (BCS) to lower its GDP forecast to 0.4% on Thursday. Capital Economics, a research firm, admitted the new data posed risks "firmly to the downside" for its estimate of 1%.
Related: Apple CEO: 'extreme conditions' in global slowdown
Here are 3 more warning signs that the U.S. economy is heading in the wrong direction:
1. Americans are not spending much
U.S. economic growth depends on shoppers. Consumer spending makes up two-thirds of the nation's economic engine. Yet they're sending mixed signals: U.S. retail sales declined a bit in December and they were negative or flat seven times last year.
Consumer confidence has wavered too. It peaked at 98% in January 2015 but has since drifted down in general. Consumer confidence is currently 93%. While it's a lot better than what it was just a few years ago, any downward movement is still a cause for concern.
2. U.S. manufacturing already in recession
American factories are suffering from the global economic slowdown. Manufacturing makes up 10% of the U.S. economy, according to Morgan Stanley.
The key ISM manufacturing index has declined for six straight months, and its been negative -- below 50% -- for the last two months.
The strong dollar is making products manufactured in the U.S. more expensive overseas, lowering demand for American made goods. The slowdown in emerging market economies isn't helping trade either.
Related: U.S. economy: recession fears are growing
3. Corporate America is hurting
Earnings season isn't over yet but one thing is clear: American companies are making less money than a year ago. Put together, when America's biggest companies -- and employers -- suffer, the economy follows suit.
The S&P 500 -- the benchmark for U.S. stocks -- is down 7% so far in January. Apple, the nation's biggest company by market size, just announced record profits with a gloomy outlook ahead. It believes iPhone sales will decline in the first quarter of this year for the first time in 13 years.
Apple CEO Tim Cook expressed serious caution about the global economy. When a major American CEO raises the warning flag that's not good for the U.S. economy.
"We're seeing extreme conditions unlike anything we have experienced before just about everywhere we look," Cook said Tuesday.