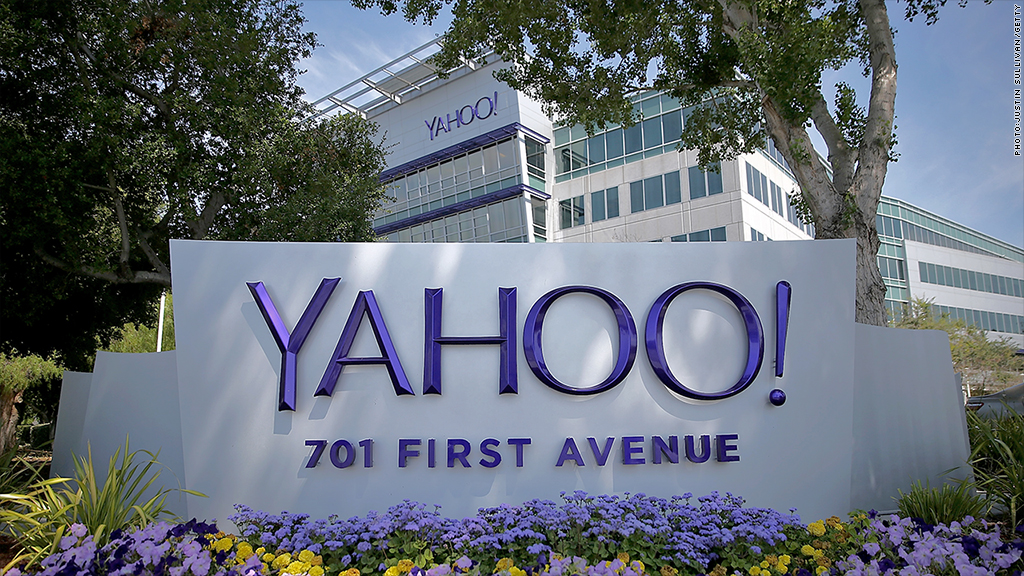 Embattled CEO Marissa Mayer believes that a leaner, more focused Yahoo is the solution to its growth problems.
Yahoo announced a massive, $4.4 billion loss last quarter and said it will lay off 15% of its workforce as part of a plan to return the company to "modest to accelerating growth" next year and in 2018. The layoffs will reduce Yahoo's headcount by about 1,600 employees to around 9,000 staff.
The new plan, announced Tuesday afternoon, will focus on Yahoo's core strengths: Its products (Search, Mail and Tumblr) and its media brands (News, Sports, Finance and Lifestyle). The company will also streamline its advertising platforms, close five global offices and shutter businesses that aren't growing, including games, smart TV and scripted TV shows.
"Yahoo cannot win the hearts and minds of users and advertisers with a complicated portfolio of products and assets," Mayer said on a conference call with investors.
Yahoo expects the restructuring to save the company $400 million this year. It is also looking to sell off non-strategic patents and real estate, which could generate more than $1 billion in cash.
It will also explore "strategic alternatives." Though the company didn't define it, that's typically code for "we're taking offers for a sale."
Shares of Yahoo (YHOO) fell 2% in after-hours trading.
Though Yahoo's board will test the market for a sale, Mayer said she's focused on executing on Yahoo's new growth plan.
The new strategy gives Mayer another tool to fight off a looming fight with activist shareholders, who want to wrest control of the company away from her. By making Yahoo leaner and more profitable, Mayer could gain some key supporters.
Angry investors, led by hedge fund Starboard Value, say that Mayer and her team have made no progress over the past three-and-a-half years in their attempt to turn around Yahoo's fortunes. Despite spending billions of dollars buying numerous companies, changing the company's logo and hiring A-list media personalities, Yahoo's core Internet advertising business has continued to lose ground to Google (GOOGL) and Facebook (FB).
Related: Hedge fund is sick of Yahoo CEO Marissa Mayer
Yahoo's board has continued to have Mayer's back. Together, they staved off a potentially ugly battle for control of the company in December, when Yahoo agreed with Starboard's demands to spin off the core Internet business into a separate company and keep Yahoo's 15% stake in Alibaba (BABA) potentially saving billions of dollars in taxes.
But Starboard wasn't satisfied with that plan alone. In January, the company's manager Jeffrey Smith called for "significant changes across all aspects of the business starting at the board level, and including executive leadership."
There's no guarantee that Mayer's new plan will succeed. Yahoo has already tried mass layoffs, reducing its staff by about a quarter since 2012, just before Mayer took over. The company has also done plenty of streamlining, killing off 121 products over the past three years.
A sale is one potential road out. AOL-owner Verizon (VZ) has publicly stated that it would consider buying Yahoo, and private-equity firm TPG Capital is rumored to have expressed interest.
Meanwhile, Yahoo's fourth-quarter earnings were something of a disaster.
Profit
2014: $166 million
2015: -$4.4 billion
Yahoo took a massive, $4.5 billion writedown on some of its biggest brands, including its U.S., Canadian, European and Latin American businesses. It also wrote down much of the value of Tumblr, the social blogging platform it purchased for more than $1 billion.
Sales
Fourth quarter of 2014: $1.25 billion
Fourth quarter of 2015: $1.27 billion, up 2%
Yahoo's overall sales have stagnated, but its fast-growing mobile, video, native advertising and social businesses represent a compelling success story. Those businesses brought in $472 million, or more than a third of Yahoo's overall quarterly sales. That's up 26% over last year.
On a conference call with analysts, Mayer said she believes those businesses will drive growth, one day replacing its legacy (declining) banner ad business.
But that isn't happening overnight, and there are signs that Mayer's plan has some holes in it. Yahoo expects mobile, video, native ads and social to grow by just 12% this year year, slower than last year's growth.
And next quarter, Yahoo said it expects to bring in between $820 million and $860 million in sales, excluding partnership deals. That's well below Wall Street analysts' median estimates of $907 million.