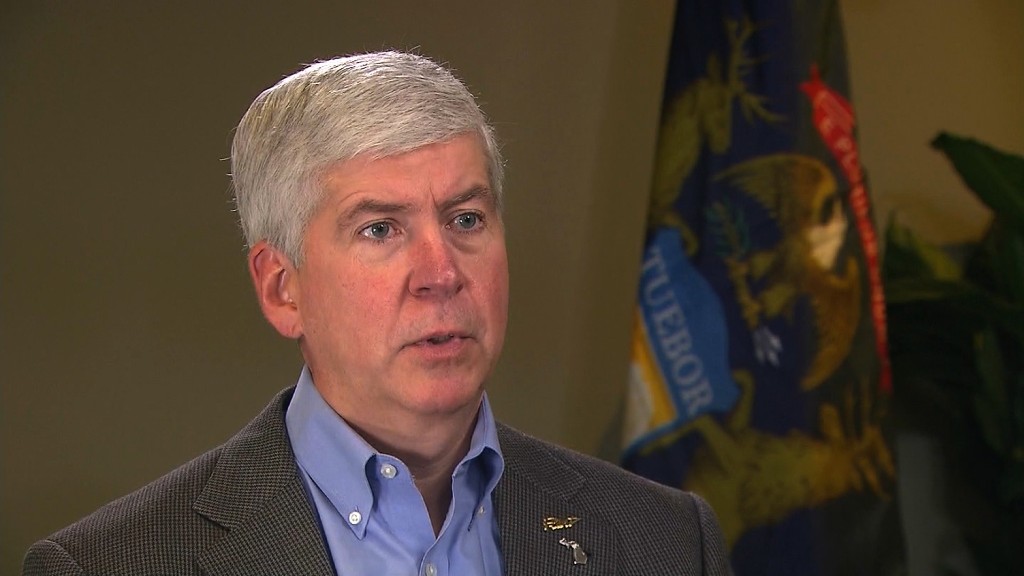 Wall Street often looks for opportunities in the midst of a tragedy. Case in point? The water crisis in Flint, Michigan may be helping to spark a big rally in water utility stocks.
Several publicly traded water utilities are up sharply this year and are trading near their all-time highs.
This isn't the most exciting industry in the world. But like electric and gas utilities, investors can rely on the water companies for slow and steady growth and a solid dividend.
And in a market as choppy as this one, safety is more appealing than sexy. The Dow Jones Utility Average is up nearly 8% so far in 2016 while its more famous sibling, the Dow Jones Industrial Average, is down 5.5%.
Related: Detroit Pistons owner to raise $10 million for Flint
But some water utility stocks have done even better. They are more than just a yield play for conservative investors.
"It wouldn't surprise me if Flint wasn't in the back of many investors' minds. Many institutions have brought it up in conversations we've had with them," said Neil Kalton, an analyst with Wells Fargo. "Flint puts a spotlight on the issue of water safety."
Here are seven water utilities that all hit new highs this week, along with their year-to-date performance.
Artesian Resources (ARTNA): 8.3%
American Water Works (AWK): 7.5%
American States Water (AWR): 8.7%
Connecticut Water Service (CTWS): 9.8%
Middlesex Water (MSEX): 7.9%
Aqua America (WTR): 6.5%
York Water (YORW): 8.3%
Analysts said the problems in Flint -- where residents have been drinking tap water with high levels of lead for years -- may make it more likely for states and cities to give up control of municipal water utilities and place them in the hands of private operators.
"For-profit companies have been talking for years about how they are better operators than municipalities," said David Parker, an analyst with Robert W. Baird.
"There are potential opportunities for these utilities to help. They have been in growth mode for well over a decade and have been upgrading their infrastructure," he said.
Related: Public editor at New York Times said paper should have done more to cover Flint
In fact, there is currently a bill in the Wisconsin state legislature that would make it easier to sell municipal water works to for-profit companies.
Ryan Connors, an analyst with Boenning & Scattergood, noted that similar bills have already passed in Illinois, New Jersey and Pennsylvania.
As a result, several of the publicly traded utilities -- particularly industry leader American Water Works -- have already gone shopping for municipal water utilities in those states.
Connors said that there may be some concerns from local governments about handing over control of water utilities to public companies.
Some may worry that there could be more Flints because the for-profit firms won't have local ties to the communities they'll be serving. It doesn't help that Pennsylvania-based Aqua America has been lobbying for the bill in Wisconsin.
But he added this argument is unlikely to win out in the end. After all, it's not as if Flint had its water utility gobbled up by big, bad Corporate America.
Related: CNN: A timeline of Flint's water crisis
Flint's water woes can be traced back to when the Michigan state government took over the city's finances in 2011.
The emergency manager appointed by the state made the decision to stop paying Detroit to use water from Lake Huron and started using water from the Flint River instead.
But water in that river -- notorious for pollution -- was not treated with anti-corrosive agents. That led to damage in the lead pipes transporting water to Flint homes.
"There should be more privatization in the long-term. That is clearly the push," Connors said.