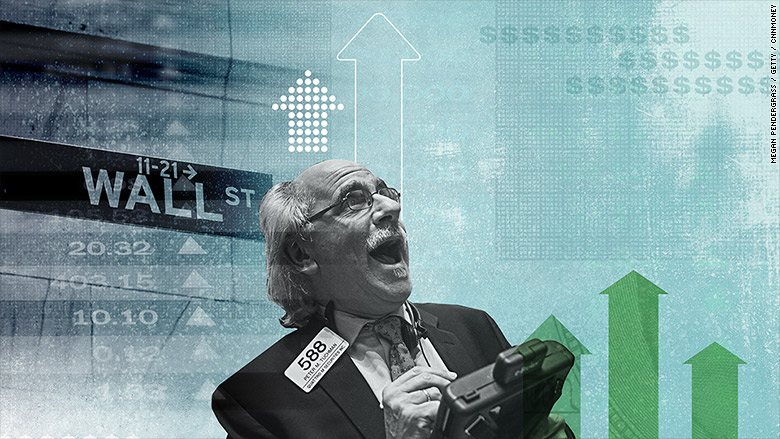 Investors are finally catching their breath this week.
The stock markets aren't getting rocked with volatility. And in fact, the Dow posted its best weekly gain of 2016, up over 400 points since last Friday's close. The Nasdaq and S&P 500 also had their best week of the year.
All three U.S. markets are up between 2.6% and 3.9% this week.
The Dow posted a small 21-point loss on Friday, while the Nasdaq was up a little and the S&P 500 was flat.
The big fears of 2016 -- low oil prices and China's currency moves -- calmed down this week. There was even a little bit of U.S. economic news.
So is the market madness finally ending?
"It's too early to say that," says David Joy, chief market strategist at Ameriprise Financial. "There's a prevailing sense of hope but as we all know, hope isn't a strategy."
Related: Oil rallies after Iran supports deal to freeze production
Some of that hope came from OPEC, the oil cartel. OPEC leaders agreed to freeze oil production at January's levels. Even though many were hoping for a cut to production, it was still better than nothing at all.
The OPEC agreement didn't spark a rally but oil prices froze too: oil hit $32 a barrel Thursday after starting the week at $29. By midday Friday, oil was still hovering around $32. Oil hovering at or above $30 a barrel is giving some investors cautious optimism, experts say.
More relief came earlier this week when China's stock markets opened after its Lunar New Year holiday. And they didn't tank: the Shanghai Composite is actually up 3.5% this week.
China's currency, the yuan, also didn't lose much value this week. The yuan is flat on the week compared to dollar after it lost considerable value in January.
Related: Central banks may be fueling the fire
Other bits of good news are also boosting confidence. U.S. retails sales -- which reflect consumer confidence -- were surprisingly good last week, helping brush aside fears the U.S. economy is heading into a recession.
One forward-leading indicator for U.S. stocks is also up 10% from its low point in January. The Dow Jones Transportation Index, which tracks companies like FedEx (FDX), JetBlue (JBLU) and Union Pacific (UNP), is up double digits from its low point on January 20.
But that doesn't mean we're completely out of the woods. Volatile oil prices and uncertainty in China still loom large while central banks around the globe are spooking markets with extraordinary policies like negative interest rates.
Related: China leads global U.S. debt dump
The real question going forward is whether oil prices will dictate how stocks move. Lately, the two have had lots of correlation. But if oil tumbles again, it's unclear if stocks will follow suit.
"I don't think this whole downturn yet is completely over," says Tim Anderson, managing director at MND Partners. "Now the question will be, if oil is going to go below $30, can stocks shrug that off?"