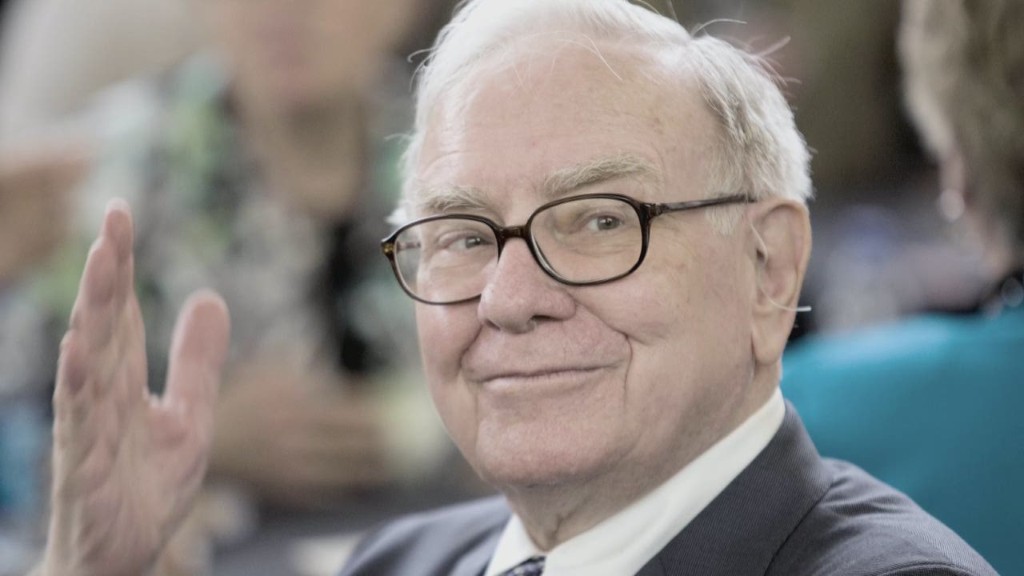 Warren Buffett seemed a bit feistier than usual in this year's letter to Berkshire Hathaway shareholders.
The Oracle of Omaha slammed politicians for being too negative about the state of the economy.
He also spent a big chunk of time defending the company's recent poor stock performance, its ownership of a controversial manufactured home maker and its relationship with a private equity firm known for announcing big layoffs at companies it buys.
And, to anyone who was hoping to have the chance to swipe right on Buffett anytime soon? Sorry. It's not gonna happen.
Here are the highlights from Buffett's 51st annual letter.
Looking back on a rough year: Last year, Berkshire Hathaway's A shares (BRKA) (trading around $200,000!) and more affordable B shares (BRKB) (a mere $132) each fell more than 12% -- lagging the broader market.
But Berkshire's stock is up slightly this year while the S&P 500 has fallen nearly 5%. And the A shares have gained an amazing 20.8% annually since 1965, compared to an annual total return of 9.7% for the S&P 500.
Related: Buffett says presidential candidates should stop bashing the economy
Several of Berkshire's biggest investments, most notably IBM (IBM) and American Express (AXP), were market dogs last year.
But Buffett continued to praise the management teams of those two companies, along with the other two of Berkshire's Big Four investments: Wells Fargo (WFC) and Coke (KO).
"These four investees possess excellent businesses and are run by managers who are both talented and shareholder-oriented," he wrote.
Defending Clayton Homes: Berkshire owns Clayton Homes, a maker of manufactured homes that has been accused of predatory lending in the subprime market.
Buffett was questioned about Clayton by shareholders at last year's meeting. And he stepped up his defense of Clayton in this year's letter. He devoted 16 paragraphs to discussing Clayton this year. Last year, Clayton got just 3 paragraphs.
"The Great Recession caused mortgage originators, servicers and packagers to come under intense scrutiny and to be assessed many billions of dollars in fines and penalties," he wrote.
Related: Buffett grilled over predatory lending, layoffs and obesity
But Buffett said Clayton has had to pay just $38,200 in fines in the past two years and that 95.4% of borrowers are current on their payments.
3G does what needs to be done: Berkshire was also criticized by shareholders at last year's meeting for its partnership with the private equity firm 3G Capital -- which is known for issuing lots of pink slips at companies it acquires.
Berkshire and 3G teamed up in 2013 to buy Heinz and they merged the ketchup king last year with Kraft. There were layoffs at Heinz following the Berkshire/3G purchase and more at Kraft Heinz (KHC) last year.
But Buffett defended those actions.
"Their method, at which they have been extraordinarily successful, is to buy companies that offer an opportunity for eliminating many unnecessary costs and then -- very promptly -- to make the moves that will get the job done," Buffett said of 3G.
He added that 3G and Berkshire share "a passion to buy, build and hold large businesses that satisfy basic needs and desires" and did not rule out the possibility of working again in the future.
Berkshire is also an investor in Restaurant Brands (QSR), the 3G-controlled company that owns Burger King and Tim Hortons.
No big thoughts on the energy bust: Interestingly, the word "oil" appeared just once in the letter -- even though Berkshire owns a massive utility business and the Burlington Northern Santa Fe railroad.
Related: Buffett is betting big on oil stocks
Berkshire also recently raised its stake in oil refiner Phillips 66 (PSX) and made a new investment in pipeline operator Kinder Morgan (KMI).
No new hints on succession plans either: Last year, Buffett wrote that he and the Berkshire board knew who the next Berkshire CEO would be.
Vice Chairman Charlie Munger appeared to suggest that Berkshire insurance guru Ajit Jain and Berkshire Hathaway Energy CEO Greg Abel were two leading candidates.
But Buffett didn't provide any new clues about his successor this year. In fact, the 85-year-old doesn't sound like he is going to give the job up anytime soon.
"No CEO has it better; I truly do feel like tap dancing to work every day. In fact, my job becomes more fun every year," Buffett said. He added that he is looking forward to the day that Berkshire's GEICO auto insurance unit passes industry leader State Farm in volume.
"On August 30, 2030 -- my 100th birthday -- I plan to announce that GEICO has taken over the top spot. Mark your calendar," he quipped.
Omaha! Omaha! This year's annual shareholder meeting will take place in Omaha (as always) on Saturday April 30.
Tens of thousands of investors are likely to flock to Nebraska in order to hear Buffett and Munger speak -- and get their chance to buy Berkshire goodies like Warren and Charlie rubber duckies from Oriental Trading and Berky boxers from Fruit of the Loom.
Buffett promised a new attraction this year -- the presence of the Oscar Mayer Weinermobile! Oscar Mayer is a Kraft product.
But this year's meeting will also be streamed live for the first time on Yahoo (YHOO) -- a company that the famously tech stock-averse Buffett does not own.
Related: Berkshire to livestream its annual shareholder meeting
Buffett said there were two reasons to webcast the event. He hoped fewer people would make the trek to Omaha this year. He said that the more than 40,000 people that showed up last year -- a record -- "strained our capacity."
But he also said it was good for more people to be able to check in on him and Charlie -- especially since they are not getting any younger.
"Charlie is 92, and I am 85. If we were partners with you in a small business, and were charged with running the place, you would want to look in occasionally to make sure we hadn't drifted off into la-la land," he said.
He added that viewers will get a glimpse at their "life-prolonging diet."
"During the meeting, Charlie and I will each consume enough Coke, See's fudge and See's peanut brittle to satisfy the weekly caloric needs of an NFL lineman," he joked. Berkshire owns See's Candy.
Swipe right on an octogenarian, bridge loving billionaire? Buffett may not like to invest in technology. But that doesn't make him a Luddite. He is friends with Microsoft (MSFT) co-founder Bill Gates after all.
Buffett said that he now spends 10 hours a week playing bridge online. And he added that he found Web searching to be invaluable as he was writing this year's letter.
But there is one new technological advancement Buffett is not prepared to try.
"I'm not ready for Tinder," he said.
I'm sure his wife is happy to hear that -- and I hope he's not ready for Ashley Madison either.